My Lovely Mother – Stella Prior Evans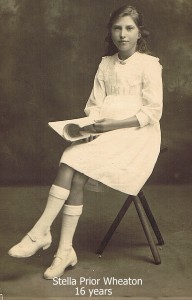 To commemorate my mother's life is the least I can do to honour her memory.
So here is the story of my Mother. When she was alive I would honour her with a bar of chocolate. A simple thing a boy would do on Mother's Day!
But I've always wanted to honour her in a way that others could appreciate, hence this post for posterity.
Stella Prior Wheaton was a remarkable woman who left an amazing legacy to the Pentecostal Movement of Australia, India and Papua New Guinea.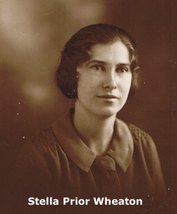 Her message was Jesus Christ, Saviour, Healer, Baptiser and Coming King which of course were the fundamental doctrines of her faith and the Assemblies of God movement in which she served.
I love her and honour her memory. One day should the Lord tarry, I hope to be buried with her and my father and await the resurrection!
My mother was born in the tiny country town of Minoora in South Australia's mid north.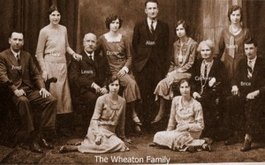 She was brought up in a large Christian family who taught her strong christian values at an early age.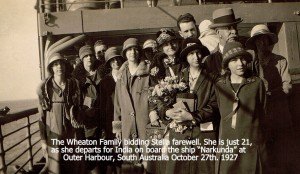 Stella's ancestors dated back to some of  the early settlers of South Australia who had left England to settle in the colony of South Australia in 1845.
With a long lineage of hard working farming and business interests they became quite wealthy by South Australian standards of the time.
Some were hoteliers but most were farmers and her father owned a small business.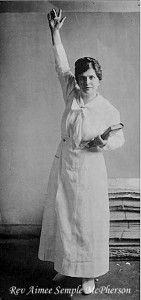 During her late teens she attended a pentecostal crusade by the American Evangelist Rev Aimee Semple McPherson and experienced the Baptism in the Holy Spirit.
It was a life changing and empowering experience that set Stella on the path to become the first pentecostal woman missionary ordained by the Assemblies of God in Australia.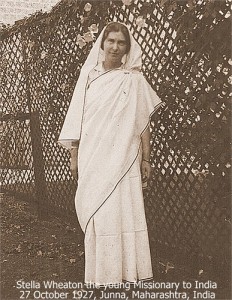 My Mother had a remarkable passion and love for God.
As far as she was concerned the Kingdom of God came first and Family second.
Growing up in our home, Church and Christian service was normal.
She was an avid Evangelist always seeking for opportunities to share the Gospel with the proverbial "Butcher, the Baker or Candlestick maker!" 
At an early age she felt the call of God to bring the Gospel to the people of India.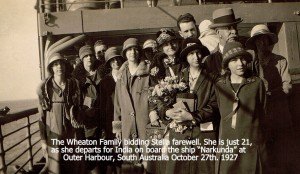 Fortunately her parents were sympathetic to her spiritual calling and gladly gave her their blessing to pursue her missionary dream.
She sailed for India as a maiden missionary on the SS Narkunda on the 29 October 1927 at the age of 21.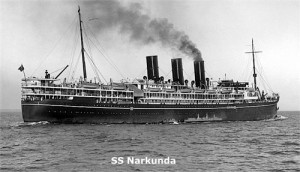 During her first five year term of service, she learnt the Marathi language and became a fluent preacher of the Gospel.
In 1928 while she was preaching to great crowds of people at a Hindu festival at Alandi near Pune,  she became infected and was stricken down with the dreadful disease of Smallpox.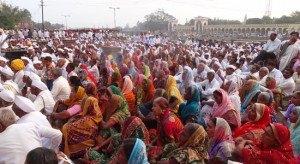 The Indian Doctors gave her no hope of recovery, as Smallpox was considered a fatal disease in those pre vaccination days.
She was diagnosed with the worst form of the disease, Confluent Haemorrhagic Smallpox.
Every orifice of her body was covered in suppurating sores from head to toe and she lost her full head of hair.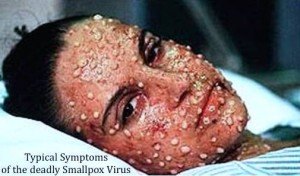 They said that even if she miraculously recovered she would be blind and her skin deeply pock marked forever by this terrible disease.
Immediately telegrams were sent to her family and believers in the homeland giving the news of her condition. 
Much prayer was offered on her behalf  by Christians around the world for her healing from this dreadful and fatal disease.
Just prior to her hospitalisation she was anointed with oil & given communion by a missionary leader and prayer offered according to the scriptures James 5:14-15.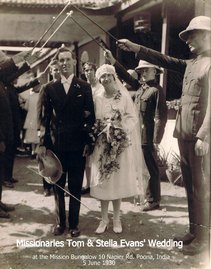 Immediately the haemorrhaging stopped and she began to slowly recover. 
Her eldest sister Doris Wheaton prophesied while in prayer that "her skin shall be unmarked as a Rose" , and so it was.
On the 5 June 1930 at the age of 23 although still bald from the ravages of the disease, she married Tommy Evans a Welsh missionary and so began their journey of life together serving God.
…..and oh, her hair did grow again and was full of a wavy texture to the day she died.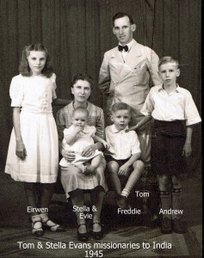 Stella was a good mother and always caring for her children.
Tom & Stella Evans had four children, four years separating each child.
We were an international family with my father and eldest sister being born in the UK.
My brother and youngest sister were born in India, while my Mother & I were the only Australians, born in Adelaide.
Her first convert in India was a 15 year old girl living in a slum.
Her name was Sarabai.
From that one convert two churches now exist in Pune.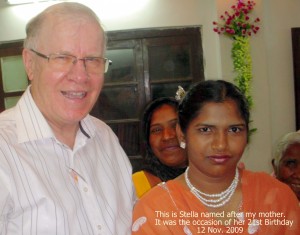 While visiting one of those churches, the Pastor introduced me to a young woman who had never met my mother but was named after her.
I thought to myself, 'Isn't it amazing how my mothers influence lives on even though she is no longer with us'.
In 2009 I visited the home of Sarabai in the Slums of Bhosari and was astonished to be welcomed by all her extended family and friends who make up the core group of that slum church.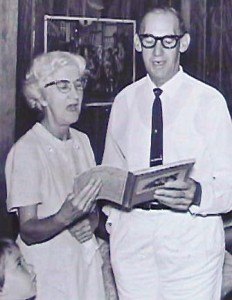 My mother loved the Indian people and often used to sing a duet with my father. called "India Sad India".
Here are the words of that song written in her own hand writing which I found in her memorabilia.
One of the most moving experiences of my life was when some years ago I was visiting the church in Khadki India on behalf of the World Missions Council of the Assemblies of God in Australia.
My mother and father had pioneered and founded this church, which is pictured below, in 1934.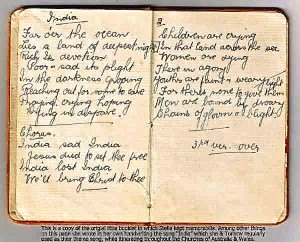 While greeting the people after the service, a little old grey haired Indian lady fell at my feet caressing them with her hands and with tears she kept quoting the scripture from Isaiah 52:7
"How beautiful are the feet of them that bring good news….." 
It was Sarabai my mothers first convert.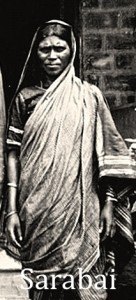 She kept caressing my feet sobbing with deep affection, which made me feel incredibly unworthy.
For a moment I was tempted to push her away but then I realised she was commemorating my mother.
I felt profoundly humbled and overwhelmed with emotion!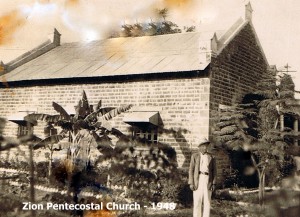 She said "It was your mother's feet that came into my slum and was the first person to tell me about Jesus".
                     ********
My mother was a fiery little preacher and full of the Holy Spirit.
She was fearless when it came to dealing with demonic powers and cast out many evil spirits from people oppressed by the Devil. Believe it or not! Mark 16:17 
She had a unique authority over evil spirits and even grown men would tremble in her presence when she exercised that gift & spiritual authority. Whenever there was trouble or a hint of conflict in our home she would quickly rebuke the devil and peace would return. James 4:7.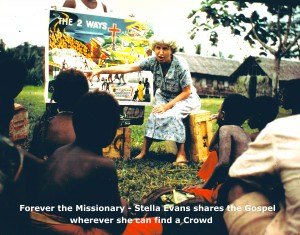 I was sometimes embarrassed as a teenager watching my mother preaching in open air meetings near the  Adelaide Markets on a Friday night.
Drunks would call out to her "fancy being married to her that ratbag".
I was not only embarrassed but felt very defensive for my beautiful little mother while she preached in the open air. 'That is my mother they were abusing' I thought, but she never flinched, she just kept on preaching. 
She knew her God and desperately wanted to save people from going to Hell.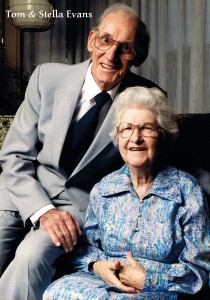 Her radical approach to evangelism bore much fruit over the years particularly on the mission field.
She was sold out to the Gospel. A true Pentecostal!
In her latter years she lived a life of prayer.
Whenever I called in to see her in her modest Adelaide home, she would mostly be found lying on her favourite lounge settee praying.
With her tiny face uplifted toward Heaven, she would softly pray in tongues for hours on end!
I'm sure if it wasn't for my mothers prayers I wouldn't be able to write this story.
Her prayers saved me on a number of occasions but thats another story.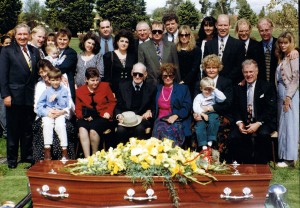 She died in 1995 at the age of 86 and her funeral was a triumphant occasion with over 1000 people in attendance.
At her request Pastor Paul Newsham conducted the service.
David her grandson, sang a fitting tribute to his Grandmother – the Lords Prayer.
As her cortège was carried from the Paradise Assembly of God for burial, people honoured this amazing tiny woman that had accomplished so much in her life time.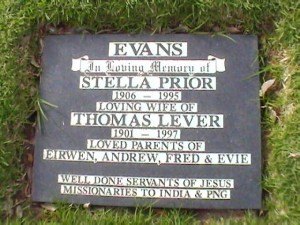 She was buried at the Enfield Lawn Cemetery awaiting the resurrection. I honour the memory of Stella Prior Evans (nee Wheaton), my Mother.
Nothing prepared me for life's journey like the life of my dear Mother!
In life as in death her legacy lives on.
May I suggest in conclusion that you listen to this song in respect of my dear Mother – Stella Evans.
I think it captures the solemnity and historic nature of the occasion.
Your Life like Hers can Leave a Legacy too!