April 3013 – Reconnecting!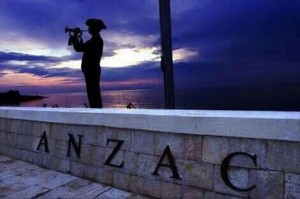 The month of April was indeed a joyous one seemingly filled with events that gave rise to many opportunities to renew old friendships and reconnect. Anzac Day of course was a significant day for the Nation as old diggers were honoured and reconnected with their mates whom they fought with during the world war years. For many it was a very moving occasion to reflect upon and of course we honour them.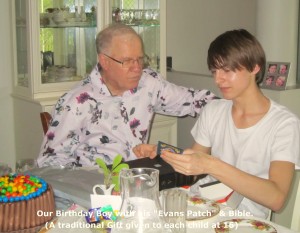 On a personal level Family reunions of course is one event that I always look forward to, especially our regular family luncheon on the first Sunday of every month. Sitting around a dinner table, saying our family grace, eating Grandma's favourite Roast of Beef Lasagne, sharing anecdotal stories of school, work or play. It's fun!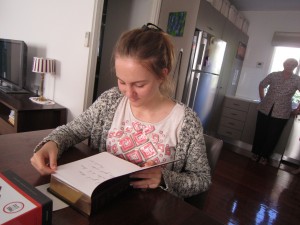 There is always something funny to focus on and if not I make it up!
This month two of our Grandchildren turned sixteen. I make a big deal about turning 16. They get embarrassed I know, but they will remember it, especially when Grandpa puts their photo on the internet!  Ted's oldest boy Kristan received his special birthday present of a ESV Study Bible and a patch of the Evans Crest. I laid on him the importance of the Evans name with his responsibility to keep it flourishing. Haha! A bit "heavy" you say for a 16 year old to carry. Not at all, thats what they need to learn early in life. Two weeks later his beautiful 16 year old cousin Rebekah got her ESV Bible too but no Crest because she is a "Farrell". Sorry Becky!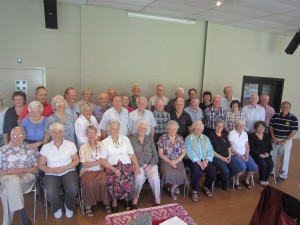 Anzac Day is always a special event as it the day missionaries from a by-gone era try and get together in Brisbane to celebrate stories and up to date happenings in the world of Missions. The numbers are dwindling but this year a goodly group of 44 turned up for the occasion including the children of missionaries. We shared stories over lunch and noted those who were absent because of ill health or travelling distance. We even sang a tok pisin song for our Papua New Guinea spiritual family and posted it on Anzac day. Interestingly there are scores of Papua New Guinea young people with mobile phones and regularly comment back on Facebook.
The highlight of the month was the National Conference of the Australian Christian Churches/Assemblies of God at the Convention Centre on the Gold Coast. It is a biennial event that most Pastors love to attend if they can. When I asked some ministers what was it about Conference that they loved the most, almost all indicated they loved catching up with colleagues again. Re-Connecting! The preaching of the Word of God was outstanding as Jensen Franklin addressed the importance of not losing our language (speaking of the Holy Ghost language of Tongues). 
.
It was indeed a powerful moment as nearly 1000 ministers began to pray in tongues at the conclusion of the service. 
The other speaker was Dr Sam Chand who is recognised as a leading pastoral expert in the world. He spoke to us about practical pastoral issues that effect the ministry. Brilliant and enlightening!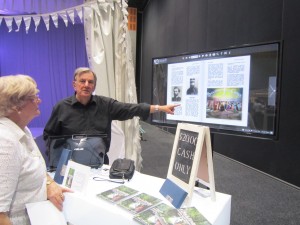 The services were wonderful with a great mix of Worship, preaching of the Word and practical help for pastors on the run.
This year there was a special emphases on honouring the past with a wonderful display of memorabilia telling the story of the pioneers of the Assemblies of God in this country dating back over 75 years. 
Ps Denis Smith re wrote & produced an E-book for the occasion which was launched during the Conference.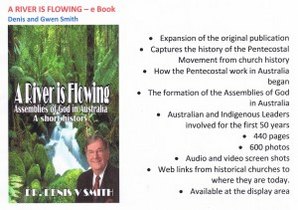 For anyone interested in the history of the movement, this electronic publication is amazing as you can not only read but see and hear events from the past.
For $20 you receive quite an extensive publication based on an E-book format which you can download onto your computer and enjoy hundreds of photos with audio & video included.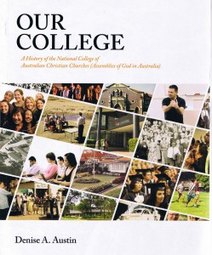 Another presentation was made at the Conference and that was the launch of Dr. Denise Austin's historical publication called "Our College". It is an inspiring history of the Ministry Training College of the Assemblies of God in Australia now known as Australian Christian Churches. Shane Clifton the Head of Theology & Research Director for Alphacrucis College says "It is a detailed history that reads like a spiritual adventure, with moments of laugh out loud comedy.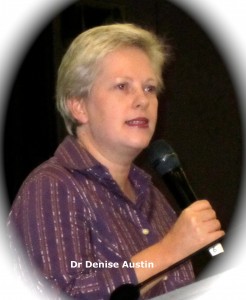 I have been the College for 17 years and yet I have learned so much. It was encouraging to gain an insight into our spiritual heritage. It has left me with a sense of pride in the College, and inspired about our future".
There were many former alumni students and lecturers who attended the special luncheon. It was provided for by Alphacrucis College as a special event for the book launch. Among the guests was former Principle & General Superintendent Pastor & Mrs Ralph Read.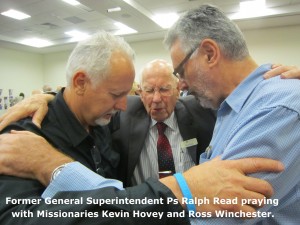 Pastor Read is now 91 years of age and still carries a deep interest in the work of the College and former students. In this photo he is praying with Ps Ross Winchester who was his first and only convert at a Tent Crusade at Graceville in the 1960s.
Ps Read was publicly honoured along with others of his vintage. It was great to see and many of my vintage, came away feeling uplifted and honoured to know that the contribution to the history of our fellowship was not taken for granted but indeed acknowledged.
In between Conference sessions an Expo was set up in an adjourning hall with over 26 different displays or booths.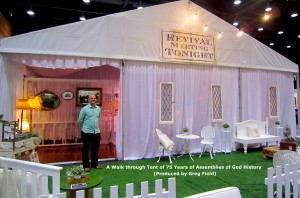 Among them was a large tent booth similar to a Gospel Tent created by Greg & Chris Field on behalf of the National Executive. It was a walk through experience that captured the vision, atmosphere, sounds and history of earlier generations that helped plant the Gospel throughout Australia.
As one walked through the display depicting 75 years of history and viewed the artifacts, it left with a 'feeling' of the journey was worth while.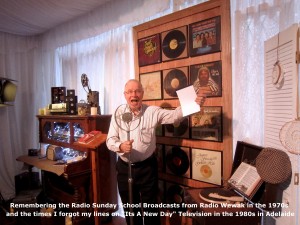 Actual models of equipment of yesteryear brought back the memories of setting up rented halls or school rooms for public worship. Even the music and the old video footage seemed surreal.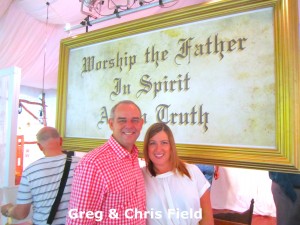 I loved it and congratulated Greg & Chris for a job well done. It brought back many memories when Betty & I broadcast over Radio Wewak in Papua New Guinea. Our weekly Sunday afternoon broadcast was called "Radio Sunday School" and of course how can I forget the memory the TV Broadcast "Its A New Day" when I frequently forgot my lines due to nerves!
The fantastic thing about attending the National ACC Conferences is the amount of old friends you reconnect with. Some have aged considerably while others have that evergreen expression.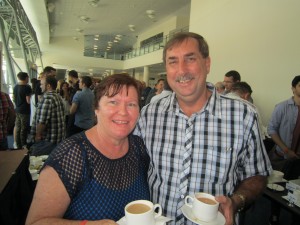 To meet up again with my 'Assistant Pastor' from the Taigum Garden AOG days of the 1980s brought me great joy.
Ps Kerry & Janita Ship are still pastoring in Tinana near Maryborough and are doing a fine job. A wonderful couple that have remained faithful in Ministry for a life time. God bless them!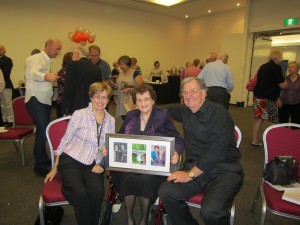 It was wonderful to see Mrs Edith Averill again. She along with her beloved husband Lloyd (who passed away a couple of years ago) had served a life time pioneering and pastoring churches as well as Bible Schools in Australia & New Zealand. Ps Denis Smith dedicated his new E-book to their memory and honoured her at the Alphacrusis Luncheon.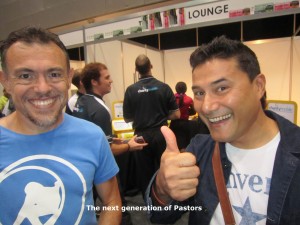 One of the thrilling aspects of the Conference was to see the large and growing number of younger ministers in attendance. Their enthusiasm is palpable and their passion for the Lord is obvious. When I see that I can excuse the loud music they make in our services (lol) and know that God has His hand upon their lives.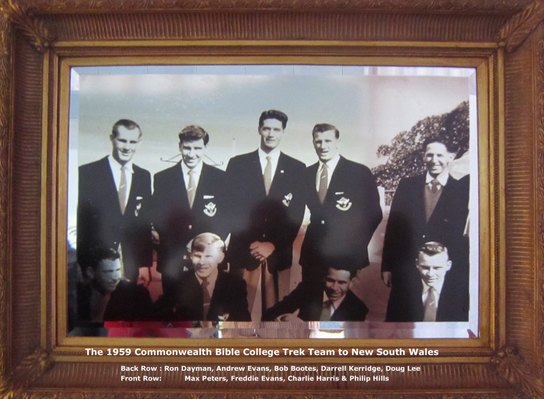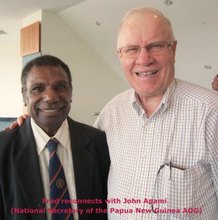 Reconnecting is not all about past memories. There is so much more of sharing dreams and visions when you reconnect with colleagues & friends.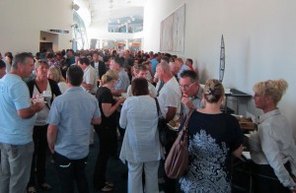 There is also the opportunity to encourage one another in this great work of spreading the Gospel around the world. When I looked at the hundreds of Pastors & Leaders reconnecting over morning tea, I thought "how wonderful to see so much blessing being passed on unobtrusively"!
When you reach out to others its amazing what joy it brings. Its got to be worth it hey?
So the message is:
Reconnect and Spread the Blessing!
Please follow and like us: