About our Gospel Recordings & Media Ministry.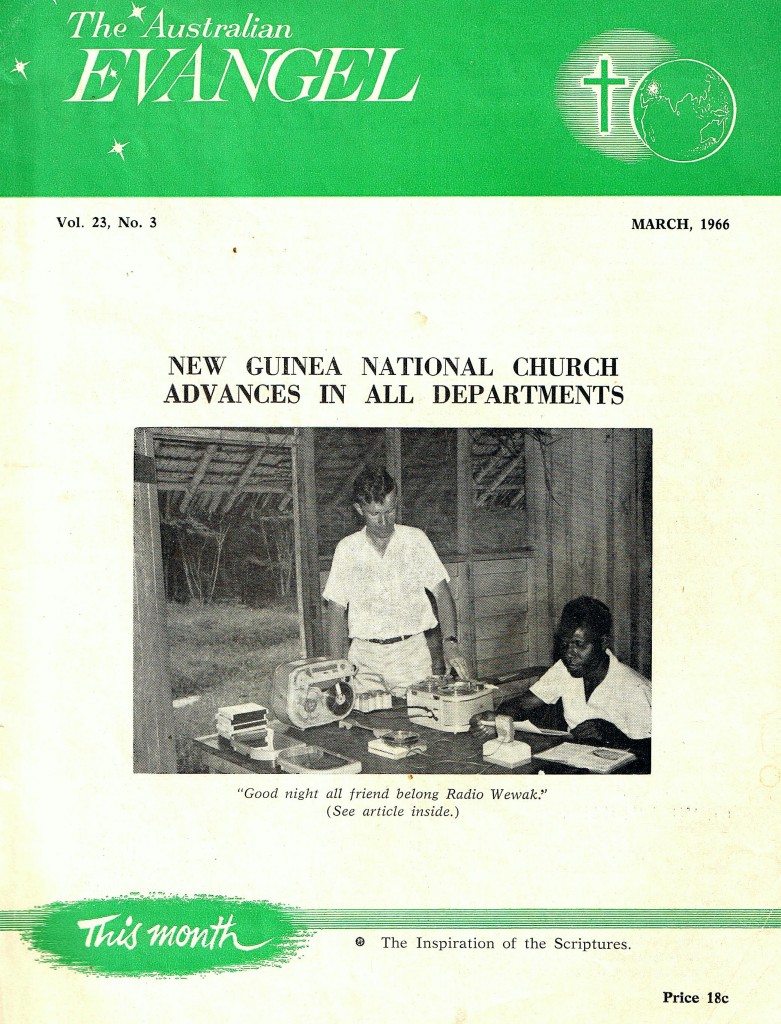 Ever since I was a teenager in the 1950s I had a playful interest in broadcasting and used to record my own sports commentary of imaginary football games on my father's old Grundig wire recorder which was manufactured prior to the  tape recorder.  
I also had a inquisitive  interest in Christian Radio Broadcasting and would listen to the Hour of Decision program by the Billy Graham Evangelistic Association and the Oral Roberts "Abundant Life" program on local radio.
But it was during my Bible school days at the Commonwealth Bible College in Brisbane in 1959, that I first had the opportunity to explore radio broadcasting.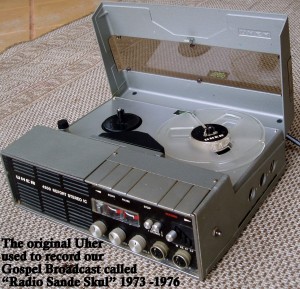 The College had a tiny soundproof studio with basic recording and tape equipment.
I used to practice  recording on the modern real to real equipment by producing fictitious Christian radio broadcasts on tape.
I didn't realize then where it would lead, until many years later when an opportunity arose in Papua New Guinea.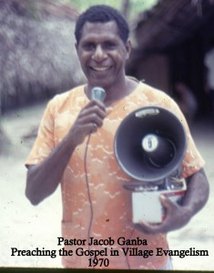 In the early years of our missionary work in Papua New Guinea there was no national radio broadcasts in English or the languages of the people.
As for English, the only news from the outside world that we could get was via short wave radio broadcasts from Radio Australia or the Voice of America.
At times I was able to pick up a weak short wave signal from a Christian broadcaster in South America called HCJB which was an acronym for (Heralding Christ Jesus Blessing).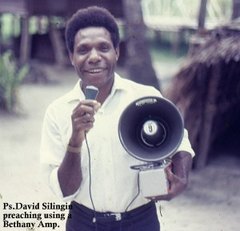 However I could see it would be many years before radio would be used as a medium to get the message of the gospel out to the remote & isolated villages of Papua New Guinea.
In those days no one had a radio to listen to and any form of electronic equipment was usually a novelty and mostly provided by the missionaries.
A mission organization called "Gospel Recordings" was doing a wonderful work in providing missionaries with tools to communicate the gospel in the language of the local people through Gospel recordings.
At a small cost they provided a small easy to use hand cranked record player which the local people could easily operate & use to listen to a Gospel recording.
As time went by hand wound cassette tape players took the place of record players.
.
The latest technology produced by Gospel Recordings is a hand wound digital player.
You can check it out on Gospel Recordings the wonderful work this mission network is doing worldwide.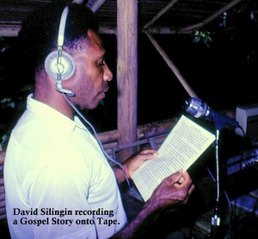 Inspired by what Gospel Recordings had achieved, I decided to further the content of Gospel recording in our area and Mission by producing our own tape recordings of the Old & New Testament stories.
I worked with  a number of local pastors who translated my sermons into the language with sound effects and recorded these sermons on tape.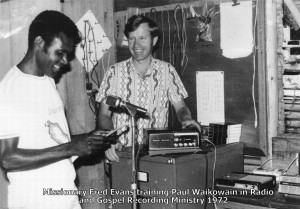 The pastor would then go out into the villages and play the taped sermons in the language of the people.
This was very effective in our area as it provided a tool for our native evangelists to spread the good news.
It was 1973 during our last term of service on the mission field, that the opportunity to use radio first opened up to us.
A new powerful radio station was built in the East Sepik called "Radio Wewak".
As the radio station was looking for local content I went to them with the proposal to provide a pre recorded 30 minute broadcast of a Christian Sunday School program in pidgin English called "Radio Sande Skul".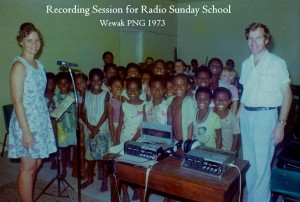 The station accepted my proposal and so we went to work immediately.
It was an amazing provision as there was no cost to the mission apart from tapes.
I had already acquired personally a professional Uher tape recorder for recording Gospel music.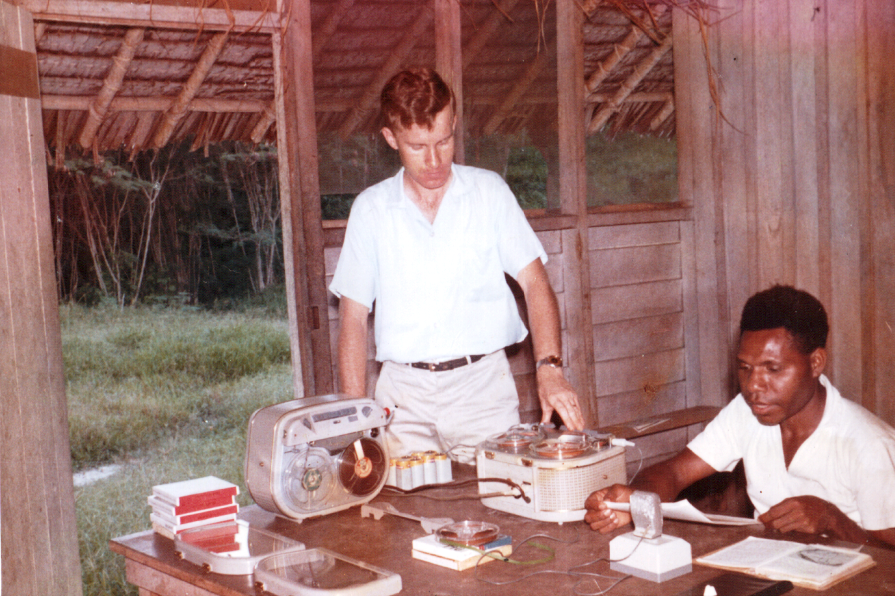 The program was an immediate success and every Sunday afternoon at 3 pm children would gather around battery operated village radios and listen to a Sunday School service.  
Betty and I recorded the Sunday school program in the rear prayer room/studio of the Wewak Church.
It was recorded with a live audience of children who sang heartily knowing that their voices would be heard all over the Sepik district and into other regions of  PNG.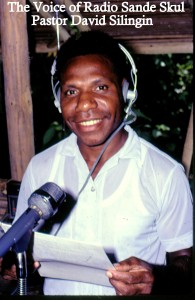 Pastor David Silingin was the presenter and became very popular as the voice of Radio Sande Skul. (Radio Sunday School)
During the years of the charismatic renewal, Betty translated many of the scripture choruses into tok Pisin which were very popular with the people.
We decided to record them on tape and they became widely used as a teaching aid in the village churches.
We sent the cassette tapes out to pastors to learn the songs and sing in their services.
Over the years hundreds of these cassettes were produced.
As time went by Betty & I became more involved in music ministry and was subsequently honoured by the National Superintendent as the missionaries who introduced Praise & Worship to PNG.
This was a surprise indeed as all we tried to do was teach and record Gospel choruses on tape for the people to learn.
In the video below is one such chorus "Jisas i switpela".
Since those years the music of the Papua New Guinea church has developed beyond our wildest expectations.
Harmonies and a Polynesian style of hymn singing has swept around the country.
Many a village church has its own electric power plant which they use to power electric guitars and amplifiers as well as providing electric lighting for church services.
Instead of jungle drums beating out a demonic rhythm for a heathen singsing, you can often hear amplified gospel songs wafting over the jungle tree tops as christians gather to praise and worship Jesus.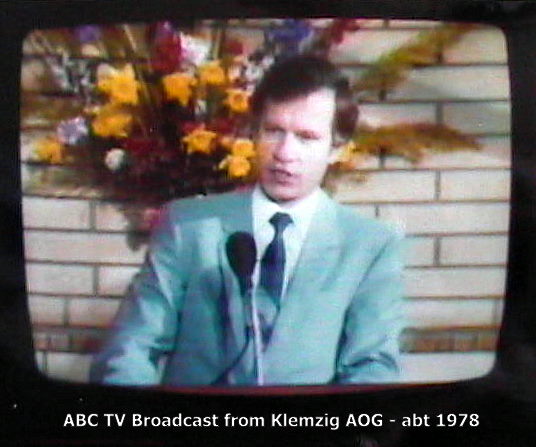 Even though I had 'fanciful' dreams of become a television evangelist or gospel preacher, which I might says was largely implanted in my brain through personal prophecy, it never really came to much.
Realistically looking back, it was a bit of a fantasy.
My media ministry never really rose to any great height as I never seemed to have the resources or talent to explore it further.
The Bible says a gift makes way for you. Proverbs 18:16
At the end of my missionary vocation I philosophically accepted the fact and closed the chapter.
However, when I returned to Australia and became part of the Klemzig AOG ministry team in 1976, television ministry suddenly became a possibility for the church.  
In 1978 Evangelist Rex Humbard's program "Cathedral of Tomorrow", had just started broadcasting on Adelaide TV.
We were delighted and identified warmly with the program by advertising our own services on TV.  
It was then my brother Andrew saw the opportunity of presenting our own TV program.
With the support of the Church & Board, we launched our own 30 min TV program called "Its A New Day".
To my knowledge it was the first foray into local television ministry by an Assembly of God Church in Australia.
Andrew was the Speaker and I was the Presenter.
It was an exciting time for us all.
One highlight during this period was when the ABC brought its mobile TV Studio bus into our Klemzig carpark and broadcast live the Sunday morning service from the church.
It was televised nation wide.
After it was all over, we felt particularly exhilarated!
To my knowledge, it was the first Pentecostal Service ever broadcast nation wide in Australia and it didn't cost us a cent.
Here is a edited version of that TV broadcast.