How I Met My Wife?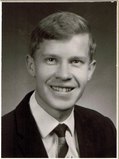 It was 1963 and my first term as a young single missionary to Papua New Guinea was coming to an end.
I must say that serving God as a single young man was not only a great privilege but an amazing adventure!
When I started out I had no idea of the circumstances that I would encounter. My first term was so exciting, full of discovery and very fruitful in ministry.
I will never forget my first night sleeping in the jungle. My first meal in a village. My first encounter with tribal debate and my first inundation from a tropical storm.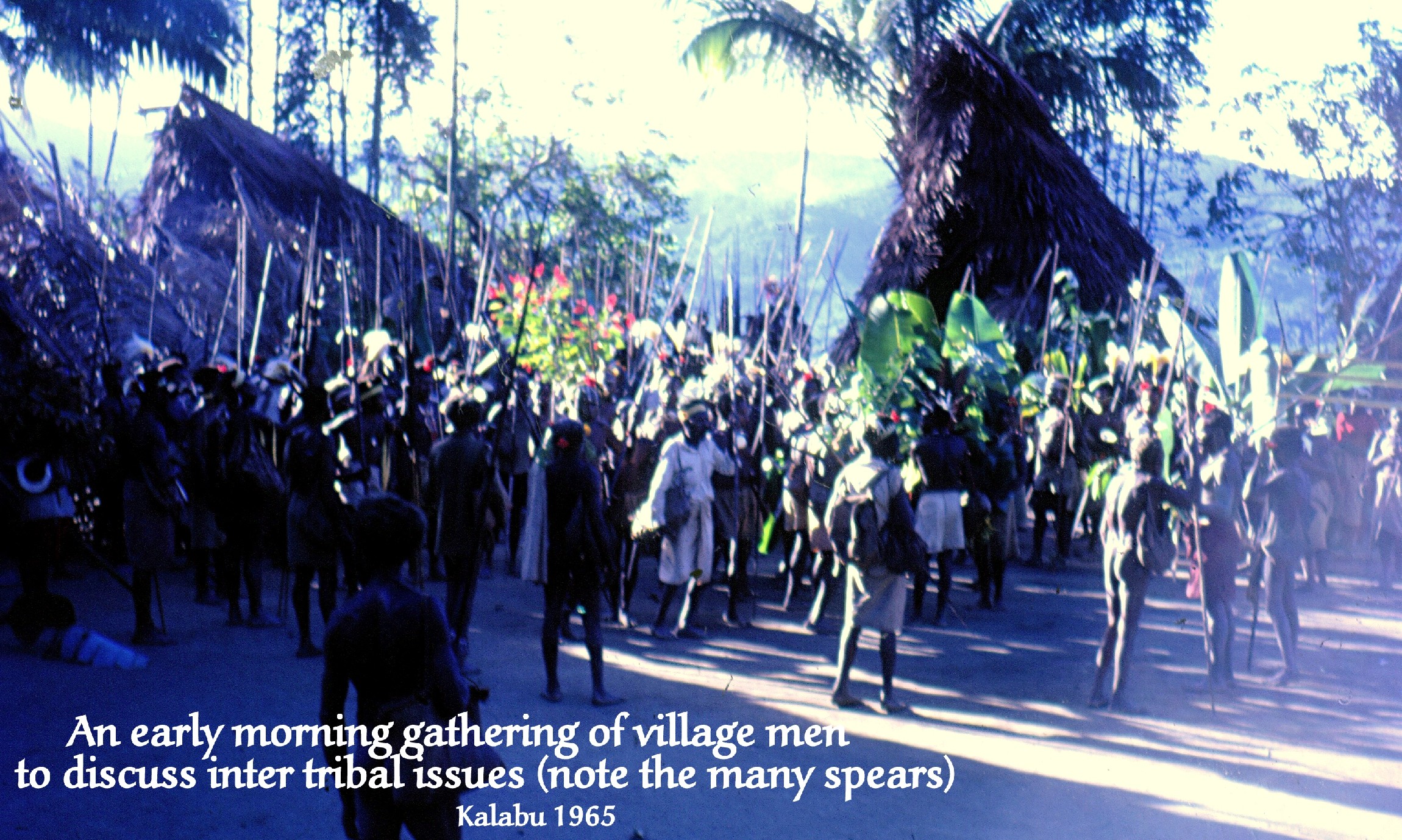 Life couldn't be more exciting for a young man of 22 years of age.

Spiritually I was eager to know God and follow Christ personally in the directions I should take in my life but I needed a life partner.
I was keen to plant churches and evangelize the mountainous region where I worked as a missionary, but I was lonely!
In my first term of service I saw myself as a "mini apostle", a fully devoted follower of Jesus Christ.
My objective was to try and reach people with the good news of the Gospel and establishing churches where no one had planted churches before.
My goal was to evangelise and build 10 new churches in my first three year term of service.
I knew what the Bible promised in Psalm 37:4-5, yet loneliness seemed to be my constant companion.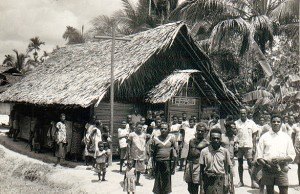 By the end of 1963 I had personally and with the help of national converts, pioneered and built seven new churches in the Mambalip mountain villages near Maprik.
I felt elated yet there was something unfulfilled inside of me.
When I was alone at night in my humble bush shack I would think about it and wonder how I could survive this calling without a wife.
I was lonely, I needed a wife. Besides I wanted to leave a legacy like my father had done.
As the end of my first term drew nearer, the desire to get married became a constant thought.  
I continually found myself bringing every thought into subjection to the obedience of Christ 2 Corinthians 10:5. I had to discipline myself lest it consume me.
There were times when I would sit on the steps of my bush house and pray that God would somehow prepare someone for me when I returned to Australia on furlough. Mark 11:24.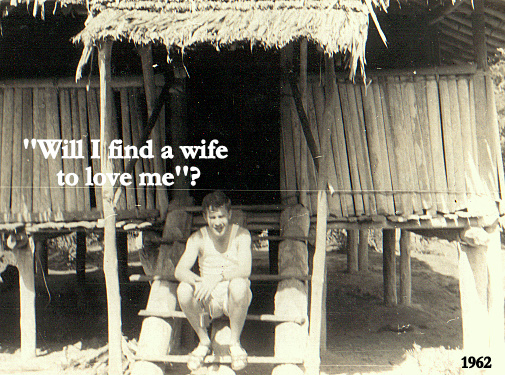 I was impatient however and sadly did not wait for God to answer my prayer. As a child my mother taught me Proverbs 3:5-6 , but I didn't.
You see, because of this intense feeling of  loneliness and lack of spiritual maturity, I had taken things into my own hands and wilfully decided to get married to a young lady I knew in Australia without seriously consulting with my family first.
I was determined to get married so I announced my engagement on Christmas Day 1962 with great fanfare to my colleagues on the Maprik Mission Station, singing at the top of my voice "I'll Never Be Lonely Again, Never Again" .
As if to confirm it, I fired a few volleys from my 22 Rifle into the air and scattered the wild pigeons in the trees.
Unfortunately the young lady I became engaged to, was not endorsed as a missionary candidate and so my life was turned upside down as I came to the first major cross road of my life.

I will never forget the trauma of that event, as a broken engagement in those days was like a divorce.
I cried and pleaded with God but every door closed.
I had to choose between getting married to my fiancé or serving God as a single missionary!
My heart was shattered as I was forced to break off the engagement if I was to remain in missionary service.
I was angry with God and particularly with the Foreign Missions Council of the Assemblies of God in Australia who gave me an ultimatum.
With a heavy heart I called off the wedding just one month prior to its celebration.
Trying to find the will of God for ones life is tough and at times downright painful. 1 Peter 4:19 How cruel is God I thought!
But I soon discovered that God had a higher plan for me. Jeremiah 29:11-13.
Six months later my sister in law Lorraine Evans sent me some photos of her wedding day.
Amongst them was one of a tall statuesque young lady who was stunningly beautiful.
Her name was Elizabeth Bell, (Betty to her friends). I was immediately drawn to her natural beauty.
I examined the photo closely with a magnifying glass.
Betty had a beautiful face, tiny waist and long glamorous legs & white Stiletto Heels ……  'Hmm' I thought, 'I wonder who she is'?
I soon found out all about her and discovered that she was the daughter of home missionaries to North Queensland, David & Wyn Bell and was about to graduate from Bible College.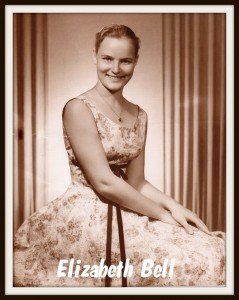 I was beginning to feel "unnecessary" but I quickly reminded myself of  my favorite scripture taken from Acts 20:24.
I took the above photo down to my walking track amongst the trees and prayed this prayer. "Lord give me that woman to be my wife in Jesus name" and pointed to her legs.
Was it faith or desperation? I don't know but when I went back to my bedroom I wrote in my diary "Saw a picture of Betty Bell today, strange as we have never met before. I prayed for her to be my wife".
I then wrote again the quote from Acts 20 "But none of these things move me".
Amazingly a peace flooded my life and somehow I knew God had it all under control.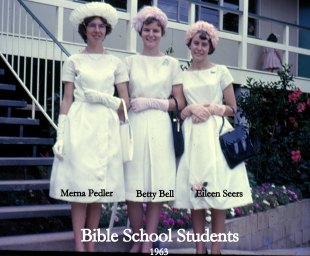 A few months later it was time for furlough.
As I flew into Brisbane I was overjoyed at the prospect of seeing my homeland Australia and civilisation again.
I wondered what God had in store for me?
I was met at the airport by a missionary colleague Les Jones who later was the best man at my wedding.
He drove me to the Bible College where I was given lodgings for the week.
Pastor Bartholomew, the Principal of the College took me on a guided tour of the new campus.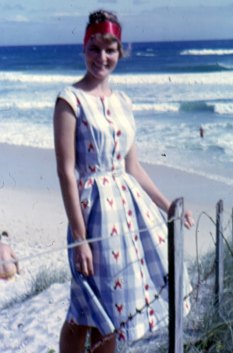 Would you believe it, the first student I met was none other than the beautiful Betty Bell. My heart skipped a beat!
She looked amazing to me even though she was not expecting to be interrupted in the middle of her studies by a young missionary on the 'prowl'.
Immediately I knew she was the one I wanted. My heart raced and my head spun as I was introduced to her.
To say "I had the witness of the Spirit" would sound strange to some, but in the Christian context I knew that I knew, that God had prepared this beautiful woman to be my wife and partner in life.
The next day I walked with her to the Graceville railway station to catch her train into the city of Brisbane for work.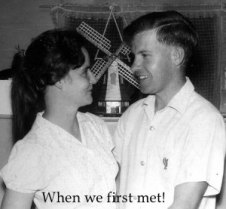 Every day I did this and it felt like I was walking on a cloud.
Love does some strange things to you but never had I felt anything like this!
As strange as it may seem, there was an incredible sixth sense that we were meant for each other, like 'God had pre-arranged this' and we had known each other 'forever'!
Peace filled our hearts as we talked at every opportunity and I took for granted that I was going to marry her even though I hadn't even proposed as yet!
I was on itinerary at the time and visiting the South Australian churches to promote the cause of Missions.
Mrs Beryl Jobe the pastor's wife of the Klemzig Assembly of God helped me find an appropriate place to be alone with her.
You see in those days Missionaries or Pastor's must not be seen alone with a woman.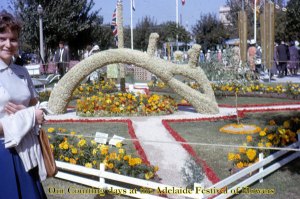 Mrs Jobe kindly arranged for me to chat with Betty privately in her lounge room, the Klemzig Assembly of God Church Manse where they lived.
"Perfect" I thought!
It was just two months since I had met her and so I took my opportunity and and wasted no time and asked her to marry me.
Well, believe it or not she turned me down and asked me to give her time to consider it.
I think she thought I was a young bloke who was desperate to find a girl friend and needed more time to look around for one in Australia.
I gave her 24 hours and popped the question again the next night in the same room……. This time she said "YES". We prayed together and I kissed her. …..  Wow! I was walking on the proverbial "Cloud 9"!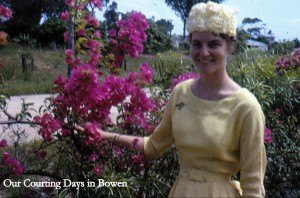 Four months later we were married!
I had no money to purchase an engagement ring let alone wedding rings.
Our courtship was filled with sight seeing, excitement, joy, romance and would you believe it, a Pastor's Conference in Beulah Heights Melbourne.
I was asked to speak as a Missionary and Betty as a Missionary under Appointment.
To our surprise Pastor CL Greenwood called on the Pastors and took up a "love offering" which was totally unexpected. We were overwhelmed with gratitude and amazement!


The next day Miss Kath Hayes who was the Foreign Missions secretary, took Betty & I to a Melbourne Jewellery Warehouse and told us take our pick of an Engagement & Wedding rings.
We were dumbfounded or "gob smacked" as they say!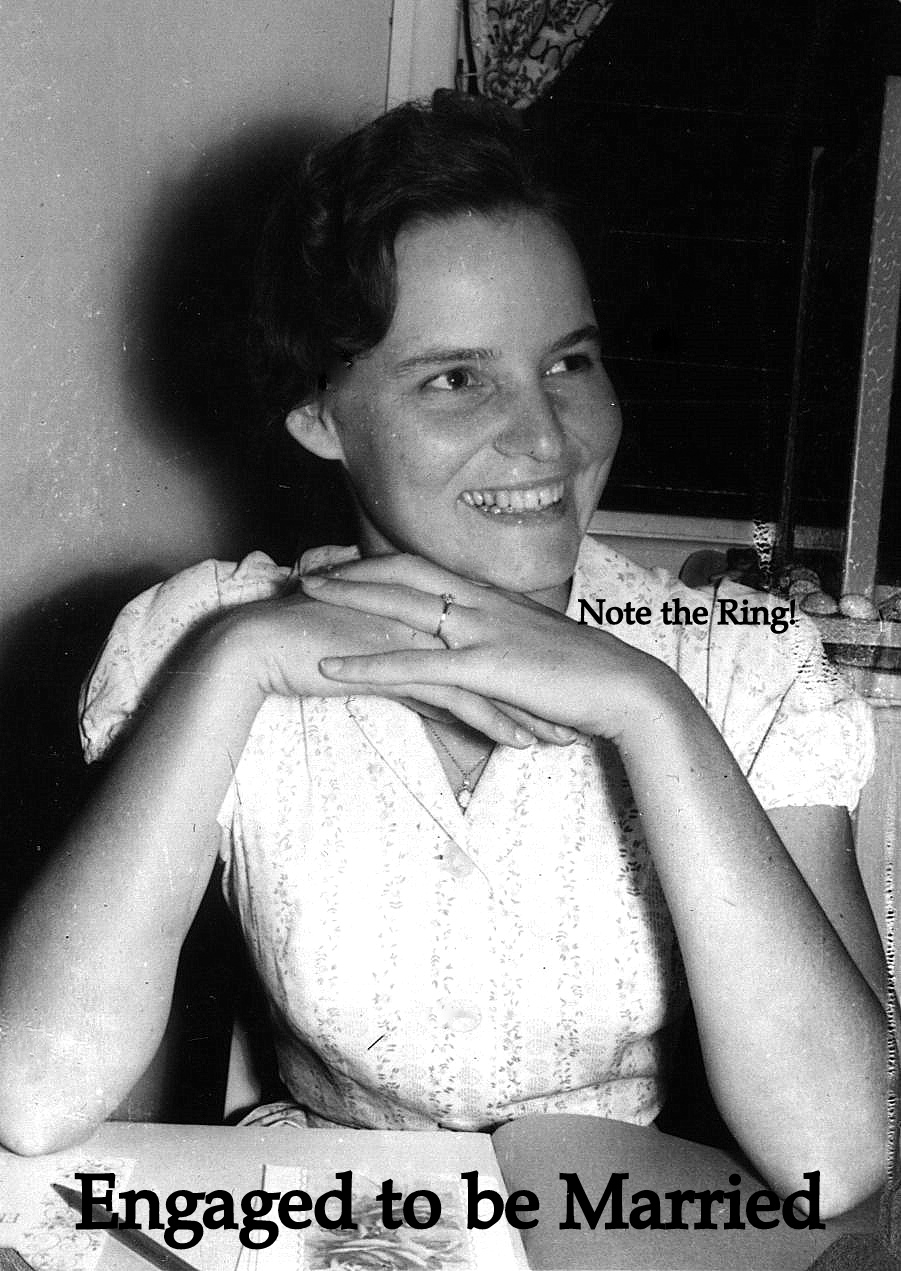 There were no prices on the trays and trays of expensive diamond rings.
Kath Hayes insisted that Betty choose any one of her liking without concern as to its cost.
I stood and watched in amazement as Betty examined the rings and finally chose a beautiful ring that matched the beauty of her elegance.
To this day we have no idea what the rings cost which was totally paid for by the love offering from the Pastor's Conference.
To say I was excited would be an understatement.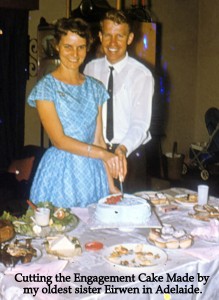 The next costly event on the agenda of our whirlwind romance was the wedding.  
How was I going to pay for it on a missionary budget of $30 per week.
Somehow I knew God would provide as He had done with the Rings.
We were married by Ps. Lloyd Averill at Glad Tidings Tabernacle in Brisbane just six months from the time we had met.
On a beautiful Saturday morning on the 9 May 1964 we were united in Marriage with the blessing of God and our families.
Twenty five years of waiting as a virgin christian boy was worth it all.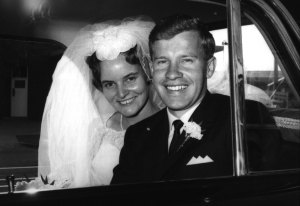 I was 25 and she was 24, just six months younger. Perfect I thought! You cant get much better than that!

The wedding reception was another surprise as it was arranged and organised by the Pastor's wife Mrs Edith Averill.
The wedding cake was made and given to us by Mr & Mrs Jensen who were our employers during our Bible School training years.
Those attending the reception included missionary colleagues who were on furlough at the time.
My mind was exhilarated with excitement.
During the reception a telegram was received from the Christian community in Maprik in Papua New Guinea where I served in my first term as a missionary.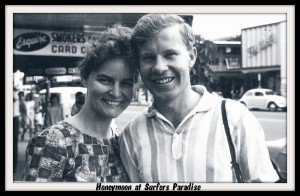 They sent a monitory gift which for them meant helping me with the bride price. I was 'touched' by there thoughtfulness & love.
The only expense I had was the hiring of the two gleaming black Chrysler Valiants.
We were blest to have photographer Barry Tutt from Glad Tidings Tabernacle who offered to take our wedding photos and kindly gave us the Wedding Album as a gift.
We honeymooned at Surfers Paradise in a brand new Motel which was situated where the Q1 Residential Tower presently rises over Surfers Paradise.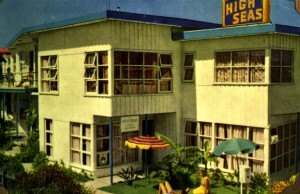 In those days there were no high rise buildings at Surfers Paradise and we walked the streets and beach in perfect peace & security. It was wonderful!
I will never forget the feeling of complete harmony of Body, Soul & Spirit. 'I had arrived' I thought!
We were in love and the joint feeling of belonging to each other was intoxicating.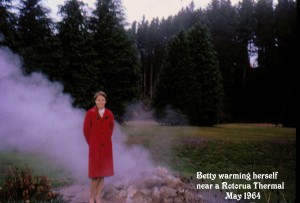 I reckoned the Institution of Marriage was the most brilliant idea ever thought of by God!
We visited the Curumbin Bird sanctuary before flying to New Zealand to continue our Honeymoon, which was kindly arranged by the personal invitation of the General Superintendent of the New Zealand Assemblies of God Ps. Frank Houston.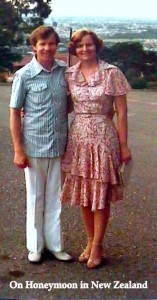 We travelled by Bus throughout beautiful New Zealand, stopping at towns and villages from Auckland to Christchurch.
During our itinerary we ministered in churches along the way. In fact we preached and promoted Missions in 16 churches in as many days.
For our overnight accommodation we usually stayed in the homes of local pastors and wealthy church members.
As it turned out on most occasions we were given the master bedroom to sleep in which was better than the best of Motels.
On one or two occasions there were two beds in the room which of course we didn't need and dully ruffled the second bed at daylight.
To top it off every day we were spoilt with the best of New Zealand home cooked meals. You cant beat that!
Despite all the excitement and pleasure of our honeymoon I wanted to get back to my jungle home and introduce Betty my new bride to the people I loved in Papua New Guinea.
This was a relationship that was born in Heaven and has survived 50 years of ups & downs in missionary and pastoral life.
It has produced 5 children and 13 grandchildren and of these, three are in Heaven. Liam and Lara (David's babies and John-Paul our son who is buried in Wewak, Papua New Guinea).
I love & I honour her and thank God for fulfilling His promise He gave to me. Psalm 37:4-5. 
The video below is a pictorial I made for our Golden Wedding Anniversary. Hope you enjoy it.
The Best Day of My Life – 9th May 1964
May 9th 1964 will forever be remembered as the happiest day of my life …… The bedrock of our longevity is that I have no doubt that God our Heavenly Father brought us together all those years ago. 
Together we have trod the world stage for over 50 years through sacrifice and service, navigating the pleasures and pain of ministry life, and experiencing personal family grief, loss and profound disappointment & sadness….. that we never saw coming. 
A crisis of faith in people unfolded, but thats another story!
Throughout it all, we found Grace to survive and thank God for the journey He gave to us to explore together.                                                                        
15 March 2010