David Henry Bell by Elizabeth Evans
I have a brief window into the life of my father, David Henry Bell, and I wish to write my memories for my family.
It is my wish that his story will have additions by those who knew him in the many motifs of his life that are not part of what I know through my window.
I left my family home age 15 to begin my working life and career and my adult interactions with my Dad were brief holidays and furloughs and my Mother's correspondence.
How I regret not getting to know him better and visiting his family in Ireland with him.
That opportunity was never part of the trajectory of my life. Hence I have not met any member of my Dad's family. I would be delighted to receive any information about my Dad.
David Henry Bell was born in Belfast Antrim on the 24th January 1893 and registered on the 25th February 1893 at 148 Sandy Row Belfast.
His father was Alexander Bell; a coachbuilder by profession and his mother was Elizabeth Bell (nee Smart).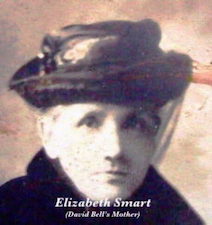 It appears to me that Alexander succumbed to a war injury (navy) and later developed an alcohol problem.
To protect her husband's status in society, his wife Elizabeth hid their financial situation, supplementing the income by making candlewicks late into the night. David distributed these for sale.
As a young boy, David also caddied for notable golf players and was able to assist his mother with his earnings.
The family's religion was listed as Church of England, (Ireland) and there is a connection to early Quakers where their ancestors lived.
My Dad often spoke of his mother's devotion and continued prayer for her family.
In 1911 documents show that Alexander and Elizabeth (Lizzy) had at that time been married 29 years with 12 children born and 8 were living.
Dad did speak of his brothers John, Francis, Valentine, Alexander, (I think some were lost in war) however with deep affection he spoke of his sisters, Jane, (Jenny) Anne, (Annie) and Dorothy(Dolly).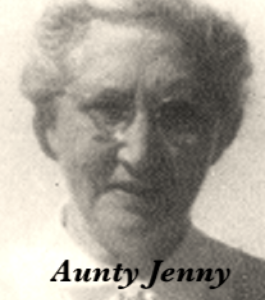 Aunty Jenny and Aunty Dolly were part of the folklore of my childhood, and a highlight when I was about 10 was a Christmas parcel from the aunties in Ireland.
I remember the bright orange towels, a fine Irish linen tablecloth (which I still have 2020) and a two feet tall Irish doll with long red hair. The doll could walk! My Dad was proudly "orange"  
And no matter the circumstance, he would never buy a house with a green roof, or a green car for that matter!
Letters from Aunty Dolly to David dated 1981 refers to her living in a retirement flat with her husband Tom Murphy.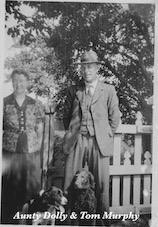 Their address was 6 Derryvinney Rd, Birches, Portadown, Craigavon, Nth Ireland. Their son was also named Tommy, and Tom and his wife lived nearby.
Some years ago I took a "stab in the dark" and wrote to The Council Office of Belfast seeking information about David's family.
How excited I was to receive a reply stating that my letter had been passed on to my second cousin.
He was the Lord Mayor of Lisburn co Atrium.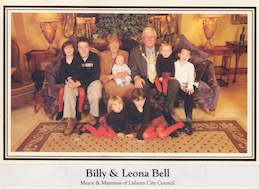 William (Billy) Bell put me in touch with another second cousin Ruby Mc Conkey.
Ruby was a little ginger haired girl about 5 or 6 years old when David left Belfast. "Granda" Bell, (John) was David's brother, and Jacky (John's son) knew David as "Uncle Davey."
Jacky had 4 children, Ruby, Stewart, David and Robert. John Stewart Bell of "quantum" fame was my Dad's nephew.( see Google for John Stewart Bell)
He was quite young when he passed away in Scotland.
His work is celebrated in Museums and Universities in Ireland and Scotland.
According to the director of Navy Accounts from Admiralty Bath, David Henry Bell (official number C/SS.109684) entered the Navy on the 10th March 1910 and served as a Stoker 2nd and 1st class to the 6th April 1919, when he was demobilised.
He enrolled in the Royal Fleet Reserve on the following day. A discrepancy in birth dates on Naval papers (9th November 1891) was the result of David elevating his age to enter the Navy.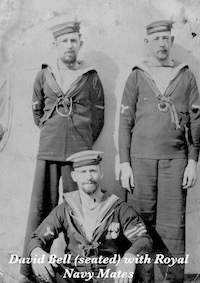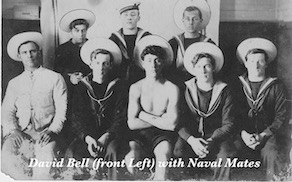 In David's words he was 16 when he entered the Navy. David's British Naval papers were lost when the Don River flooded during our time in Bowen.
David applied for new papers in 1950 and his application was not granted.
I hope to get those records one day, and collate his stories of warfare with the vessels that he served on at that time.
Anzac day was not a happy celebration in our house.
Tension was high and he was angry at bungled directions from the "top brass."
My father told of transporting Australian young soldiers to Anzac cove where he watched as they were "ploughed down" with gunfire.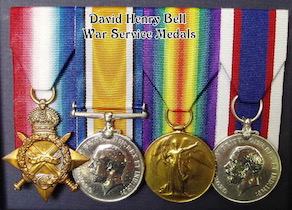 He begged to go with the young men but was restrained and taken back to the boiler room where he was a stoker. It was hot.
David tells the story of returning home to Belfast for leave and finding his family absent.
The daughter next door was home so he visited with her awaiting the return of his family. 
They were not chaperoned during the few hours visit , which caused social uproar and a demand for marriage.
David was happy to agree and married  Minnie Doran in 1918, which makes David about 25 years old.
Minnie was not a well girl and when the couple moved to Australia her mother moved with her. 
They were married for 27 years (according to Dad's death cert) when Minnie died in Sydney.
There is conflict with dates here as Ancestry has Minnie's death in 1932, which suggests they were married for 14 years.
David carried a tattoo " Minnie" on his wrist and he spoke of her as a "true lady."
Their home address at Minnie's death was 470 Elizabeth Street. Surry Hills, Sydney.
David served in the Royal Australian Navy from Jan. 1920 to 11 Jan 1932. (official number 11971)
David enrolled in the Royal Australian Fleet reserve for 5 years on the 12 Jan 1932 and was discharged on the 2nd July 1936. 
A letter to David and Win from Ruby McConkey(niece in Ireland) in 1980 mentions her family compiling a family tree.
She also mentions David's amazing back tattoo.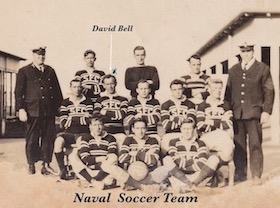 The tattoo covering his entire back depicted the crucifixion scene – the three on their crosses, central was Jesus with the crown of thorns, and soldiers with their spears.
It was a detailed piece of art and David said he was "drunk" and was unaware at the time! Ruby says she has a photo of that tattoo. I would love to see that photo.
If the photo was sent to David he would have discarded it as he kept his back hidden from public as much as possible.
It is a special memory to his children as no one else has a dad with such a piece of art on his back! (The tattoo is mentioned in his Naval papers.)
Features that are not well known about my father are that he and his wife Minnie were competitive ballroom dancers, and that David taught boxing, and that he was the Australian Navy welterweight champion boxer in Sydney.
It is evident that the Irish Bell family were strongly Mason, as was David.
He renounced his Mason membership at conversion.
David talked of unemployment, soup kitchens, and earning a living by carrying a disabled boy on his shoulders up and down Bondi Beach during the great depression in Sydney.
By this time David was an alcoholic, a chain smoker, in constant back pain with sciatica and he had "lost a fortune on the horses."
At the death of his wife Minnie, he left his home, and I understand that he said he never returned.
I believe Minnie's mother had power of attorney for David and Minnie and I am not sure if Minnie's mother returned to Ireland.I am unaware of her death certificate in Australia.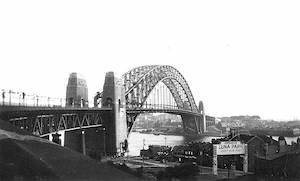 In complete despair and constant pain, David set out to end his life by jumping the Sydney Harbour Bridge.
Walking towards the bridge he was stopped in his tracks, as he was accosted by a female's voice, "you're a coward."
No one had ever called this pugilist a coward!
The lady preacher was probably Mary Ayers, a part of the church group that regularly held an "open air" meeting near the railway station – Elizabeth and George Street.
She continued, "Yes, you would fight anyone in this street but you do not have the courage to come forward and take this book from my hand."
David took up that challenge and walked forward taking hold of the Bible that she offered.
The lady continued to preach holding the book firmly and David continued to hold on as well.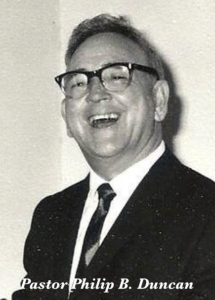 The preacher stepped back slowly, until she was adjacent to her pastor, Pastor Philip Duncan. Pastor Duncan put his arm around David, sat with him on the street gutter and  introduced him to Jesus, and prayed the prayer of repentance and acceptance on that street corner.Miracles happen when God is near and David received new life and instantly was healed of pain, alcohol, and gambling.In Melbourne, Pastor Greenwood had established a Pentecostal Church following a pentecostal move of God known as the  Sunshine Revival.He called it "Richmond Temple.
Pastor Duncan, following Pastor Greenwood's leading, called his church in Sydney, "Jubilee Temple."
The building was a refurbished warehouse in Elizabeth Street, Surry Hills.
David became an active part of this fellowship. Pastor Duncan had a strong passion towards "the lost" and held gospel revival meetings in Redfern.
Redfern was a centre for the Sydney underworld featuring dangerous criminal activity.In spite of warnings by the police Pastor Duncan continued his revival meetings in the district.
David became Pastor Duncan's body guard and bouncer.
It appears David had to remove and subdue some wild and rough people at this time.
David accompanied Pastor Duncan on his many outreaches and this season was like an on road Bible school for David.
David's personal call to ministry began with a spiritual vision. He saw a group of brown skinned people waving for him to come.
He related this vision picture to Pastor Duncan who was able to tell David he had recently visited a place described in the vision.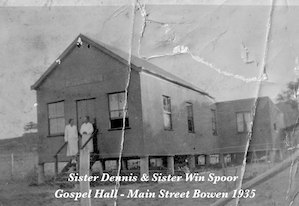 It was Bowen, in North Queensland. 
David boarded a ship and disembarked at the Bowen wharf in 1935.
After making enquiries, he came to the place where church meetings were being held.
He entered the building  and a lady sat playing an organ and singing as she played – "Brightly beams our father's mercy. From his lighthouse evermore. But to us He gives the keeping.
Of the lights along the shore. Let the lower lights be burning. Send the gleam across the wave. Some poor fainting, struggling seaman. You may rescue you may save."
Wijtske (Win) Spoor, the singer, was a single missionary working with Mrs Annie Dennis who was an early pioneer of the Pentecostal move of the Holy Spirit in North Queensland in the early thirties.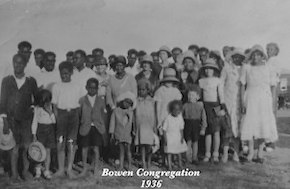 My mother laughingly told me that after hearing David trying to lead singing with the very tuneful South Sea Islanders, to save the grief of the congregation, she just had to say yes to his proposals to help him lead the singing!  
David was very proud of his ability to sing seaman ditties, however he was in fact tone deaf!
My Mother was very sure of God's will to marry David and said to me that God had spoken to her saying He had given David to her to "bring him to glory." And she did!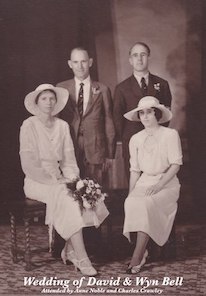 David and Wijtske (my Dad called her Win, her family called her Wicky-  one needed to speak Dutch to pronounce Wijske!) were married in Cairns on 1st June 1936 by Cyril Abbey Read a Methodist minister at the residence of Mr A Noble.Edwards 
Anne Noble and Charles Crawley attended them. David was 43 and Win 37.
It appears Win was ministering at  Halifax at the time, before their marriage, and David in Innisfail.
The outreach at Innisfail began with children who were captivated by the Bible stories told by David.
The Edwards children were excited to share these stories of Jesus who was a loving Saviour and was able to help them when they prayed. One of the Edwards children became very ill and Mrs Edwards called David to pray.There was much joy when Mrs Edwards witnessed the miracle power of God through the healing of her child.
The whole family believed and the Good News quickly spread as the testimony spread far and wide.
Win and Mrs Edwards become good friends and they worked together sewing the tent out of parachute silk that was to become the Bell's first home. 
The tent was pitched beside the crocodile infested Johnson River.
The Edwards family was a major part of the establishment and continued success of the Pentecostal church in Innisfail.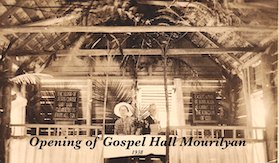 The first bush timber church was built at Mourilyan.
They traversed the river in a dingy to go to church.
Dad tells with humour how he convinced visiting church executive members from the "big smoke" that the moving objects in the river were probably drifting logs.
They were not!
I have found a list written by Dad of places where he had ministered.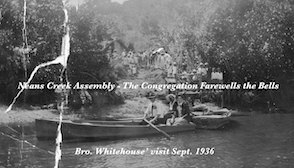 The list could be chronological. Halifax, Innisfail, Tully, Mundubbera, Monegorubby, Branch Creek, Cracow, Eidsvold, Bundaberg, Mackay, Thursday Island, Lenox Heads, Sydney, Bundaberg, Bowen, Aloomba, Yungaburra, Bowen, Mackay, Nunda Western Line, Yungaburra, Tully, (Win's writing adds) Murray Upper, Eventide Home, Rockingham Home, Cardwell.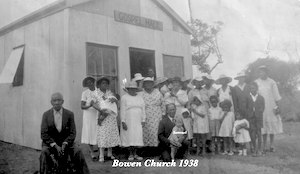 I have some photos of some of these places but unfortunately I do not have the story connected to  most of them.
Maybe someone could add stories for me. 
David and Win and their young son Samuel, born in Mundubbera in 1937 went to Thursday Island in 1939.
Here they began "open-air" street meetings, and interest in the Gospel message was fostered.
It did not take long before their tent home disintegrated in the tropical weather, and they purchased a two-bedroom house. 
They removed the partition between the rooms to allow for a church meeting place.
The Church of England had religious control of the Torres Strait Islands and warned the people not to attend, as the house was not a place of worship, as it did not have a porch.
As well as numbers inside, people from neighbouring islands were gathered outside.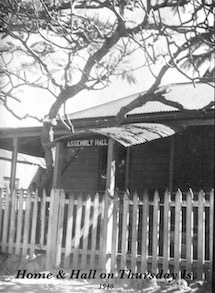 David built a porch on the front of their home and the congregation numbers began to grow.
The message was clear; Jesus was Saviour, Healer, Baptiser, and Soon Coming King. Divine healing was taught and experienced.
One day a Murray Islander named Noah who had heard that sick people were being healed visited the Bells in Thursday Island.
The Bells shared the Scriptures on healing and prayed.
The Lord healed him and after staying with the Bells for a week and receiving the Baptism in the Holy Spirit, he was sent on his way home with a New Testament.
Before this, Murray Islanders had the four Gospels but they had never read the book of the Acts of the Apostles.
What an amazing testimony this man brought back to Murray Island and many islanders responded to the Gospel.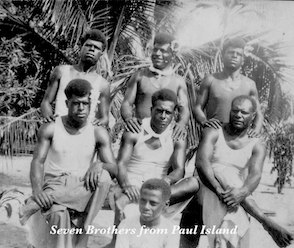 Open-air meetings which were marked with spiritual Pentecostal fervour began on the Island, and unfortunately excesses resulting in the young christian leaders being imprisoned, however Pentecost had found a home in Murray Island.
David sought sea transport to Murray Island but was denied by the authorities because of the strong Church of England control.
Murray Island is about 200 KM from Thursday Is. "Mer" is the traditional name. 
However David purchased a ship called Cape Kimberly and was preparing to sail her himself to give leadership to the new converts.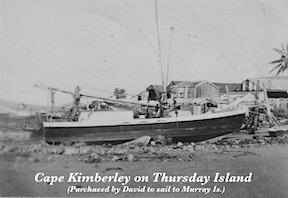 This desire was promptly halted in 1942 when expatriates were ordered to evacuate Thursday Island as the invasion from the Japanese was on the doorsteps of the Torres Strait.
My Mum said she could hear the guns in the night.
Pentecostal services continued on the Islands, and some years passed before the Assemblies of God executive invited Pastor Burnie and Desley Henneway and Pastor and Mrs Watters and family to take up missionary service in Thursday Island.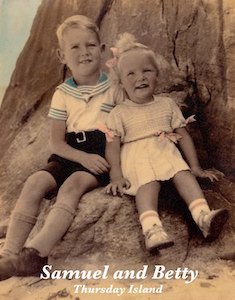 They arrived in 1967 and bought a central piece of land in 1969. The new church was opened in 1970.
A new addition had been added to the Bell family in Thursday Island when I was born in 1939.
Another son, John Henry, born in Bundaberg on the 13th September 1942, completed the family. 
My earliest memories of family were in Bowen where the family returned after evangelising in several Queensland country places.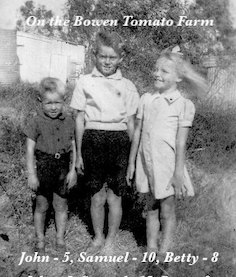 In Bowen my parents supported themselves by farming tomatoes, capsicum, chillies and egg plant while pastoring at Queens Beach.
It was a happy time for the family and David and Win formed life long friends with the South Sea islanders of the district.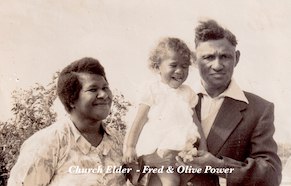 Olive Power became Win's best friend and Fred Power who owned the joining farm worked side by side with  David and others to see a strong church established.
The South Sea Island community was devout, hard working,  talented and generous for the work of the Lord and together a fine church was built at Queens beach. 
The names Yasso and Power are held in high regard in the Bowen district and many of the offspring serve God  in many parts of Australia.
David was a seaman not a farmer, but he "put his hand to the plough."
Win had migrated from Holland in her early teens and her family were pioneer farmers in the Mundubbera district.
She added her knowledge of farming, however  David was a hard worker and toiled with vigour at anything he put his hand to do.
I have a picture in my mind of Dad with horse and scarifier fighting the clods in the paddock.
I don't think it was his favoured place.
We had a draft horse for the ploughing, and a horse called Topsy for transport in the sulky. 
David had a A model Ford ute.
Mum and I chose to go to church by horse and sulky, as driving with Dad was treacherous.
Samuel can probably add his stories to this.
(I know later John was very young when he took over the driving.
He wore David's hat to disguise the fact that he was quite underage.)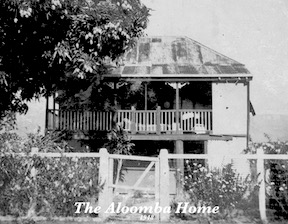 David became aware that many Murray Islanders had moved to Gordonvale and Aloomba to cut sugar cane.
I believe that he handed the church ministry in Bowen over to Pastor Willie Giblett, an anointed powerful aboriginal church leader. 
David bought a house in the midst of the cane fields at Aloomba.
In no time we had many Murray Island friends, and some found Jesus as Saviour, Healer, and Baptiser in the Holy Spirit. 
David mostly supported himself financially.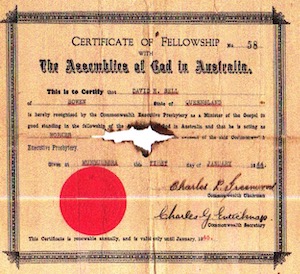 In this instance he worked as a fettler for Queensland Rail during the week.
That was hard work under the North Queensland sun.
Under a "Workers Credential" bestowed by the Assemblies of God in Australia, he continued his ministry. 
On Saturday we had the joy of many Murray Island young men fellowshipping in our home.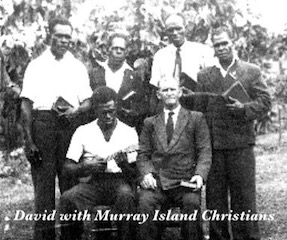 I remember it well as they brought with them bottles of soft drink.
This was something that in our family we had only very sparingly at Christmas dinner. I still love soft drink.
The other wonderful thing about this time was the song that filled our home.
These men sang traditional hymns in perfect four-part harmony without accompaniment.
They were great with more modern choruses and a ukulele as well.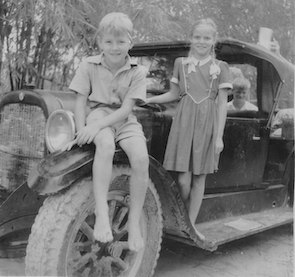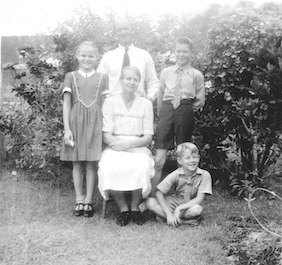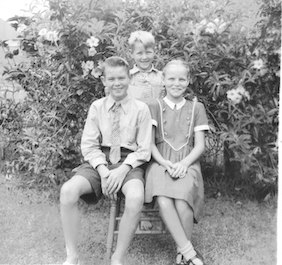 The David Bell Family
My next memory was in Yungaburra where Mum and Dad relieved Pastor Con Spoor (Win's brother) at the settlement at Pinnacle Pocket.(Yungaburra)
We lived in small quarters at the back of the church.
Win set up a little store to raise funds and the whole family worked in various ways to raise money to install pipes from the river for running water for the residents.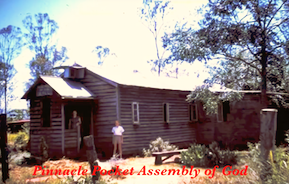 I learned to smock at Pinnacle Pocket and my contribution to the water project was selling the little dresses I made.
I think Samuel picked beans.
In about two years or so David and Win and the three children moved back to Bowen where they worked the farm for a short time to financially assist in a move to Mackay.
In Mackay, they bought a "nice" house.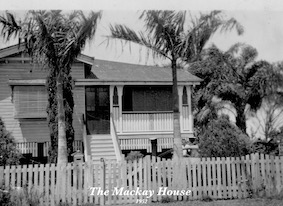 Win had served the Lord in many, often humble and  frugal situations and she insisted that she spend some time teaching her teenage daughter the art of good Dutch housekeeping.
My father's efforts were to teach me deportment. I do remember walking with a book on my head while he stood by chanting "heel, toe, heel, toe."
I left home to begin my nursing career in preparation for missionary service at age 15.
My older brother had also left home. 
In very little time Dad was off again.
He heard there were Murray Islanders working on the railway line at Nunda Western Line North Queensland.(Between Townsville and Mount Isa)
Our Mackay house was rented out and David joined the fettler crew and moved to Nunda.
A fellowship was established and I believe Pastor George a Murray Islander, and his family continued this ministry for some time. 
David was concerned when he witnessed the plight of some of our first peoples at Murray Upper.
He purchased land at Murray Upper and built a settlement and church.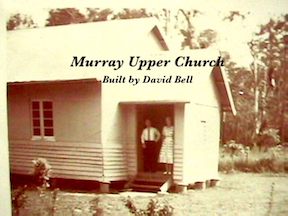 David and Win lived in a caravan and lean-to on the property at the back of the church.
Both Samuel and John were working in the area.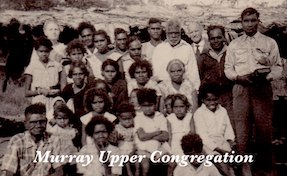 This was a difficult ministry for my parents  however they remember with fondness the Dickman family  and others who continue to follow the Lord.
David and Win ministered in Murray Upper for seven years, and failing health led them to return to Bowen where they retired. Unfortunately some years later the church was destroyed in a fire.The property was gifted to the Assemblies of God North Qld.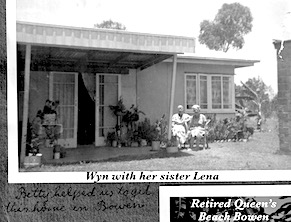 They bought a little cottage in Queens Beach Bowen and David was able to enjoy his walks along the beach each day.
The good people of the Bowen church  they had been part of many years earlier beautifully cared for them.
I was in New Guinea at this time and was happy that my parents had good people who were like family to Mum and Dad.
Retirement did not mean an end of David's desire to see the "lost" saved.
The Sunlander train passed through Bowen in the early hours of the morning, and remained for some hours to water or fuel (I don't know).
Many of the travellers were older folk returning after their holiday to Eventide Retirement Village in Charters Towers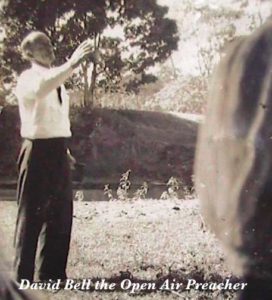 Dad would meet the train and ask the Lord to lead him as to with whom to share the gospel.
He led quite a few older folk  to know the Lord as their Saviour on that railway station. 
In the early 70s I received a letter in Wewak PNG from Dad saying that he planned to move to Eventide at Charters Towers, as he needed to look after "his Flock."
I was very surprised when he asked what I wanted to do with "my house."
I remembered that their caravan had been "written off" in an accident on their return to Bowen.
They no longer had the deposit for their little retirement house at Queens Beach.
At the time I was on my way to Bible College having saved during my nursing career to pay for my 3-year tuition and board.
I was able to give that money to David and Win as the deposit for their house. 
It appears that during the ensuing years they had paid off the house that was in my name. 
I had completely forgotten about the house.
What a surprise that was! I soon after returned from the mission field and was able to use the money as part of our house deposit in Adelaide.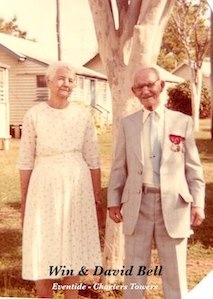 David and Win moved to a little cottage in Eventide Retirement Village and were spiritually cared for by successive pastors of the little Assemblies of God congregation in Charters Towers. 
David's youngest son John was deeply involved in David's life in much of the later years of his life.
I acknowledge his care.
John spent time with David supporting our Mother before David Henry Bell passed away in Charters Towers on the 24th Sept. 1985.
He was buried in the Charters Towers Lawn Cemetery.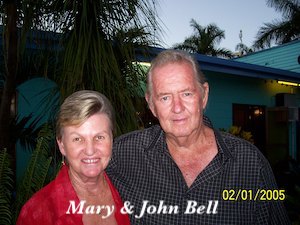 Later John and Mary moved Win into Rockingham Retirement Home in Cardwell to be near their family. 
This story must include David's beautiful daughter in law, Mary Bell, who was unstinting in her love and care for David and Win.
Both Mary and John are worthy of Praise and I am sincerely thankful.