My Missionary Hall of Fame!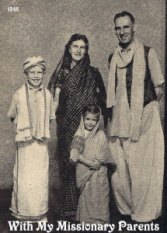 In writing about the Missionary Hall of Fame I am acutely aware that this is not the kind of recognition or honour that missionaries crave or desire.
Missionaries are a unique group of people, in that they seldom seek recognition preferring rather to be about their 'Fathers' business without fanfare or glory.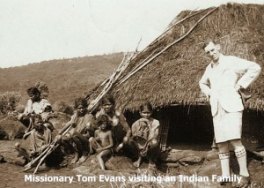 Receiving the Fathers blessing is more important to them than the acclamation or awards of people.
By nature they faithfully go about their work serving God in many unheralded places.
However I believe it is important to honour these dear people of God who have left family and home to serve in many dark corners of the earth.
The Honour Roll of this page are of those whom I know personally and have mostly worked with. To me, they are in my missionary Hall of Fame.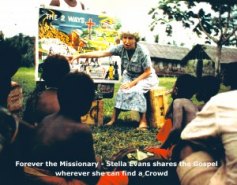 Tom & Stella Evans my parents, would naturally have to be on the top of my list.
Although the list is not in order of merit or longevity of service.
I mention them first as they sowed the seed of Missions in my heart when I was a child.
Tom and Stella Evans served in India for 27 years and pioneered a number of Churches in India and Papua New Guinea which are still flourishing today.
To get an expanded profile of their life's work click on the index page dedicated to them.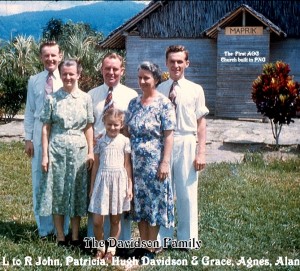 Hugh & Agnes Davidson and their family, in obedience to the call of God  established the first Assemblies of God Mission to Papua New Guinea at Maprik in 1948. 
We honour their memory for laying the foundation.
They were the pioneers and from their sacrifice a large network of churches were planted with the missionary team that they led.
I recall my first meal in Maprik PNG in January 1961. I was seated at the dinner table with my parents and sister. (My father was the Mission Superintendent at the time).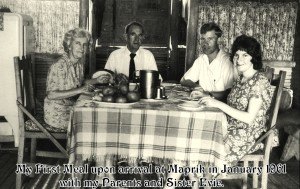 It was the actual house that the Davidson family had first built and lived in during the pioneering years of the Maprik Mission Station in the 1950s.
Being a person who is intrigued by history, I felt moved as my thoughts took in the enormous sacrifice and hard work that Hugh & Agnes and their children had made, to establishing this Mission Station at Maprik.
In the solitude of my heart I contemplated the challenge ahead and wondered if I had what it would take, to continue the work that these good Australians had started.
"Golden Years of Australian World Missions"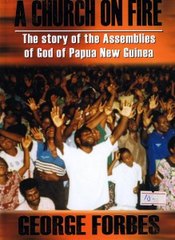 The years from 1948 – 1998 could well be described as the "Golden Years of World Missions".
Pastor George Forbes was the man called of God to oversee those who served during this incredible and unique time in Mission history.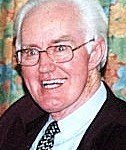 He was the General Director of Assemblies of God World Missions in Australia.
For over 30 years he was at the forefront of directing and managing the affairs of missionary personnel to and from Papua New Guinea.
In my opinion his book not only captures the history of the movement but the spirit of the missionary endeavour, to plant the first Pentecostal Church in Papua New Guinea. 
I recommend the book A Church on Fire by George Forbes.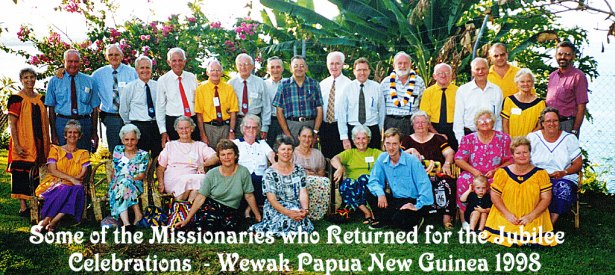 During our years of service in Papua New Guinea as Christian Missionaries, it was our privilege to work alongside some of the finest people in the World.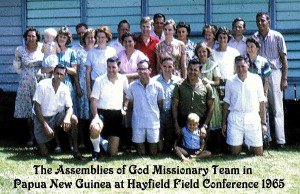 The Assemblies of God in Australia had targeted the East Sepik and in the purposes of God sent dozens of missionary families to break open this area for the Gospel.
We were the first Protestant Mission in the area.
It was a hot low lying tropical region just three degrees off the equator.
The mighty Sepik River flowed through its terrain and living conditions were seriously challenging.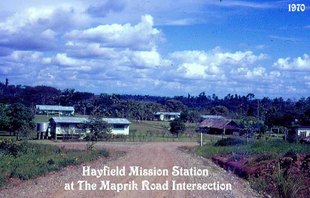 During the 1950s – 1970s scores of missionaries invaded this land and brought the good news of the Gospel.
They were exciting years and so I want to acknowledge the people that we worked with, some of whom have helped shape our lives.
In this post I want to publicly acknowledge the hard work and sacrifice of these gifted yet ordinary folk whom I have admired, respected and appreciated as Colleagues in the Faith.
They have become life long friends.
Due to space constraints I have decided to place many photos on the record with brief comments. (Some of the photos I have  resurrected from antiquity and enhanced to make them as sharp as possible. They can be  enlarged by clicking on them) .
Perhaps near the top rung on my honour list is
Cyril and Evelyn Westbrook.
This incredible couple have served for over 60 years and arguably have planted more churches than any other Australian minister of the Australian Christian Churches (Assemblies of God).
Cyril was field leader for many years and unobtrusively went about his calling of planting churches.
He was possibly the most sacrificial missionary that I know, willing to go anywhere and attend to anything if it needed to be done.
An avid communicator with a flair for detail.
He spoke into my life by his example when I was just a young single missionary struggling to prove myself.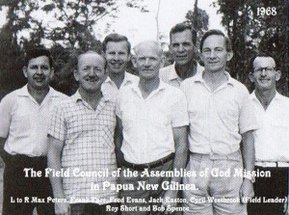 In 1968 I had the privilege of serving on the Field Council under the leadership of Pastor Cyril Westbrook and travelled with him on a number of occasions.
 Long after I had retired from missionary service in 1976, I had the privilege of returning to where it all happened at Maprik in 2008 with Cyril Westbrook.
We visited a number of outstations reconnecting with some of the early Christians.
Among them was a Christian named Abraham who was the first convert of the mission in 1949.
Abraham was suffering from Alzheimer's and passed away in 2009.
Below is the last visual recording of Abraham, as he prayed and thanked God for the missionaries who came and brought the Gospel of peace.
Roy and Dawn Short are another couple who  championed the cause of Christ in the late 1950s – 1970s.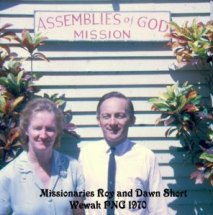 They served on a number of Mission Stations including Maprik and Wewak before pioneering the Mission at Jambitanget.
Roy served as a Field Council member for many years as Secretary to the Mission.
Later when he returned to Australia he had a distinguished career in a number of churches.
It was as Pastor of the Zillmere Assembly of God that he left his greatest legacy.
He was also instrumental in purchasing some prime real estate at Taigum and relocated the Zillmere Assembly of God to its new premises.
During his tenure at Zillmere/Taigum he took on added responsibility and was appointed Commonwealth Assemblies of God Secretary.
Interestingly when Roy resigned the pastorate at Taigum (formerly Zillmere) he invited me and Betty to consider the Senior Pastors position.
I was privileged and honoured to accept in 1986 (see index page relating to our ministry in Queensland).
Roy and Dawn have remained  our friends to this day.
They passed on to their eternal reward in 2017 aged in their 90s.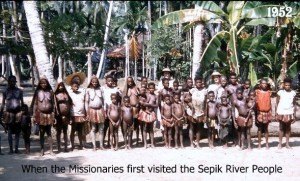 There are many families that served as missionaries with the Assemblies of God in Papua New Guinea.
One of the harshest regions to engage in missionary work was the Sepik river.
To make any headway in this part of the world it required a very strong presence of missionaries endeavour  to try and break through centuries of heathen tradition.
It was a very harsh environment and demanded physically healthy and deeply dedicated people to work there.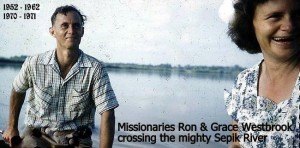 Ron & Grace Westbrook who were the first to pioneer on the Sepik at a village called Yamanambu.

It became the base of all Missionary activity and operations on the Sepik river for many years.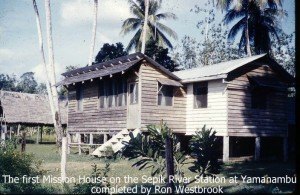 Ron who had a building background in Queensland was able to build the first Mission house at Yamanambu, thus giving the missionaries some escape from the plagues of Mosquitoes that infested the region for months on end.
The climate was stifling and oppressive all year round.
"God forsaken" I called it and yet thousands of people lived along its banks and tributaries who had never heard the Good News! 
Of all the missionaries that I worked with I admire most those that lived and worked on the Sepik river.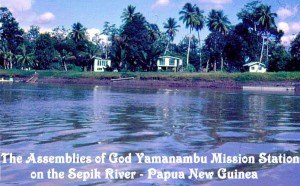 In 1959 Jack & Yvonne Goulder arrived from Canberra Australia, to be based on the Sepik as resident missionaries.
They lived and evangelised on the Sepik for over ten years.
Jack was a softly spoken, rugged and down to earth individual, who used his war time and rural experience in saw milling to good advantage.
His mild and friendly manner, won the hearts of many a native.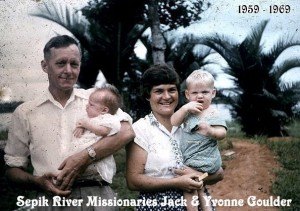 Yvonne who was capable and confident, ably complimenting her husband's ministry.
They also took initial steps planting a Mission Station at Ambunti on the Sepik river.
Denis Smith a young Commonwealth Bible Collage Graduate came to the field in 1964 as a single missionary and was appointed to evangelistic work in  villages along the Sepik river.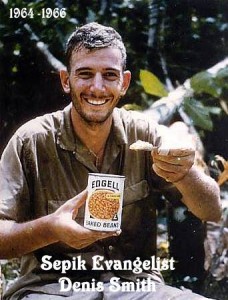 His exploits although short, were exciting and challenging.
In 1966 he married Gwen Neville from Brisbane and together they served for another year at Yamanambu before returning to Australia.
Denis went on to serve in the Australian fellowship as a successful pastor and also a key lecturer in the Commonwealth Bible College. 
During his time in PNG he recorded a few gospel songs in Tok Pisin to assist in the Radio Sunday School ministry, that Betty had established in Wewak in the 1970s.
Here is an historic recording of over 40 years ago – Denis singing a chorus which I found in the archives of Radio East Sepik in 2010.
Doug & Leila Gallienne also served a term on the Sepik after previously having served in the Maprik region at a village called Kalabu.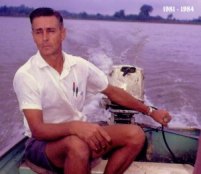 Their quiet and genuine loving nature endeared them to the people. Doug was meticulous in everything he did.
He took seriously the responsibility placed upon him and worked hard at his missionary calling.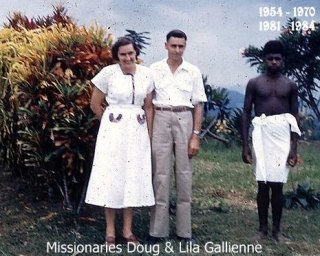 Leila will be remembered as a deeply compassionate woman who reached out to the poor in every village where they ministered.
They were much loved by the people and missionaries alike.
Jack & Hazel Easton were senior missionaries who served at a place called Yangoru near the notorious Mount Turu which became infamous for its "Cargo Cult" connections.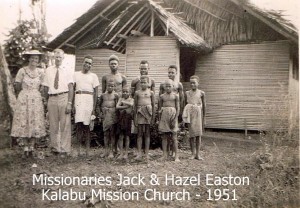 They had a long tenure in service and gave over 26 years of their life in Missionary work to Papua New Guinea.
Jack was a very gracious man and planted many churches during his long years of service.
He was an avid sharer of the gospel and never missed an opportunity to tell people about Christ.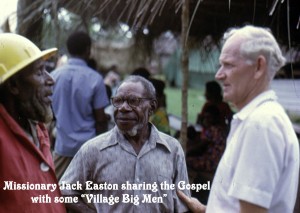 Hazel Easton was a very articulate lady who ably assisted her husband Jack.
She was involved in educational work including translating and publishing Gospel material for the missionaries'  use.
At one time Hazel also served on the Field Council. Her opinion was valued by the Mission.
They had no children but were looked upon by the people as Papa and Mama Easton.
Morris and Leila Hovey served on the Tamaui – Hayfield Mission Stations for most of their 25 years.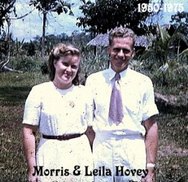 Apart from normal missionary work, Morris set up the Mission Worshop which essentially served the missionaries  in maintaining their equipment and vehicles.
Jeep travel was the primary mode of transport and Morris Hovey kept the wheels of the Mission turning.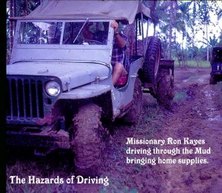 He was much loved by the missionaries and nationals alike.
A deeply spiritual man, Morris Hovey left a lasting legacy in Papua New Guinea.
Robert & Aileen Spence are another couple with long service in Papua New Guinea 1956 − 1975.
Bob Spence was a dapper and photogenic  person, who could be described as a pioneer evangelist.
His primary passion & objective was to plant churches.
His people skills opened many doors for him as he successfully communicated the Gospel and established mission stations at Kusambuk and Ambunti on the Sepik river.
During his term of service he was instrumental in planting over fifteen churches in the Kusambuk, Tamaui and Sepik river areas.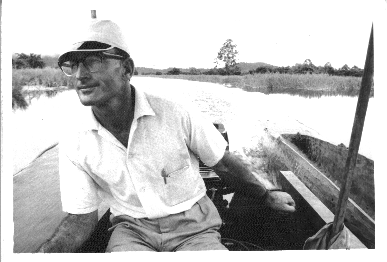 Bob was very effective one on one and was productive in evangelism wherever he ministered.
Aileen although not trained as an educator became expert in this field of service and applied herself with God's help to education and taught grade 1 & 2 for eleven years.
She had a natural gift in training Literacy teachers and translated Sunday school material for use in Christian education in Mission & public schools.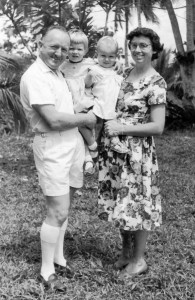 Frank & Theo Farr served in the East Sepik from 1962 – 1973.
They were posted to a number of Mission outposts, with their time at Kalabu Mission station perhaps being their most enjoyable and fruitful years of ministry.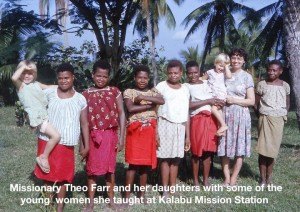 Frank who was a builder by trade before entering the ministry and was a great asset to the Field Council on which he served for many years.
He was able to give of his skill in carpentry to build the first mission Church building in Wewak and years later assisted in the building of the Mission Houseboat for evangelism on the Sepik river.
He had a great sense of humour in the Aussie style and always brought laughter into a conversation.
Missionary Support Workers

Education was a great need  and in great demand in the East Sepik region.
A call went out for Missionary School Teachers to give two years of their lives to teach or help start schools throughout the mission field.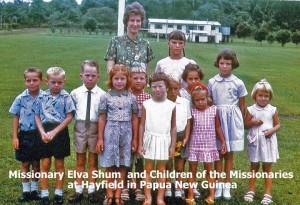 As a result in a few short years scores of young people, single and married, came as short term missionaries and support workers.  
Schools were commenced on most of our mission stations.
Hayfield Mission Station became the hub and  Headquarters of our Primary School system.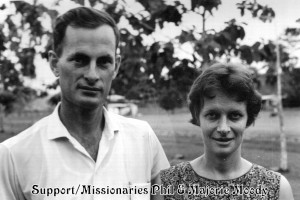 The Missionary team had grown and they too needed support for the education of their children.
Carmaleta Van Deventer and Elva Shum were a great blessing to our children.
Les and Betty Beech, Philip and Marge Moody along with many other teachers contributed their ministry in educational skills to bring a first class primary education to the people of the East Sepik.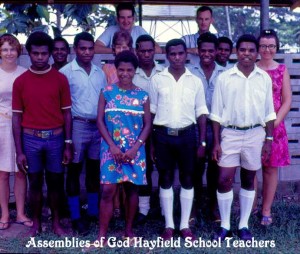 Today all across the country there are educated people holding down prominent commercial and government positions as a result of the education provided by Australian Assemblies of God Missionaries.
As the Mission extended its ministry so more and more Assemblies of God Schools were established.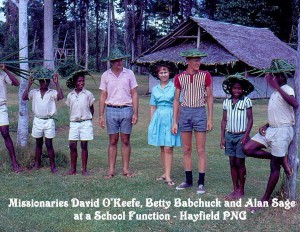 There are presently over 30 schools under the auspices of the Assemblies of God Schools Agency.
Missionaries and school teachers were recruited from Churches across Australia.
Interestingly the state of  Queensland seemed to predominate in sending missionary personel.

One couple, the Molyneux Family came from Perth in Western Australia.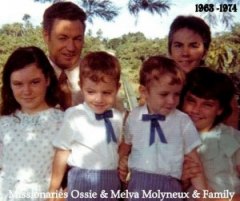 Ossie and Melva Molyneux served for over ten years and were a blessing to the country.
Melva Molyneux was busily involved in medical work providing care for infants and village clinics. 
Ossie was engaged in general missionary work and served faithfully and willingly to promote the work of the gospel.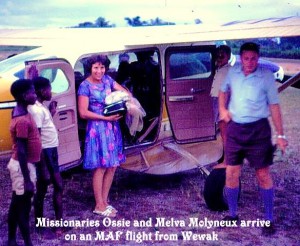 Ossie Molyneux was a particular comfort to me on the 20th August 1974.
His presence and support during the saddest day of my life when I buried my son John-Paul in Wewak was greatly appreciated.
I have never forgotten it just  as I never forgot the day I had to inform Ossie over the Mission's (Sked) radio network the glad news that Melva had given birth to twin sons in Wewak hospital.  
As you can imagine Ossie was ecstatic so were the missionary family who were listening in that day.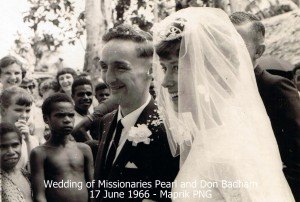 Another couple who served for many years in missionary work in Papua New Guinea were Don and Pearl Badham 1964 – 1986.
Don first came to the field as a single missionary in 1963.
He was an accountant by qualification and trained also at the Commonwealth Bible College.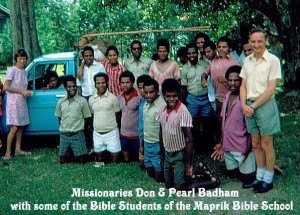 He married in 1966 and went on to serve for a further 23 years.
Don was a Bible teacher and served in this capacity as a lecturer and  principal of the Maprik Bible School for many years.
Pearl had a background in education and was very versatile in fitting into any ministry that presented itself during her missionary service.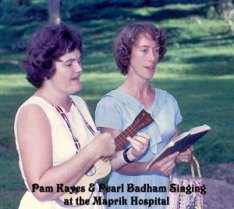 The Badhams were a deeply devoted couple to the cause of Christ and  left a lasting legacy in Papua New Guinea.
Many of their students are now  pastors of churches and church planters.
Ron and Shirley Marlow are the second longest serving Assemblies of God missionary couple in Papua New Guinea's history 1967 – 2001. 
Ron was a builder by trade and also an Australian war veteran.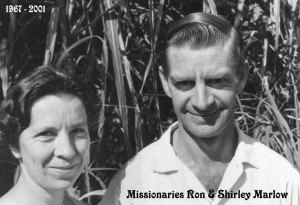 He came to the field at the height of its growth.
His rugged personality and building skills ably fitted him to the task of building churches and assisting the Mission in its many infrastructure projects.
His passion for souls drove him to great sacrifice as he laboured to see the kingdom of God extended in this beautiful yet rugged country.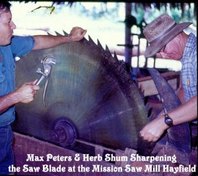 As the Mission grew so did the demand for specialist missionaries to be recruited to assist the career missionaries fulfil their calling.
As a result, it became necessary to recruit builders, school teachers, saw millers, mechanics and store managers to provide the infrastructure & machinery to keep the wheels of the Mission turning and its evangelistic arm and church planting projects moving forward.
Max & Auriel Peters and their family came from rural Chinchilla in Queensland.
They were a tremendous asset as Max applied his skills in motor mechanics and building a Saw Mill.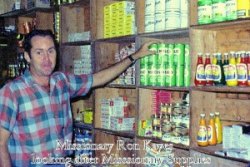 Missionaries of course needed fuel and food to maintain the momentum of growth.
It was support missionaries like Ron Kayes who served tirelessly as a store manager to keep the missionaries supplied with basic foods and fuel.
I salute them as God's resource and supply champions.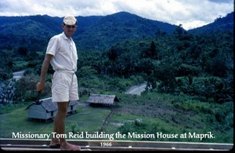 We had a builder from New Zealand, Tom Reid come for two years to help build houses and churches. It was really "happening" as they say!
It was not all work though as some young missionaries found time for romance and there were a number of field weddings.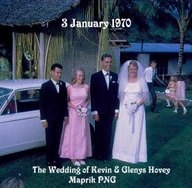 One being Kevin and Glenys Hovey who were married at Maprik.
Others to tie the knot on the field were Cyril and Evelyn Westbrook and Don and Pearl Badham who were also married at the main mission station at Maprik.
Kevin & Glenys spent over ten years of married life trekking up and down the Sepik river evangelizing from the mission houseboat called "Tulait".
Below is a Movie I took many years ago of Kevin & Glenys Hovey. 'living the dream on the Tulait.'
Now that has to be romantic hey?
It may look like it, but believe me there are few pleasures on the Sepik.
No supermarket or shops to visit, no post office, no roads, no TV, no friends or family to call on. Just God and the river with its oppressive heat and Mosquito plagues.
Their personal sacrifice provided them the platform of possibly being the first to bring the Christian Gospel to many people on the river.
Today there are Assemblies of God villages churches all along the Sepik river and its tributaries.
There are thousands of people who know Christ as their personal Saviour.  Now that's living the dream!

Andrew Evans my older brother and his new bride Lorraine came to Papua New Guinea in 1963.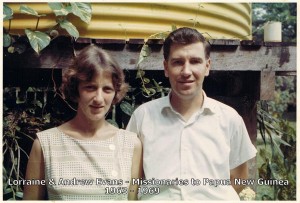 Andrew was a great missionary/evangelist and soul winner.
They served on a number of Mission Stations in the East Sepik.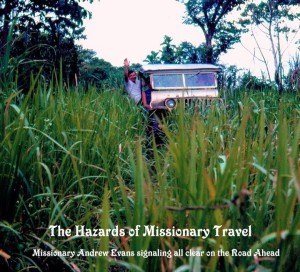 One such Station was a place called Jambitanget which was in a low lying grass land area which was called "Kunai" country.
Andrew & Lorraine were very adapt at adjusting to the trying heat and isolation of their living conditions.
He explored his passion to preach the Gospel at every opportunity.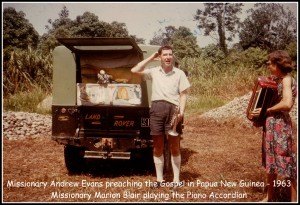 He used all means to attract a crowd.

Later in the providence of God, Andrew & Lorraine returned to Australia in 1969 and thus began the most fruitful years of their ministry life.
Andrew received an interim  call to be the Pastor of the Klemzig Assembly of God in South Australia.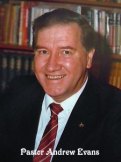 Thirty years later he was still the Senior Pastor of the Klemzig & Paradise Assembly of God Church in Adelaide.
In 1977 he was appointed General Superintendent of the Commonwealth Conference of the Assemblies of God in Australia (now known as Australian Christian Churches) and remained in that Office for a record  period of 20 years 1977 – 1997.
Upon his retirement from full-time ministry Andrew co-founded the Family First Political Party in South Australia and was elected to parliament.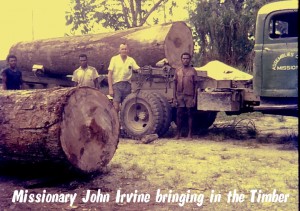 John & Beth Irvine were graduates from the Commonwealth Bible College and served as Pastors at Mt. Isa Assembly of God.
Later they felt the call to a missionary vocation and served in Papua New Guinea from 1970 – 1983.
John was a tall gracious and sensitive man who applied himself to whatever needed to be done.
At one time he worked supporting the missionary cause in the saw mill.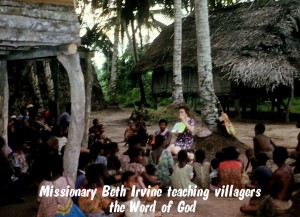 Beth was an excellent evangelist always seeking to win souls to Christ and engaged in sacrificial service taking her children with her.
As a family they were much loved by the people and served in a number of capacities on the field.
John was a particular blessing to me on the day of the death of our son John-Paul in 1975.
With his practical skills he went ahead and constructed a little coffin for the burial which I greatly appreciated.
The Irvines were also a great support in ministry when we worked together as a ministry team in the Wewak church.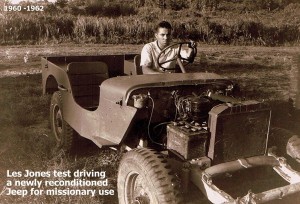 Les & Heather Jones served on the Assemblies of God Mission field in Papua New Guinea as Support Missionaries.
Les first came to the Sepik region of PNG in 1960 and served as a mechanical engineer restoring old Jeeps for Missionary use.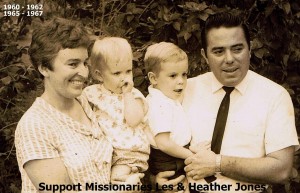 Les was very gifted with his hands and ably assisted Tom Reid in some building projects as well.
From 1965 to 1967 Les & Heather Jones returned for another term of service.
Les again used his inventive gift to assist in the building and machanically fit out of the new Mission Houseboat called "Tulait" which was used by missionaries on the Sepik river.
Heather supervised the education and school work of missionary children.
The contribution of this fine couple in the support of the missionary cause was greatly appreciated.
As a foot note : Les Jones was the best man at my wedding.
Other missionaries I would like to include: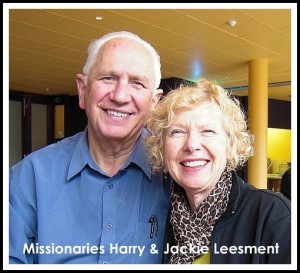 Harry & Jackie Leesment – Served as Missionaries to Estonia from 1991-1999.
It was in September of 1992 that Harry Leesment established a Bible School in a former Russian Submarine Communications Base which was located on 64 hectares.
There were 22 buildings on site which at one time housed over 200 soldiers.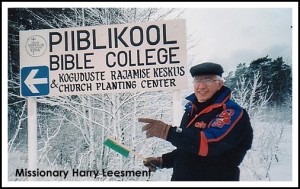 In a remarkable provision of the Lord he was able to purchase the property for $2220 and went on to train 320 Bible students many of whom went out as Missionaries and Church planters throughout Eastern Europe including Russia, 45 Churches were established in Estonia alone.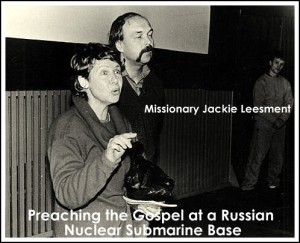 Harry also had a particular passion for the Deaf in Estonia and trained 31 deaf students who also went all over Eastern Europe & Russia establishing 82 churches which in turn established hundreds of other churches including three in Estonia.
Jackie had a unique ministry which was the fulfillment of a supernatural dream.
She received favour and was able to build a bridge to the Russian Military.
As a result of her endeavours she started two Russian Churches in the middle of a classified Russian Military Zone.
Harry & Jackie taught the Bible in three languages and were very successful missionaries.
Gerald and Elizabeth Rowlands spent fifty seven years of their married life preaching and teaching the Gospel in more than sixty nations around the world.
Commencing as a pastor in Sydney, Australia in 1957, Gerald has since served as an evangelist, missionary, bible college lecturer and principal and an author of Christian Leadership training materials.
In 1975, Gerald resigned from the pastorate of Glad Tidings Tabernacle a large church in Brisbane, to answer a call of God to serve Him in Africa.
The whole family moved to South Africa.
This marked the beginning of their missionary service.
Whilst there they conducted crusades and ministers' seminars in many African nations.
In 1979 they also established the ACTS BIBLE COLLEGE in Harare, Zimbabwe.
It was during their time there that Gerald wrote and compiled the materials that later became known as a "Bible College in a Briefcase."
In 1992 Gerald and Elizabeth moved to Singapore to place their curriculum in several Bible Colleges throughout SE Asia.
Whilst there they conceived the idea of publishing the material in a format that could be used in a local church to train prospective leaders in evangelism and church planting skills.
Their vision became "Every Local Church A Training Centre!"
The concept was eagerly received and thousands of pastors attended seminars to receive instructions in how to use their program and to receive their training manuals.
Dramatic results took place immediately as hundreds of churches launched church planting strategies. This result continues to this present time.
In the past decades some 63,000 local churches in the Philippines, Malaysia, Indonesia, Myanmar, India, China, Cambodia, Vietnam, Nepal, South Africa, Zimbabwe, Zambia, Malawi, Swaziland, Mozambique, Russia, Ukraine, Kazakstan and Israel have embraced the CPI program.
In every place exciting results have been witnessed as dedicated graduates have planted new local churches.
More recently Gerald has written numerous books about Israel which can be downloaded free of charge from his website
In Conclusion here is a video honouring the many hundreds of missionaries that have served with the Australian Assemblies of God World Missions in my ministry life time.