Tim Hall the Evangelist
One of the good things of getting older is the joy of remembering events and people who have entwined in the tapestry of a life well lived.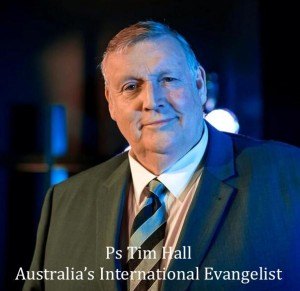 A cherished memory has surfaced as here in Brisbane, my home church Albany Hills Christian Church, is hosting Evangelist Tim Hall this weekend.
The events in my long-term friendship, and appreciation of this amazing man floods back in cameos of hilarity, perseverance, passion, power, some patches of darkness, but an overcoming attitude that makes him one of Australia's most loved evangelists.
Tim Hall was born in Bendigo Victoria in 1948. His family had been very involved with gold mining from the mid 1850's. His great uncle, George Lansell was known as the Quartz King of Australia.
At aged 10 the family relocated to Adelaide South Australia.
After High School, Tim trained at South Australian School of Art 1967 to 69 also at Western Teachers College, South Australia.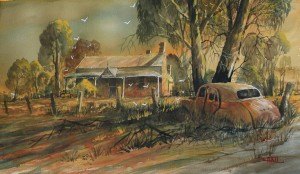 In 1970 having completed a Diploma in Art Teaching, he commenced his career as a secondary school art teacher in Lucindale South Australia where he was promoted to Senior Master in Art in 1974.
He was a heavy drinking bohemian artist and high school teacher and a significantly gifted young man, who could have reached the zenith of a career in the art world as an iconic Australian Artist.
He was 26 when an encounter with Jesus Christ catapulted his life into cataclysmic turnaround. Tim experienced spiritual conversion 1974.
Somehow God got hold of Tim Hall and his life was turned upside down by Jesus Christ.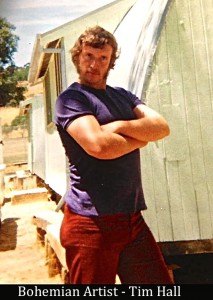 By invitation from school students in his art class, he had found himself attending a service at the Klemzig Assembly of God.
When Pastor Andrew Evans gave opportunity for people to receive Christ at the end of his preaching, Tim responded.
Tim Hall was born again and filled with the Holy Spirit. His conversion was a radical life changing experience and he immediately felt called to the ministry.
Andrew recalling that day says; "Tim Hall was converted at Klemzig during the early revival years. He was a very gifted art teacher at the Gillies Plains High School, but lived a pretty wild life.
He was persuaded to attend Klemzig evening service and at the altar call he raised his hand and came forward.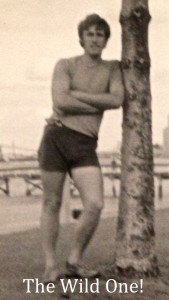 As I stepped down from the platform to pray for the new converts, I felt the Holy Spirit say to me 'look after this child' whom I had never met or heard of before.
As I approached Tim I noticed a whole group of teenage girls in the front rows of the church pointing to him and crying. They were seeing a very dynamic answer to their prayers.
Tim Hall was their art teacher and these young Christian girls prayed for him on a regular basis. God heard their prayer and he went on to be a mighty man of God".
Not long after his conversion he went into Christian ministry 'untrained', but carried along by his  passion and desire to serve God.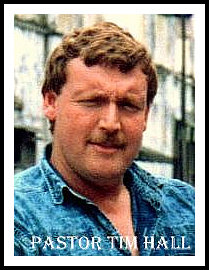 He gave proof of his calling by pioneering and founded a church in Murray Bridge, South Australia.
A year later in 1976 Pastor Tim came back to Adelaide and became the youth pastor of Klemzig Assembly of God (now known as Influencers Church).
The youth group grew dramatically and became the largest in Australia at the time with over 300 in attendance.
Tim Hall has a unique personality, natural talent and fervency of spirit that captures the attention of anyone who encounter him.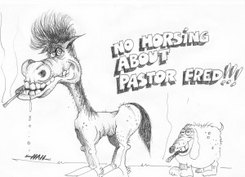 I would describe him as a "spontaneous, fun loving and passionate individual, with a unique Australian sense of humour". 
As a fun loving cartoonist he never wastes a minute if has a pen and paper in hand.
On one occasion I was having a chat with him over coffee and while we were talking drew this unflattering cartoon for me.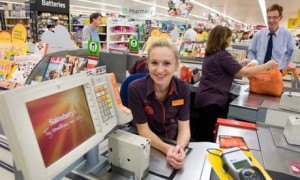 I remember on one occasion as we were walking down the mall of the Aspley Hypermarket, which is one of our largest super markets, Tim said to me "watch this"!
He then proceeded to walk past the check outs greeting by name the attendants  who were serving busy customers.
The whole shopping centre hushed as Tim raised his voice in conversation with the "check-out chicks" as they were called.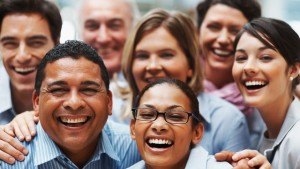 Of course he had learned their names from their ID name tags and carried on a friendly and happy few minutes of fictitious conversation with them.
Im sure some must have thought he was a long lost Uncle. It was hilarious to say the least!
Although I was embarrassed, he demonstrated to me the power of communicating with a friendly disposition – without fear. 
He also had a unique interest in the sporting world of Cricket and Australian Rules Football. In my opinion he could have ended up an elite Australian Rules Footballer in South Australia!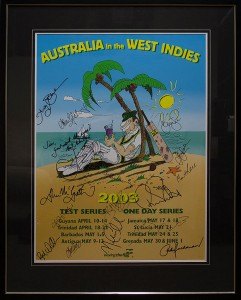 However his enthusiasm and passion to know and serve God was his first love – and it was palpable.
On one occasion after sitting through the boring yet rigorous planning session of a pastor's staff meeting at the Klemzig Assembly of God, he came into my office distraught by the mundane aspects of his job description and the workload expected of him as a youth pastor!
He stood in front of my office desk and said "Ps Fred….. I'm not sure I can take this….. I just want God,…. I want His presence!…. I have to get alone with God…. I want God" he kept repeating!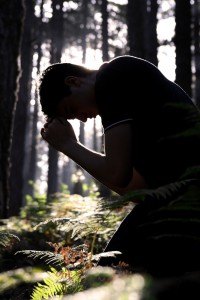 He was almost in tears as he expressed a genuine longing in his heart to know God.
True to his word, he sought leave of absence a short time later to go and fast and pray for 8 days alone in the Flinders Rangers of South Australia. He often went on longer fast of 20 days or more.
Fasting was a big part of his life in his emerging years of ministry. His passion to see the supernatural manifestation of the presence of God filled his heart and mind continually. I thought it was almost an obsession!
He wanted to see the miraculous power of God demonstrated in his ministry just as in the life of Jesus Christ.
I've heard him say "I don't want to read about history, I want to make history".
He pioneered a number of churches across Victoria and saw Dandenong A.O.G (now Faith Christian Church) grow to become one of Victoria's significant churches.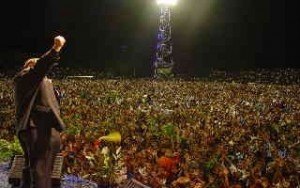 In the 1980s Tim began to move into large-scale evangelism, conducting meetings across Australia, New Zealand and Papua New Guinea.
International doors began to open up for Tim in the 1990s and his campaigns grew significantly in number seeing huge crowds surpassing over 100,000 on one occasion.
All this was not without personal cost.
In 1989 Tim experienced the most traumatic reversal of his entire life. He lost his marriage in a very sad episode of family breakdown. 
His grief and pain was compounded when the Assemblies of God stripped him of his Ministry Credentials and a license to Preach.
He was devastated and found some solace in painting and his personal communion with God.
Yet true to the calibre of the man, he became the first test case of an Assemblies of God Minister losing his credential and regaining it again after 5 years in the wilderness. 
He won the respect of his colleagues and has gone on to become a much loved ACC evangelist. 
Husband to Jacque, father of Deborah, David & Ashleigh, grandfather of 10 awesome grandchildren…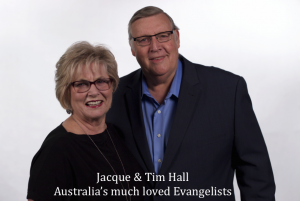 Today with his wife Jacque, they have preached on every continent of the World (excluding the Antarctic), seeing great harvests of souls and thousands of significant miracles.
In Papua New Guinea alone they have conducted forty campaigns, seven of these campaigns being held at the national stadium.
Ev. Tim Hall has become one of Australia's best known pentecostal evangelists and continues to this day.
His passion for art has seen him conduct many exhibitions and his work sought after globally.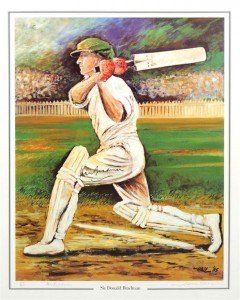 His work hangs in the homes of many celebrities, politicians and leading sports people world wide.
He has illustrated numerous books and produced a number of limited edition prints.
His best known painting is one of Sir Donald Bradman, "The Cover Drive" which was sold for $50,000 and used for ministry purposes as was his practice.
The subsequent Limited Edition print has sold for many thousands of dollars in charity auctions. He sold over 3000 originals most of which were used to fund ministry expenses and Crusades in foreign countries.
His art work can be viewed at www.timhallartist.com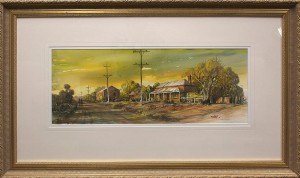 His large intensely coloured canvases reflected the passion that came with his conversion to Christ.
His close friendship with famous Australian painter, the late Pro Hart of Broken Hill, greatly impacted his artistic direction. Pro's ability to capture outback Australia inspired Tim's narrative style watercolours.
1974 exhibited at the Itelier Gallery in Shell House, Adelaide. Tim has conducted many solo exhibitions, including the time I invited him to Toowoomba during an evangelistic crusade in the late 1990s.
He has produced many limited edition prints both in Australia and the United States.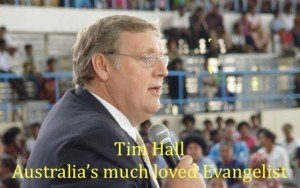 Tim's work is highly sought after and collected by leading sportsman, politicians and international celebrities.
One of which proudly hangs on my lounge room wall!
However his greatest contribution to the world is that of the 'gift of an Evangelist'. An ascension gift  given to him by the Holy Spirit.
Of recent years Tim & Jacque Hall have linked in with the Planetshakers movement and are vitally involved as lead evangelists of their overseas Global Ministry arm in Missions.
I love Tim Hall as a brother and colleague in the work of the Lord. If you wish to support him in World Evangelism go to his web site at:
I Honour Him
Please follow and like us: