Pastor Doug Moody – This is his story
ge 1">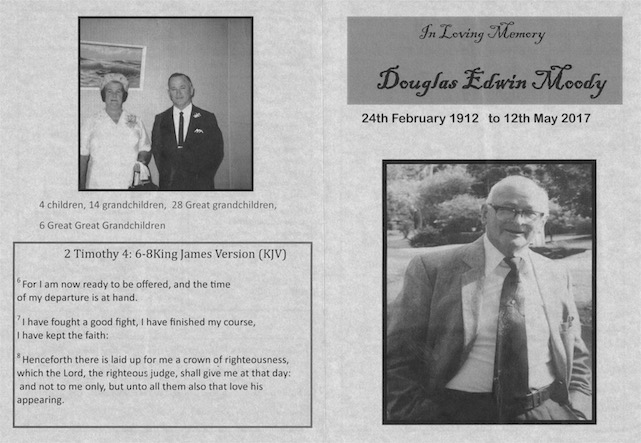 May 19th 2017 was the historic end of an era for our oldest Assemblies of God / ACC Minister.
Pastor Doug Moody who reached the remarkable age of 105 was buried in the Albany Creek Memorial Gardens.
His son Phil wrote this Eulogy, quoting from his fathers story which he wrote some years ago.
It will give you an idea of the sacrifices and challenges the early pioneers gave in serving God, to help establish the pentecostal church in Australia.
The Funeral service was a lovely occasion in giving honour to this 'down to earth' pioneer.
In attendance were the extended family, friends and a goodly number of retired Pastors including Pastor Ralph Read (96 years) former General Superintendent of the Assemblies of Dod in Australia.
Here is Phil's account of his Dad's story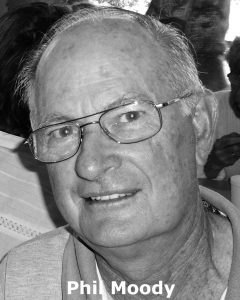 Dad said to a nurse at Beth Eden " I asked the Lord if I could live a long time… but I didn't mean this long."
He wrote an interesting summary of his years of ministry so I will refer to a few instances that he recorded.
His first 'Posting' was to a small gathering of Christians on the Tablelands in 1928.
At that time the AOG had about 18 small churches in Qld.
Based in Atherton, Dad helped the Coulters who were Dairy farmers in Yungaburra, minister to a group of 'coloured' folk.
He got around the district by sulky, pushbike or shankes pony doing pioneer work to help the small church.
1928 was in the period of "The Great Depression". To get an income. He says; "I did a spot of haircutting, bookkeeping, and any odd thing.
I had driven a car 100 yards a few years previously, so with that knowledge I taught a Chinese green grocer to drive!"
At Atherton he says he accomplished nothing for God's kingdom that he knows of, but it was a valuable time learning to trust God for the difficult years ahead.
I quote: "An instance comes to mind of when, at a time of need, a practical stranger delivered a sack of pumpkins to us, and, lo and behold! Another sack as we got to the bottom of the first sack!
One of God's names is Jehovah Jireh. Jireh means provide. It seemed so simple to expect God to 'give us this day our daily bread!
Philippians 4:19 says My God shall supply all your needs according to His riches in Glory" unquote.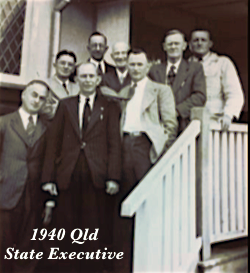 In 1937 State Chairman for AOG Will Enticknap, wrote asking Dad to go to Halifax, to minister to a few groups of Kanakas.
He received his Ordination Credentials , No 24, at that time .
There were 3 groups about 10km apart. Tom Lammon, a 1st generation kanaka, rented Dad a house for $1 a week and provided an old sulky and a horse so Dad could drive the family to Sunday morning meetings, where they had built a bush church.
He says: "Abraham Saylor and I shinned up coconut trees to get the long leaves cut off. The women plaited them for the front wall of our church.
Other women gathered grass for the thatched roof and side walls… the men got red mangrove saplings to carry the thatched roof,and made seating from split palms etc. for about 30 people who attended.
One day in the middle of the sermon, the women and children jumped at and scattered. A snake had come to church.
An old ex cannibal called Peter, roared laughing and sang out, "What for, you all run away? He only bite one fella!"
After Abraham dealt with it with a cane knife, the meeting resumed.
In 1939 Pastor Will Enticknap, wrote asking Dad to go to Bundaberg where the Pastor had moved on.
Quote: "That meant scratching the bottom of the barrel to pay our fare and removal expenses. 
I sold an axe for 5/- to get the last of the cash needed for fares. We arrived there with a hot pie, gone cold, and 6d in my pocket.
Mr Manning took us to the 'church' which was an old bakery with living quarters at the back, no beds, so we slept on the floor.
ge 2">
Our first day at Bundy, a Saturday, we enjoyed the evidence of God's care and faithfulness.
A lady sent us a batch of scones. I then set off to town with my 6d. It was all the money we had. Bread was 5d a loaf.
Just before I got to the main street I saw an Auctioneer disposing of the last things for sale. I saw a box of tomatoes – about 12 lbs and I heard" What am I bid? I piped up and said 6d. he said, "It's yours!" I was then broke.
A lady at the door said "I was going to bid 6d too – I'll give you 6d for half of them! So then I wasn't broke !"
We left Bundy in 1942 and went to Cairns to give 'fill in' Ministry for 6 months.
Before we got there, Dad says:" My hip pocket was empty. Being war time the train was held up for a few hours at Mackay, so I set out, house to house looking for scissors to sharpen to earn enough to get us the rest of the way.
We moved to Normanton later in 1942. Quote.. : We had been given wrong information about the population of the town, but made the most of it seeing we were there.
Mrs Loy and old Mrs Fung provided accommodation and $2 a week support.
While there I performed an Airforce funeral and I married an Army chap to one of the few Women in Normanton.
I befriended some of Colonel Murray's cowboys – they patrolled our coast from Cape York around the Gulf to Darwin, in groups of about 2 dozen horsemen.
One day the local officer asked me to come and cut the men's hair. Sure, I said, provided I can have the opportunity to talk to them.
After cutting their hair the officer put on a church parade, and they got the gospel!
Andrea was letting Vio know that she wanted to make her entry into the world, so Mum went to Townsville for the berth.
The rest of us went on to Eungella, near Mackay, where the Akehursts paid Dad's house rent.
Eungella boasted a few houses, a Post Office, a chalet and a timber mill. There 3 areas of dairying- Crediton, Dalrymple and Bee Creek.
Dad worked the area on his bicycle and got a few bob teaching 2 young lady school teachers shorthand after school.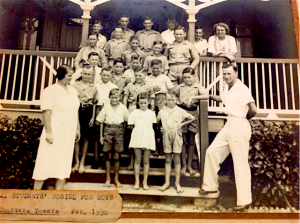 In 1948 we moved the familyto Charters Towers with $10 in kitty, to see if he could spread the gospel to that area.
Just as the cash ran out, God provided accommodation, a job and $3 a week income from the CWA to be in charge of a children's hostel for 25 boys who came from out west of Charters Towers.
He says: "We ran it like a boarding school.
Sunday nights, with parent's permission, I marched the whole bunch and Doug and Phil all neatly dressed to the main street.
They stood in a ring, on the street corner near a pub, and I held forth with the gospel message, sang a hymn or two, then held forth again, before marching the boys back to the hostel again.
The public got to know us, and before long I was doing relief ministry for the Salvos and Methodists.
The local paper 'Northern Miner', gave me permission to write a weekly column. I called it 'Meditation Moments'.
It seemed to be fairly well read from comments I received.
I was even told a local teacher used it in his English Lessons (I suspect he must have been a Christian, taking the opportunity to leave a message while teaching at the same time!)"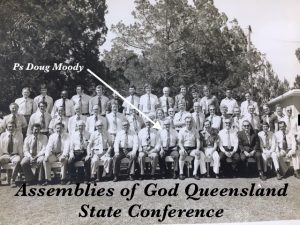 After a CWA conference in 1949 they asked me to move to the new hostel being built in Nambour. In 1951 we moved there.
The hostel accommodated 70 people 35 male and 35 female country students. "There were plenty of opportunities to present the gospel at the hostel.
I soon found myself helping out at the Woombye church, while they were waiting for Ps Henry Wiggins to arrive with his family from England.
Mike joined the family on 22 March, 1951.
In 1955 we felt we should leave the hostel and headed back to homebase -Townsville.
Here is a video of Pastor Doug Moody giving his speech on his 100th. Birthday!
Please follow and like us: