A Chat on Vision Christian Radio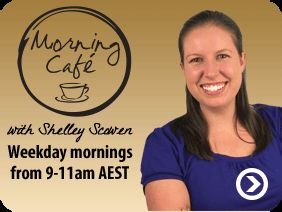 Last year I received a phone call requesting a breakfast interview on a program called "Morning Café" with Shelley of Vision Christian Radio. 
Here is Part 2 of the audio pod cast of that interview that covers our early years serving in Papua New Guinea.
I am often asked to write a book about our experiences but I guess this is my E Book equivalent  ….haha! Which is more informative than if I wrote a book.
So take a listen and tell me what you think…….?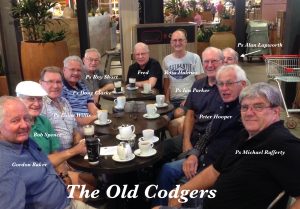 Near the end of the radio pod cast I talk about the "Old Codgers" which are good friends of mine.
They are a group of Pastors & older men who have retired and have embraced their age with joy and confidence.
We don't always agree with each other and are not adverse to expressing our opinions in a trusting atmosphere.
It is quite a liberating time of life.
While you are listening you may like to peruse down the page.
Thats something woman can do quite readily but you men may just have to sit and listen. haha!
I have often said that the happiest years of my life was when I served as a missionary in Papua New Guinea.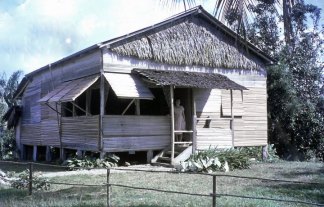 We began our married life living in the village of Kalabu which is not far from Maprik, amongst the Abelum people of Papua New Guinea.
Without doubt it was a dream start to our married life.
There were no western distractions such as TV, sporting fixtures or public entertainment to occupy our free time.
Instead we lived for each other and were able to pursue the calling of our vocation with enthusiasm and the passion of our youthful spirit.
Getting to know the people was a pleasure that transcended anything of comparison of a neighbourhood street in suburbia.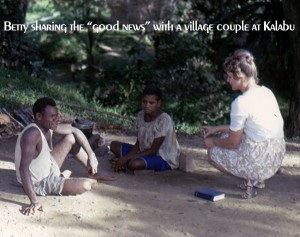 Betty was quick to adjust to living humbly in a village setting. The women loved her, particularly after our children were born.
Our house was built of native materials with the luxury of a tin roof which provided fresh rain water that filled a 500 gallon water tank.
The "limbom" floor and "pangal" walls and push out windows provided a shelter from the tropical elements which in a lovely way was romantically different to any other house we had ever lived in.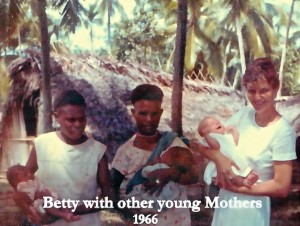 Betty made it look beautiful with colourful trim and curtains which she made for the doorless openings to each room and push out windows.
Privacy was never an issue as in those days our neighbours greatly valued and respected our home in their village
Our limited material possessions although intriguing to the curious eye of the village people, was never seen as an object for theft.
When village neighbours visited our mission home they would politely stand outside the open windows and gently cough to let us know they were there.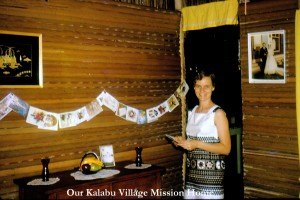 The western concept of knocking on the door was considered rude!
Church life was very primitive in those days and wholly depended upon the presence of the Holy Spirit to communicate God's love.
When I first started ministry in Papua New Guinea it was quite a challenge and adjustment as there were no props or cultural niceties to assist.
It was just me, the people and the Holy Spirit!
There were no comfortable chairs to sit on or air-conditioning.
The people were not pre-conditioned by sensitive worship music or the decor of historic western church buildings, with their stained glass windows or the modern auditoriums with their flashing coloured lights.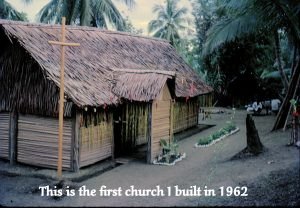 It was God or nothing!
Perhaps that in itself explains why the primitive church experienced the supernatural power of God on a regular basis!
The people were the church and they were the temple of the Holy Spirit.
All they had was the Holy Spirit and their hunger for Holy Spirit ushered in the cooperate presence of God for all to experience.
It was amazing and the church grew.
As the church grew exponentially, so did the missionary team.
The Australian Assemblies of God committed resources and missionary personnel to this amazing harvest.
The result today is a vibrant pentecostal church throughout Papua New Guinea.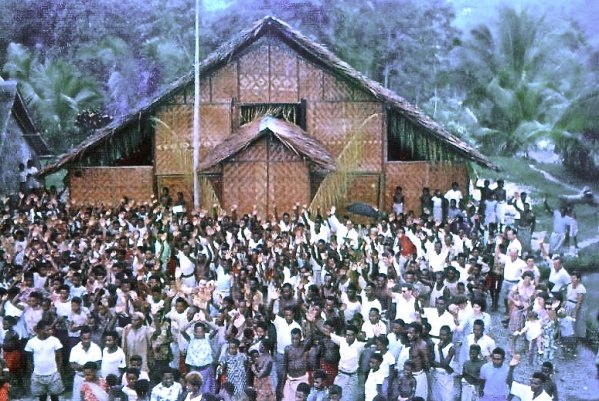 To save time and space here is a video of the end result of missionary endeavour in Papua New Guinea.
To God be all the Praise and the Glory
Please follow and like us: