Passage to India through the Eyes of a little Boy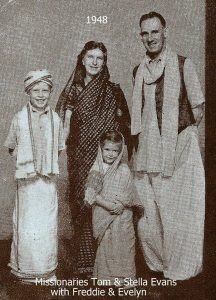 It was November 1948 when my parents Thomas & Stella Evans left England for their final term of service in India.
After an adventurous 11 months of furlough living in Wales, my missionary parents said their farewells to family & friends and bundled us off to the Tilbury docks in London, to board our ship the SS Strathaird en route to India.
Upon arriving at the docks there seemed to be thousands of people queuing to get on board.
The crush of the crowd was staggering although I had complete faith that my father would somehow get us on board.
It wasn't long before we were mysteriously spotted by a P&O official who came down to the back of the queue and ushered us to the head of the line because we were a family with young children.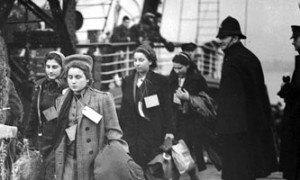 I'll never for get it. I was 9 years old and my sister was just 5!
I thought it must be because my parents were "Servants of God"? Talk about VIP treatment!
Now you know where my positive self image comes from….haha! 
This was to be the last term of service in India for my parents who served a total of 27 years in India as missionaries. …… I loved traveling on the ocean liners and was never bored. Lots to see, eat and do!
On one occasion my mother caught me on the deck assisting passengers in a gambling game.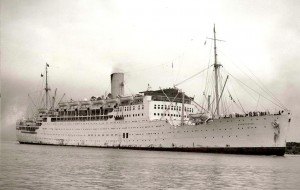 I was one of the jockeys riding a wooden race horse which they were gambling on.
She quickly and unceremoniously dragged me off the wooden horse and rushed me to the cabin explaining why we don't gamble. I was bemused!
Arriving in India has many memories for me mostly good but some not so good.
We arrived in Mumbai, the Gateway of India, also called Bombay.
It is the capital city of the state of Maharashtra, and it's the most populous city in India.
It is the 4th most populous city in the world and one of the largest urban regions in the world.
Mumbai has a metro population of over 20.5 million and in 2010 there were over 9 million slum dwellers.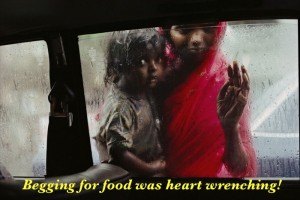 People people everywhere!
For this little boy the sight of so many people, the children who were suffering and hungry and the beggars on the street, often left me feeling sad and bewildered.
They would come up to  motor vehicles at intersections or car parks and beg for food, knocking on the car window.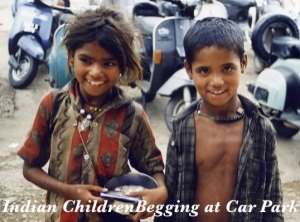 The sad and hungry look in their eyes would remain in my mind for days and haunted me as a boy.
My mother would have to speak sharply to them at times which used to upset me greatly.
I understand now why, lest we were swamped by hundreds of beggars on the street.
My mother was often confronted by women with starving babies on empty breasts. They would come to our back door and plead for some milk.
I could see she struggled with the ever present need and emotional tug on her heart.
1 John 3:17 says "But if anyone has the world's goods and sees his brother in need, yet closes his heart against him, how does God's love abide in him?"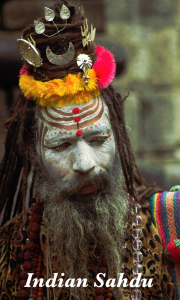 As a child growing up in India I also was confronted by a culture that in my childish mindset epitomised religious hopelessness.
It seemed to me that Hinduism left little to be joyful about and offered very little by the way of comfort, love, hope or support to the myriads that followed its cast culture and religious philosophy.
I recall the times I became scared as I heard the sound of the "Jinglingman" as I called him, walking past our home dressed in his dirty robes with long mattered hair and beard.
His ashen face frightened me!
He was a Hindu Sahdu or so called "holy-man", that chanted a mantra and rang a bell to try attract attention to get some food from the locals!
We lived in various places in India including old houses which were often located in or nearby a village.
I got to see a lot of the ordinary village way of life, which included the good, bad and the ugly.
Every night before we went to bed my father would pray for the protection of the mighty angels of God to surround our house and keep us safe from bandits who were known for their raids & violence in the area.
Knowing my father had prayed I slept soundly. Psalm 34:7 & Psalm 91:11.
Interestingly when I have the opportunity to pray with my grandchildren, I usually end up invoking the angels of God to protect them during the night hours in Jesus name.
Sadly my memory of the local language was a Marathi village dialect, which was punctuated with expletives or coarse expressions which I thought was normal e.g. 'chuprau thoom pugle mansa… mi aik tapar dainga thum marjainga." (My Indian friends will no doubt laugh at my pronunciation and meaning of this – which I prefer not to translate.)
There were always interesting things happening and challenges at our mission station.
For example the day a mad dog suffering from rabies and frothing at the mouth ran through our mission station.
It was a dangerous situation so I made sure I stayed indoors as the dog ran amok through our village before it was eventually killed by someone.
Our resources were limited and the needs around us were unending, yet I managed to play happily with the village children without getting into too much trouble.
The stark poverty was such a contrast to England and Wales let alone Australia.
I seemed to have so much, compared to them and would often go to sleep trying to process my thoughts in my young mind. Why was it so?
"India sad India" was a song my mother and father used to sing when itinerating the churches in Australia & the UK. "Jesus died to set you free".
Each time they sang it to Australian congregations I struggled with the thoughts and images that I grew up with.
On the positive side there is much I love about India. Its food remains my favourite dish to this day. Curry and Rice served on a Banana leaf has to be up there with the best of food you could ever want or get to enjoy with silver service.
Eating with your fingers had to be the best utensils in the world for this little fellow!
But then there was the memory of drinking fresh Buffalo milk. My mother would insist that it was fresh milk unadulterated by added water.
She would ensure this happened by insisting that the dairywoman provider come to our back door and milk her Buffalo in front of her.This was to make sure no water was added to the bulk of the milk for sale.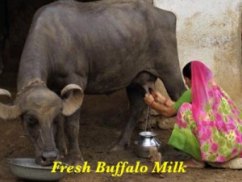 I used to keep a close watch to make sure the milk wasn't tampered with in any way.
Yet I could not work out how such rich, beautiful white milk could be produced by such a dirty looking animal?
Growing up in India was a wonderful cultural education for me. 
When my parents took me into the city of Pune (Poona) I was transfixed by the sight of the traffic jams.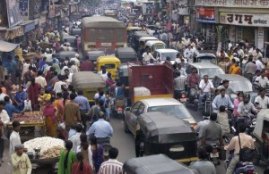 There seemed to be no road rules and the traffic was unbelievable!
I was at that age when cars and the different modes of transport facinated me.……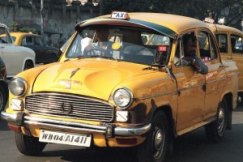 I could never work out why India only seemed to have one model of car, the Ambassador …. which was a dressed up carbon copy of the english Morris Oxford.
'My father's tiny Austin 7 was an exception and would surely be crushed in such a traffic melee' I thought!
I was glad he knew what he was doing.
Another form of transport that fascinated me in India was the proverbial horse drawn Tonga.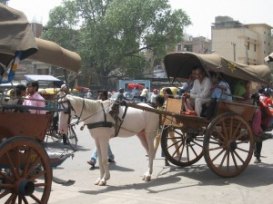 I used to love riding in them as I got a good view of the action going on all around me plus I could smell the fresh poo that often dropped in front of me on the road.
I'm amazed what I remember!
It wan't unusual to see a Brahman Bull lying on the road as if he owned the place. Or a large Indian Buffalo looking menacingly annoyed as we tried to avoid running it down right in front of our windscreen.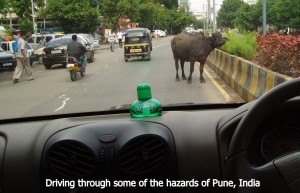 In Indian culture, bovine animals were sacred and could do what they like with impunity, at least it seemed that way.
But there was one thing about India that I found very attractive as a young boy and that was the clothing styles, particularly the colourful Indian Saree and beautiful woman…. haha even at that age I could appreciate beauty!
Just a few years ago I revisited the Zion Pentecostal Church at Khadki (Kirkee) which was pioneered and founded by my parents.
Here is a photo I took of some of the beautiful christian woman folk of the church in their colourful designed Sarees. There is so much more to tell you which I shall leave till next months post.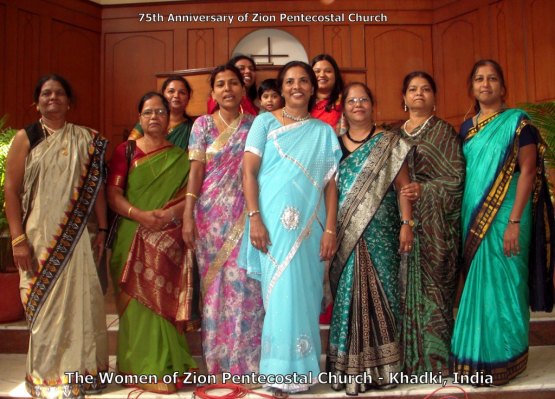 To wind up this post of the memories of my childhood years of growing up in India, I thought I would put out a challenge to the young people of this generation to "Go" and make a difference wherever God has called you…..
Please follow and like us: