April 2011 – Time Out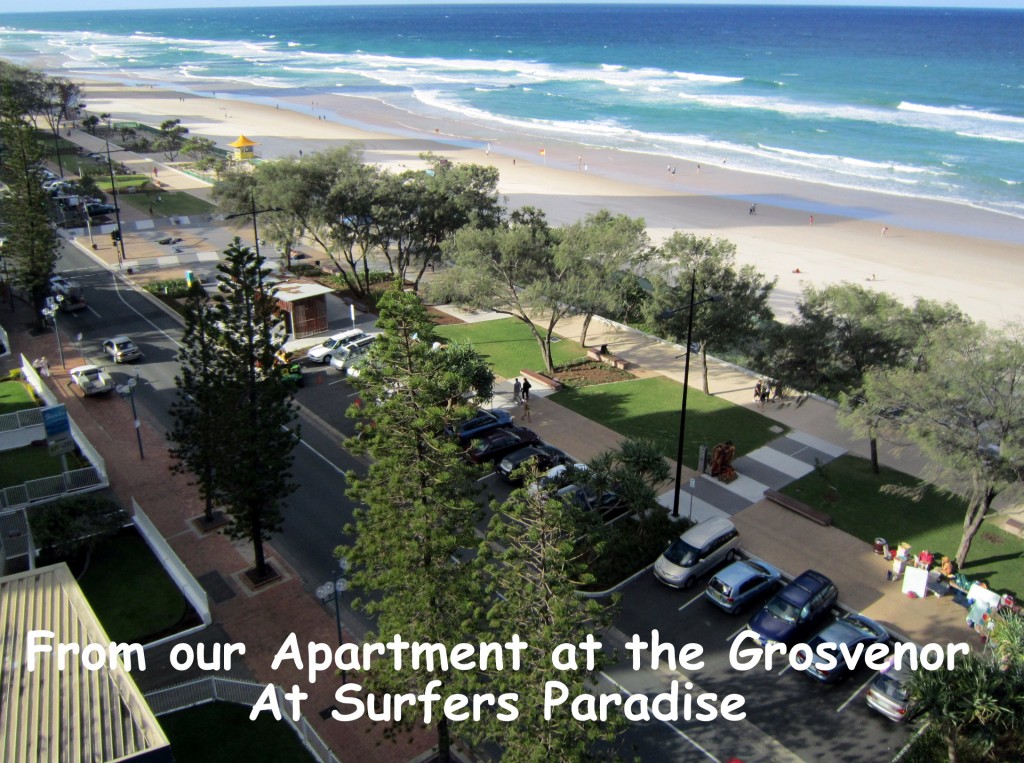 This month has been one of taking 'time out' to restore ones soul. During the early months of 2011 our journey of grief at the passing of our sister in law Lorraine Evans left us feeling emotionally depleted. No less for Andrew who lost the love of his life. It was he who suggested that we take a holiday to the Gold Coast which he kindly covered as a thank you to Betty for her dedicated care of Lorraine. Since leaving Adelaide at the end of March and returning to our home in Brisbane, 'time out' has hardly been an option as there has been so many things to attend to.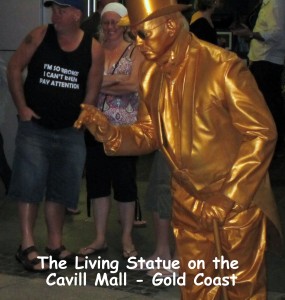 However  our work was not over and so we took a couple of weeks to be with Andrew at Surfers Paradise in a beach side apartment which was provided for free of charge by a generous friend who wishes to remain anonymous. I must say it was a blessing indeed, as along with my brother Andrew  we enjoyed walking the beach and the streets of Surfers Paradise viewing life from a different perspective. Including a man who dressed up as a living statue and entertained holidaying families with his intriguing robot like movements.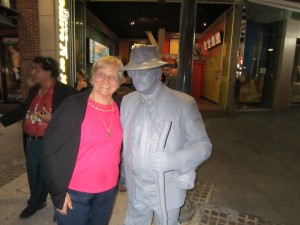 If you click onto the picture you might get a closer view of a bystander's T shirt that says "I'm so broke I can't even pay attention." Betty even got in on the act as I snapped her another evening cuddling up to this swagman like character. I'm sure she was trying to get him "saved" if you know what I mean. It was all good fun!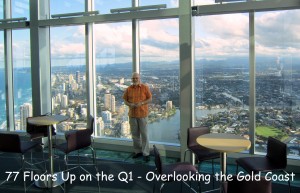 "Time out" included meeting folk who we hadn't seen in years and enjoying the  sights and sounds of places we normally would not have the ware with all to visit. Another luxury was a visit to the  tallest apartment tower in Australia (I think) called the Q1.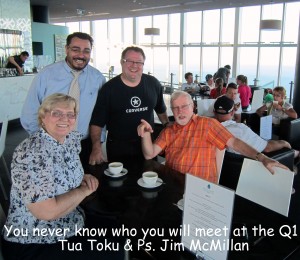 While enjoying a coffee with Betty at the top floor restaurant who should we meet but two young christian leaders. We also had the privelege of having a guided tour of one of the apartments which we were told was valued at over $1.5 million. Magnificent is the only word you can use to describe these luxury apartments. But I have to tell you that Heaven is still better than this. The Bible says in  1 Corinthians 2:9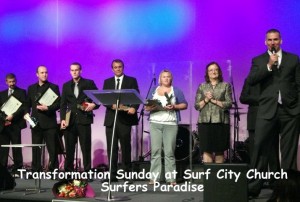 " Eye has not seen, nor ear heard,
Nor have entered into the heart of man
The things which God has prepared for   those who love Him."
While in Surfers Paradise we visited the Sunday service of the Surf City Assembly of God Church. It was Transformation Sunday and they were celebrating the graduation of a number of people who had completed a discipleship course and were transformed. It was thrilling to hear their testimonies and see the transformed lives of former drug addicts, pimps and criminals changed by the power of the Gospel. As the pastor said "Thats what its all about."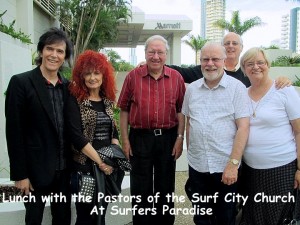 During the week Pastors Richard & Erica Nugent along with David & Rosanna Palmer invited us to lunch at the Marriott hotel which was delightful.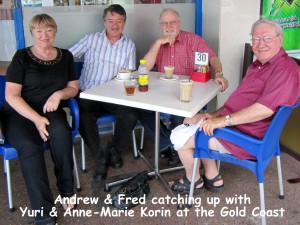 It was a wonderful time, not only for a first class meal but of sharing about life's experiences serving God.
Later we also met with Yuri & Anne-Marie Korin whom I hadn't seen in years. I first met them in the late 1970s when they experianced what it meant to be  really 'born again'  John 3:3. It was during Klemzig revival days in South Australia, that the message of the second coming of Christ was preached regularly and ever since has been a powerful motivation in Yuri's life.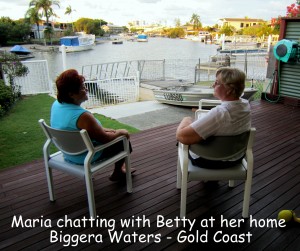 While at Surfers Paradise Betty & I "bumped" into some wonderful christians among them was Pastor David Blair from Toowoomba who was holidaying on the Gold Coast. Wally & Marie were another couple whom we met  at Surf City Church after the morning service. Many years ago they opened their home to us for a much needed rest while we were serving in the Pastorate at Taigum Gardens AOG. They live on a canal estate at Biggera Waters and kindly invited us to a fantastic European style dinner which we thouroughly enjoyed. They were such a blessing to us.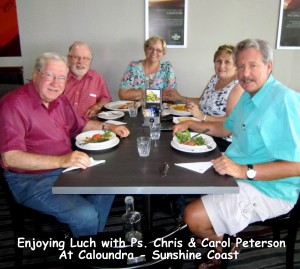 Living in Queensland has many bonuses. One being the variety of places to visit and of course the Christian population seem to be everywhere. Andrew wanted to travel to the Sunshine Coast which we did and thouroughly enjoyed ourselves reconnecting with colleagues and friends whom we have known and worked with over the years. In Caloundra we had lunch with Chris & Carol Peterson at the Coffee Club which is my favourite Queensland company.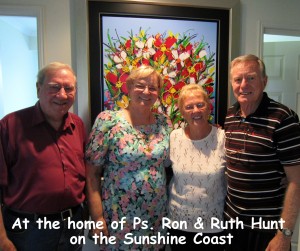 We chatted about our son Ted & Kylie Evans who has accepted a Senior Pastor call to the Church at Caloundra. We also called in to visit Ron & Ruth Hunt who like us are enjoying the wonderful years of retirement. Don't let anyone tell you its boring! I was intrigued by one or two works of art in their home. The famous Australian Artist Pro Hart's son David, is their son in law which is a blessing when it comes to art. I loved one of David Harts' pieces of a vase of flowers which you will notice as a backround to this photo.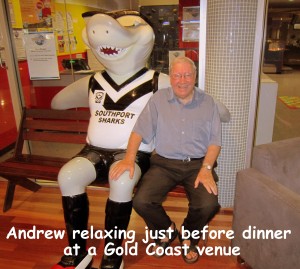 Upon our return to Surfers Paradise we decided to try out a new dining venue, namely the Sharks Football Club at Southport. It had great food and interesting mascot. It was not the normal venue we would choose to visit but on this occasion the special deals offered to seniors was too good to resist.
Before our holiday concluded Andrew also wanted to call in to visit the Hillsong Brisbane Campus which was the former Garden City Christian Church at Mt. Gravatt.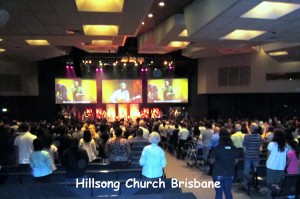 Andrew had previously served in this Assembly of God church for a three month period while it was in transition looking for a new Pastor. He has fond memories of the church and many of its members. So it was a joy to touch base with many of these friends and to visit this vibrant, growing Christian Church. The hospitality shown to us was second to none and the atmosphere in the service was alive and enthusiastic for souls. I couldn't help but feel that if I wanted to introduce an unsaved person to Christ through a church service, this would be one I could recommend. Pastor David O'Keefe reported that over the Easter weekend 99 people made a commitment to follow Christ. May God continue to bless this Hillsong church as they seek to win the lost to Christ.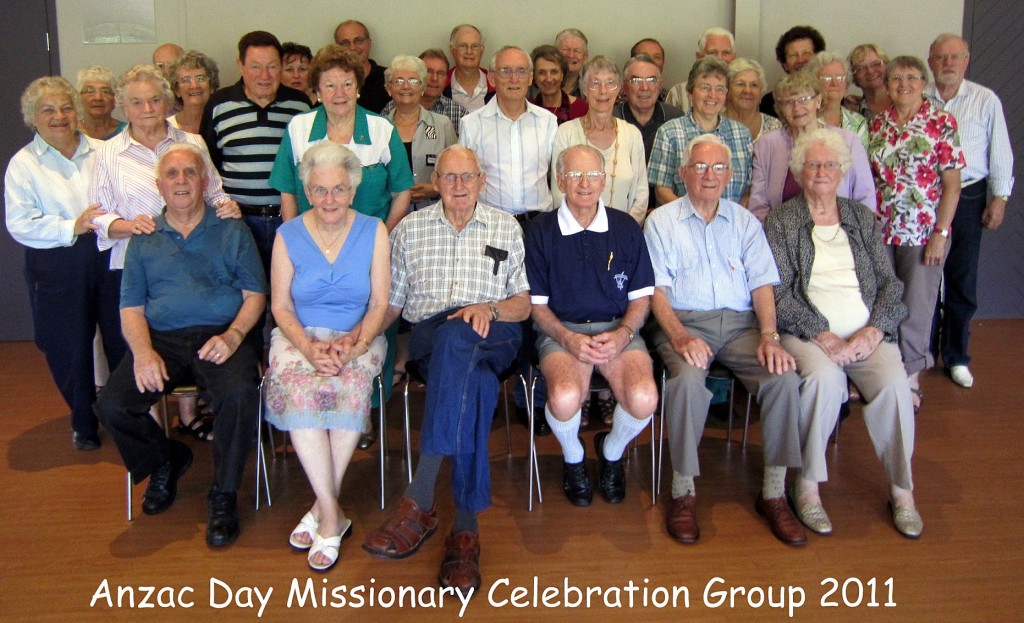 Rounding out the month of April I should not fail to mention the Missionary Anzac Day celebration held at the Taigum AOG church on the northside of Brisbane. It is an annual event which has contiued for over 30 years. The numbers of "Missionary Anzacs" as I call them are decreasing as the years go by, but it is always an honour to touch base with those who remain. This year Ossie & Melva Molyneux and their two daughters from Perth came and renewed old friendships with missionary colleagues who served with them in Papua New Guinea during the 1960s and 70s.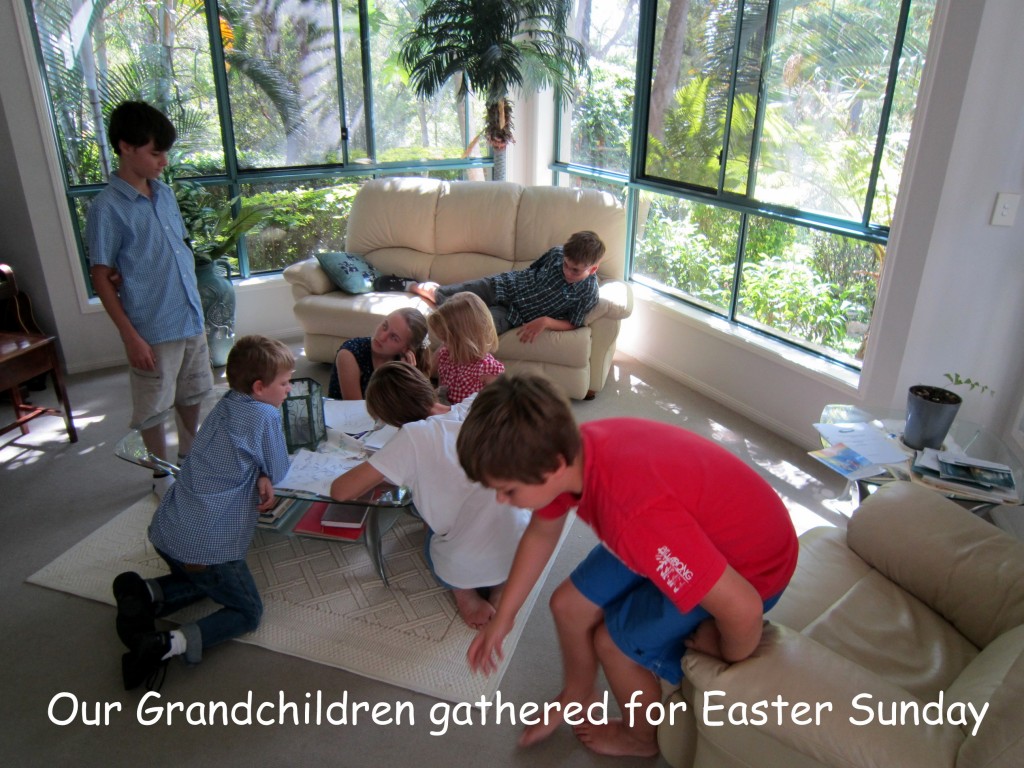 I conclude this month's post with a happy photo of our grandchildren playing in our lounge room. Only one is missing, Elle who we love very much. Please pray that she will be restored to us and her family of cousins soon.
Please follow and like us: