August 2011 – The Tide Turns
At the outset of this posting I want to tell you about Wesley & Bronwyn Westbrook who have recently received accreditation from the Missions Council of the Australian Christian Churches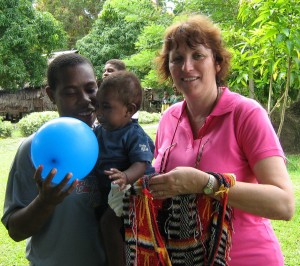 , to serve as missionaries to Papua New Guinea. I am thrilled about this as he has plans to support the church in PNG as a Bible Teacher & mentor to the Pastors.
They are basing out of Australia which will save enormous setting up costs. Wesley and Bronwyn served with AOG World Missions as missionaries in PNG from 1992 to 1994.Since then, they have pastored a church in Brisbane and are now at Albany Hills Christian Church as the Missions Directors. In the last 4 years, Wesley has travelled to PNG on various occasions and has ministered in the Highlands and Sepik areas. Wesley holds an OMC credential with ACC.
THE NEED
Wesley and Bronwyn are looking to the Lord for the provision of prayer partners and for  financial support for the following areas: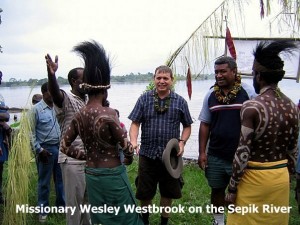 Personal (housing, rental, utilities and all other basic personal living expenses)
Work (for all expenses related to the above ministries) Transfers (medical insurance, superannuation, Home Leave airfares and other travel, etc.)
I commend them to you. If you would like to partner with them in their ministry, please contact:
Karen Peyroux, Field Coordinator, ACC World Missions, PO Box 5371, Brandon Park, Vic. Australia 3150 . +613 8516 9600  www.acc-int.org email: service@acc-intorg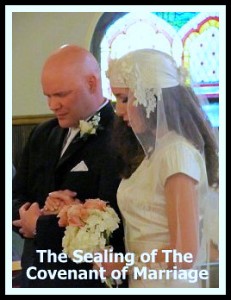 The month of August has come and gone leaving a trail of happy events and memories. "Life happens" they say and what we do with it emotionally and spiritually,
is what makes for a peaceful future or otherwise.
The month of August has been exceptional exciting, particularly I suppose, because an American beauty has now become part of our family. Our son David married Rachel White on the  20th August in the little Stone Church on Mackinac Is.  Rachel is a  vibrant, intelligent and spiritual woman who is now our new daughter in law.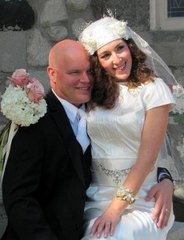 Welcome Rachee into the Evans family! Will you become an Australian or David an American? You see I'm already thinking about our grandchildren! lol! May God's will be done because they no doubt will become citizens of Heaven!
David & Rachee spent their honeymoon on the Island staying at the fabulous Grand Hotel. Hopefully I will be able to post a video of the Wedding later, but here is a preview of the  happiness of the occasion as David sings to his new bride during the service in the little Stone Church on Mackinac Island, Michigan. Click on this link  and enjoy: evans/processional.htm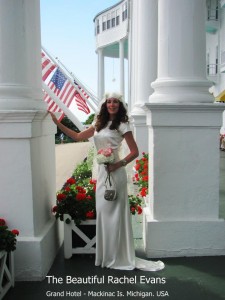 During the month Betty has had extensive tests at the Prince Charles Hospital here in Brisbane, as a follow up on a chest pain episode which she experienced earlier in the year in Adelaide. We are thankful that all the tests show that nothing is wrong with her heart and all is well.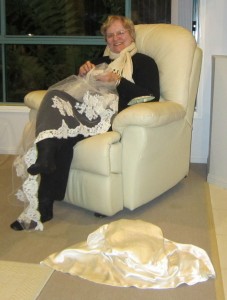 Betty's has been busy this month in her projects of designing and  sewing the wedding dresses of a couple of brides. Its a great hobby but very time consuming. Personally I would like her to do some writing as she is a great story writer. I am so proud of her achievements, especially the wedding dress she made for Rachee, David's beautiful wife, and that without a prior fitting.
There were tears of joy when Rachee received the dress in the mail. It fitted perfectly, ah ah! With a tear in her eye Rachee said, with that beautiful American accent, "Perrr..fect!" The relief was tangible when Betty heard that news!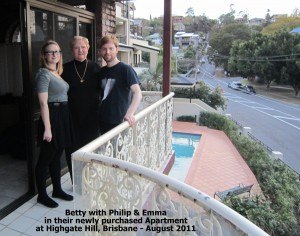 Another significant event is our youngest son Phil & Emma's purchase of their first home.
It was such a privilege to have this lovely couple with us for eight months and have a bit of an "empty nest" feeling over again. Never the less we join in their joy at this significant milestone in their lives.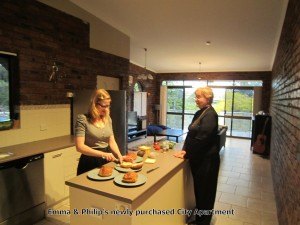 Our local church at Albany Hills, last week took up its annual "Heart for the House" offering. I like that title for a special offering, don't you? Pastor Mark Elmendorp explained that the offering will be used for upgrading facilities and needs around the church property. I understand the offering received so far is over $55,000 which has already exceeded last years. Pastor Elmendorp will be announcing the official figure soon, so keep tuned to this space or better still go to Albany Hills Christian Church.
Thirty years ago on the 4th August 1981 my brother Ps. Andrew Evans was honoured before the congregation of the Klemzig Assembly of God, with an investiture and an Honorary Doctor of Divinity Degree. It was  bestowed upon him by the Californian School of Theology. You will note another leading pastor of that era Pastor Reginald Klimionok is in the ceremony along with Doctor London from America. I have digitally recorded it here  for posterity and and in honour of my brother.
As I conclude this months post I want to illustrate an important lesson of life. If you keep a right attitude no matter what negative force comes against you, the tide will turn. Prior to the wedding of David & Rachel, I asked his permission to publish a video I had made of a song he wrote during his darkest night of the soul. It was written not long after his whole world collapsed around him in October 2007. He was at the prime of his life, aged 39. The lyrics may be haunting and the battle fierce but if you keep close to God, restoration is not only possible but you will be restored.  The tide will turn, which is the theme of this months post.
Life may throw up some dreadful and unjust experiences your way, but always remember if you keep your heart right with God, "The Tide Turns." So expect good things to happen to you!
Please follow and like us: