September 2011 – God's Garden!
Its Spring in Australia and what better time to get into the garden than September.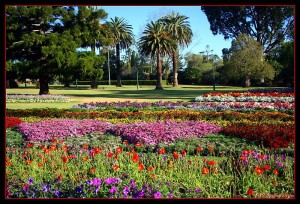 Spring is in the air, flowers are beginning to bloom, new leaves are bursting out on the trees and the forests are coming alive with the sounds of nature. Actually when I think of Spring I think of the City of  Toowoomba where Betty & I spent twelve wonderful years serving in possibly the largest rural pentecostal church in Australia at the time. It was appropriately named Spring Street Assembly of God.
In this beautiful Garden City we enjoyed the fellowship of many wonderful people. The Spring Street Church was thriving with young and old, all complimenting one another as children of God and living out the  journey of life without a generational gap.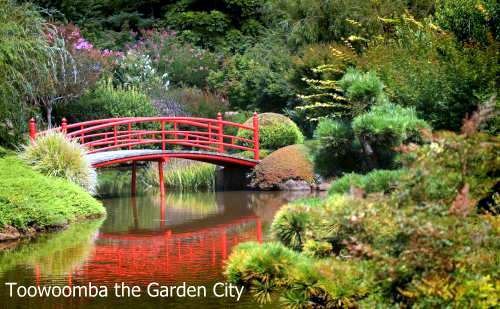 Amongst this beautiful garden of God's people were many who left their mark and creative touch upon future generations.
I love Spring in Brisbane also, as it symbolizes growth, lots of growth! Like in the natural so in the spiritual – God is at work planting people here and there to form an amazing spiritual garden – the church. In our little corner and community of faith I think of some of our pioneers whom God used to 'get us growing.'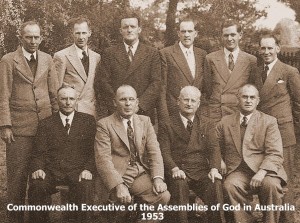 These pioneers came from both pulpit and pew! The prolific growth of our movement was nurtured by hardwork, sacrifice and the Holy Spirit who gave the increase."God's Garden" is the theme of this month's post which begs the question, how did it happen and who planted it? We have so many wonderful churches in this country  which are an expression of God's Garden having experienced exponential growth. But how did it happen? Who planted the seeds of the growth that we are experiencing today in the church of Jesus Christ? Was it the wonderful pastors and leaders of yesteryear, or was it the hard-work of ordinary dedicated people who loved God so much they gave willingly of their time to voluntarily serve God. I suggest both!
After church one Sunday morning, we were chatting with a man in the church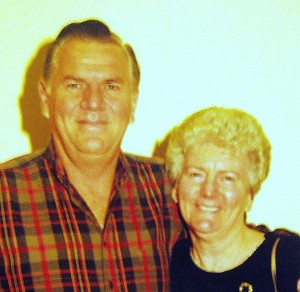 cafe and found he was a 10 year old boy when Betty was part of a children's outreach at Groverly school in 1961,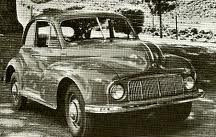 when she was still a student at the Commonwealth Bible College. They chatted about people like Tom and Freda ten Kate, who used their little Morris Minor car, to pick up children and bring them to Sunday School every week. In those days there were no restrictions as to how many could travel in a car and seat belts hadn't been invented. They piled seven and sometimes up to 10 children into their little car. The Stafford Assembly of God  (the present day "Nexus") where they attended, had only 30 members but up to 250 children attended the Sunday School.
.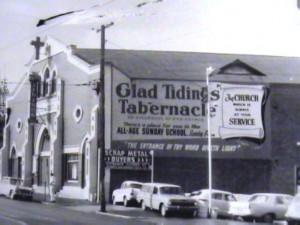 I was reminded that back in the 1950s – 1960s in the Brisbane area, the Assemblies of God movement established its suburban churches largely on the back of Children's ministry with financial assistance from Glad Tidings Tabernacle.  Places like Wynum, Groverly (Hope City Church), Stafford (Nexus), Belmont (Gateway), Ipswich, Sandgate, Yeronga, Inala,  Zillmere (iSee Church Taigum), Coopers Plains (Southside Christian centre), Oxford Park (Hillview Community church) and Mt Gravatt (Hillsong) to name some.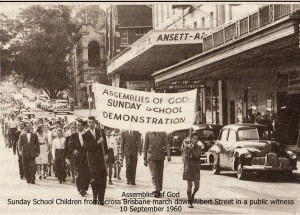 Dedicated volunteers were up early every Sunday morning, collecting children from the neighborhood. Later there was also a bus network operating.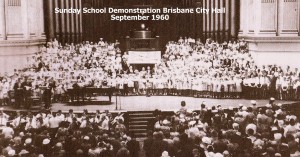 Mrs Irene Rix was very instrumental in coordinating the suburban Sunday schools with extensive training in Children's ministry in Brisbane the Darling Downs and Maryborough. The South Eastern District staged a huge Children's rally on Sept 10th 1960. Hundreds of children from across the suburbs of Brisbane and their teachers, gathered in Albert Park  before marching down Albert Street to the City Hall, where a grand Rally of Witness was held showing the value of Children's Ministry.  It was a great occasion and a salient one which I will never forget! In those days it was considered that building a strong Sunday School would build a strong church.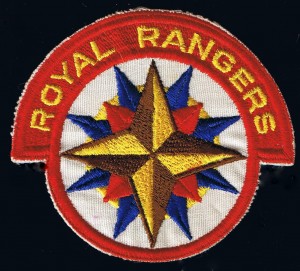 In fact they were often referred to as "All age Sunday School." Every church member was encouraged to attend.
Another significant outreach programme amongst children was the Royal Rangers movement. Hundreds of children met mostly on Friday nights.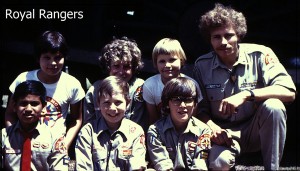 It was an efficiently organized programme, training in life skills and spiritual principles. Hundreds of children gave their lives to Christ across Australia through this programme and a large number of church workers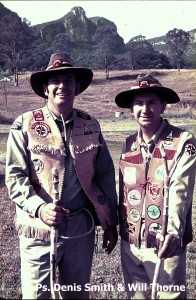 of today, cut their ministry  teeth, in the amazing training programme. I applaud all our modern day children's workers. It is a truism that the church that cares for their children will inherit adults who care for their church.
This month I would like to introduce to you a young dedicated couple who have applied their talent and energy into Children's ministry. Tim and Michelle Gray are based in Toowoomba but travel freely. They were brought up in the church and are the children of long standing Christians. When we first began our ministry at Spring Street Assembly of God, I watched this young couple grow in their christian faith and noticed they were not only talented but a great blessing to the Church. They are a gifted couple who organized and presented musical features for children and adults. For some years Tim was the producer of the Royal Command Performance that the Toowoomba Church presented at the Empire Theatre during the Christmas Celebrations. They were married in 1994 and have two children, Jeremy and Cody. In 2001 they began what has become a wonderful ministry to Children called "JAM" (Jesus And Me). Have a look at these two videos and you'll see what I mean.
I wholeheartedly commend Tim & Michelle to churches. If you are looking for a special programme as an outreach to the children of this generation, then contact them. For more details watch this promotional video to give you an idea of how to contact them and procure their services. They will bless your Church and Children's Ministry.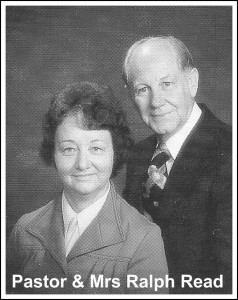 During the month of September I had the privilege of visiting the oldest former General Superintendent of the Assemblies of God in Australia. Pastor Ralph R Read served the Australian fellowship as it's leader from 1969 – 1977. (not as listed in the video) During his 68 years of ministry he served in churches in Orange NSW, Stafford Qld, Oakleigh Vic, Christchurch NZ and Richmond, Canada. He had a strong evangelistic emphasis in his ministry & conducted tent crusades in numerous places.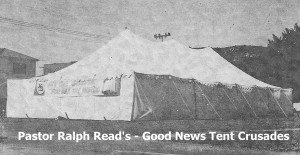 Resulting in churches being planted at Stafford & Belmont in Queensland as well as churches in New Zealand. During his service in public ministry he established a Christian Printing Press in New Zealand in 1962. He introduced Teen Challenge to Australia and began a Street ministry in the Brisbane CBD. (Over 5000 copies of the Cross and the Switch Blade were distributed by CYC). Below is a short video dialogue I had with them in their home.
Pastor Read was also heavily involved in Bible Training and started regional Bible Schools in New Zealand & Australia. In 1960 he was appointed New Zealand Superintendent of the Assemblies of God.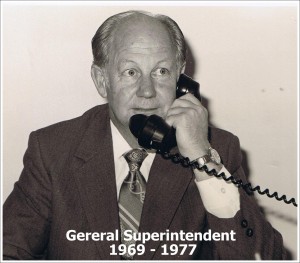 From 1969 to 1977 he was also the Chairman of the Foreign Missions Department of the Assemblies of God in Australia. He served as Principal of the Commonwealth Bible College in Australia for a number of years.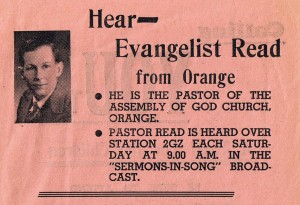 Ralph & Iris Read have been married 64 years and have two daughters, four grandchildren and three great grandchildren. They live in retirement at "The Plains" Retirement Village in the southern suburbs of Brisbane. He will be remembered for his commitment in upholding the Doctrine of the Holy Spirit with its pentecostal distinctive and his continued active involvement in Evangelism, through his writings of tracts & literature ministry. He turned 90 years of age as of January 2011.
 We honour them for their service to the Church!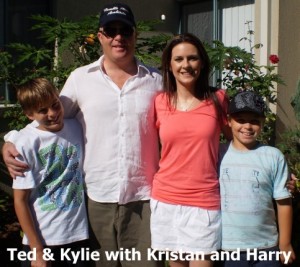 As I conclude this months post I include just a few photos from our family happenings. We enjoy our regular drives to Caloundra to visit Ted & Kylie & especially to see our grandsons. As Senior Pastor, Ted & Kylie have meshed in well with Ps. Chris Peterson and are functioning brilliantly on the ministry team at Acts International Church. The church has just completed 21 days of prayer and fasting with a large percentage of the church family attending the prayer meeting each morning.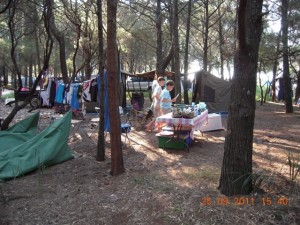 Prayer certainly makes a difference and we enjoyed the tangible presence of God in the service. Our visit seemed to coincide with the celebratory feast and the catering team are just class. Ted was moved by the expression of love when a brother cooked a T bone steak for him to celebrated the end of his 21 days on pulse! The Church also extended their love to the community with an extensive grocery ministry at their Care centre. The Church has also just commenced a "Man Shed" to provide a place for of fellowship for men.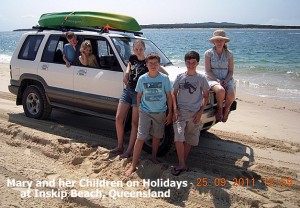 It appears the Sunshine Coast has a high suicide rate among men. One man we would like you to add to your prayer list is Rodney. Our friend Rodney is battling with life issues. I'm sure he'll come through if we pray.
Our daughter Mary and husband Dan took their brood of children on a camping holiday to Inskip near Fraser Island.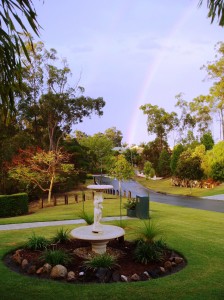 By all accounts they had a wonderful time.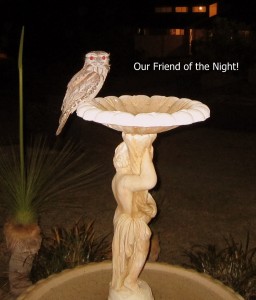 We look forward to hearing all that happened at our regular family lunch with our grandchildren on the the first Sunday of the month.
I love Spring in Brisbane as it symbolizes growth, lots of growth! The spring rains come with their beautiful rainbows that tells us of God's never ending love for his creation. Our garden is fresh from the rain and the birds of the bush come and visit us. How good is that! Even at night the friendly bush Owl drops in for a drink at our fountain and every morning "Freddie"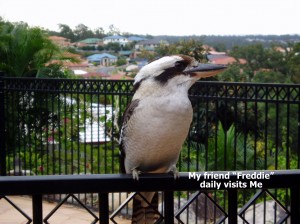 the Kookaburra hopes he is going to get a breakfast morsel? Life's good when we look for it!
September has slipped by and God's promised seasons wind around and will continue to do so until God says "Time shall be no more." Genesis 8:22
So to end this post remember, the treasures of God's garden are all around us. Make your life a positive influence for good and see the fruit of your life bear a harvest of blessing.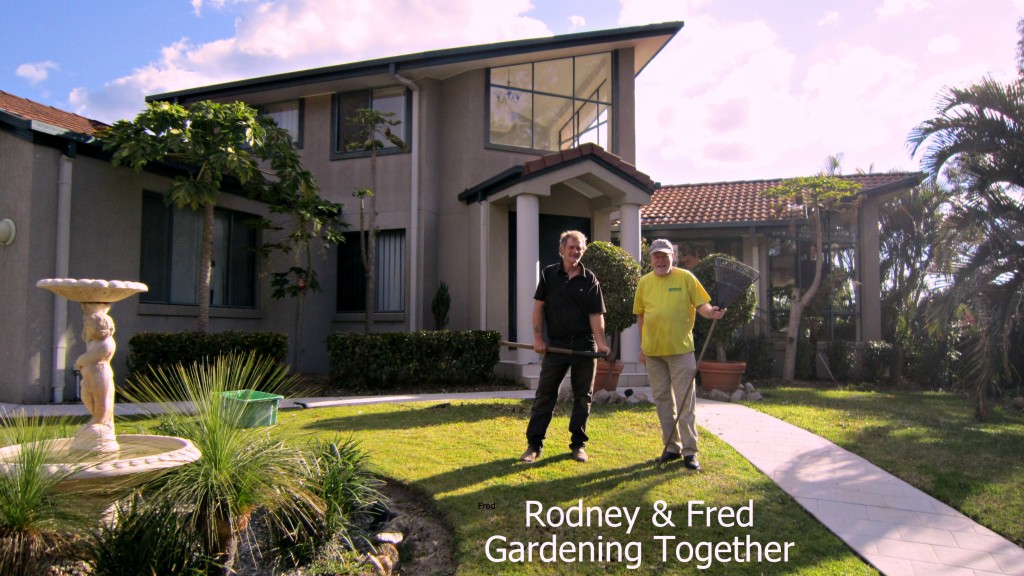 Please follow and like us: