I Dodged a Bullet!
The idiom 'To dodge a bullet' means to narrowly avoid something or some situation that turns out to be undesirable, disastrous, dangerous, or otherwise harmful.
I guess you could say that over the last month or so I have done just that.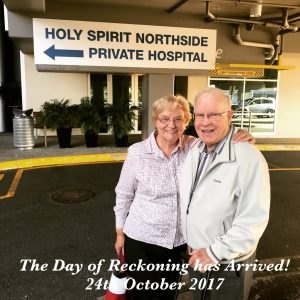 Negative experiences on life's journey can often leave a trail of destruction.
Personally I have been forced to journey through a bowel cancer 'scare' that was totally unexpected with potentially fatal results.
Interestingly the process has given me a lot of time to reflect upon my life and its purpose.
Looking back over nearly eighty years of living this life, perhaps you may argue that Ive been blest?
Indeed I have!
I guess by nature I tend to put out of my mind some of the bullets that I have dodged, however it could have been very different!
Even at my age one doesn't expect bad things to happen ….. Its just the way I am! 
But in reality there have been some close shaves that could have completely changed the course of my life.
I have always given credit to God or His Angels whenever I have dodged a bullet, but of course there has to be more to it than that. Psalm 91:11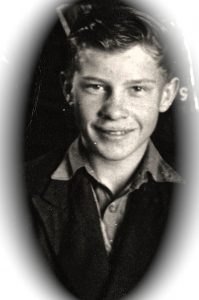 What have I learned is that in the providence of God sometimes He allows us to pass through the valley of the shadow of death to show us His abounding grace that we may fear no evil.
So let me share with you what I have learned when dodging a bullet.
The first happened when I was abducted by a pedophile as a young lad waiting at a Bus stop in Adelaide.
I won't go into the story here as I have already written about it.
You can check out the story on this link : The Insidious Nature of a Pedofile
The powerful lesson I learned that day was to Call upon the name of Jesus when faced with danger. 
I'm glad my mother taught me to use the name of JESUS at an early age.
     2. The second experience occurred when I was 19 years of age when I survived a serious car accident.
I had just completed my first year of Bible College and was home in Adelaide and went for a joy ride with a mate of mine who wanted to show off his sports car.
Along with his girl friend the three of us clambered into a two seater MG sports car similar to the one in the pic.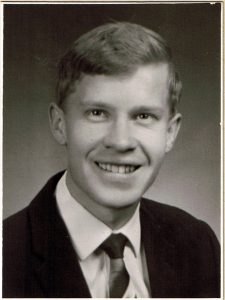 In those days it was not illegal to cram into a vehicle made for two nor did we have seat belts.
I sat on a small cushion on top of the break handle. Although a bit uncomfortable we were on an adventure and who cared!
We took off into the Adelaide Hills on the winding road up to Windy Point.
The MG performed impressively with its low centre of gravity and road holding dynamic.
The covetous stares of pedestrians along the road added to the euphoria of the occasion.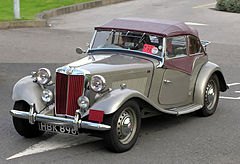 It was fun as my mate wanted to show me the capabilities of his new car.
I was impressed by its road handing ability as we wound our way up to Windy Point in the Adelaide hills.
They say 'you can never tell what's round the corner.'
Just as we were speeding around a dangerous curve on the wet road the unbelievable happened.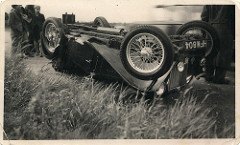 The back of the car swerved dangerously in the wet conditions and flipped.
It happened so quickly and within the blink of an eye we skidded off the road and into a drain; overturning.
The force of the rollover smashed the wind screen and ripped the canvas hood off the car before miraculously landing upright on its wheels.
We sat in the car stunned and in shock, covered in mud & debris but not a bone was broken.
Shortly I got out of the car and staggered across the road to the nearest house to call for help. I was shaking uncontrollably from shock.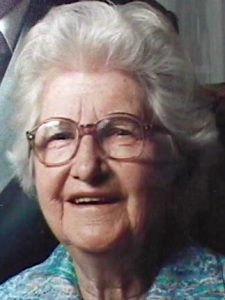 Believe it or not, my Mother was praying for my physical safety at the EXACT TIME I had that serious car accident.
Although we were separated by thousands of kilometres when the accident happened, yet somehow she knew and was interceding for my protection and safety.
Reflecting back on that experience it taught me the Power of Prayer over your Family.
     3. The third Bullet I dodged was when I was set upon by a deranged young man who's objective was to kill me.
Many would say he was demon possessed.
I was preaching one evening to a crowd of villagers in Papua New Guinea when suddenly my congregation disappeared into the surrounding jungle screaming out to me to run for cover.
I had no idea what caused the panic reaction until I saw through the darkness what looked like a drunken man carrying a long spear, similar to the picture below and a burning log in the other hand.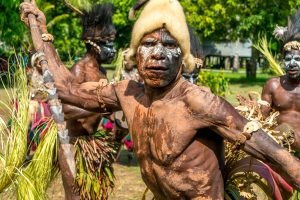 As he weaved his way toward me yelling obscenities I had no option but to call on the name of Jesus.
He let fly the burning log in his hand that sailed past my head and then threateningly danced & pranced before me with his spear dangerously close to my body.
There I was standing before this demon possessed young man with my kerosene lamp at my feet casting an eery glow through the darkness.
Instinctively I called on the name of JESUS and commanded him to drop the spear.
Instantaneously he fell at my feet writhing like a snake and then fell silent.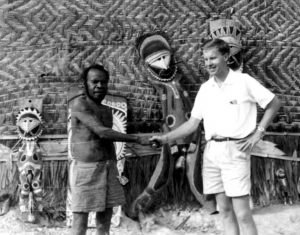 Amazingly in that moment I felt an enormous spiritual authority/power come over me to take control of the situation.
Looking back, it was God's grace that gave me that authority to address the situation.
I didn't premeditate it, or plan it, it just happened!
I knelt down beside the young man and quietly asked him why did he want to kill me.
He replied "a voice inside my head told me to kill you".
I learned that evening the Spiritual Power in the Name of JESUS.
In other words there is power in the Name of Jesus
     4. The fourth bullet I dodged happened 24 October 2017 when Doctors removed a bowel cancer from my body before it spread to other vital Organs.
I was not expecting to have to face such an operation but my friends whom I lovingly call "the codgers" persistently urged me to have a colonoscopy which I had never had.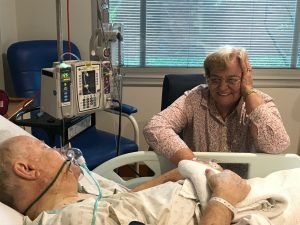 It so happened at the same time I was struck down with the flu and went to see a local doctor who insisted also that I have a colonoscopy.
I obliged and of course you guessed it, a cancerous tumor was discovered in my lower bowel that had to be removed.
Those of you that have been following my facebook posting know the story.
The lesson I learned was that sometimes God speaks to Us through our Friends and Loved ones to halt us in our tracks and bring about a positive result.
In conclusion, sometimes in our journey through life negative thing happen that may not fit our theological beliefs.
My thoughtful observation is that sometimes God allows negative circumstances to cross our pathway, not to destroy us but to help us learn from it and overcome.
In so doing we can adjust our ways and learn to see His purposes in it all.
Naturally I am glad that these negative events of my life have turned out for good, however I am mindful that for some that is not the case.
The important thing for me to know is the I am in the hands of God.
And no matter what happens it is important that our destiny is secure in Him.
Or as the Bible says in Psalm 31 :15.
We assent to the statement, "My times are in Your hand," as to their result. Whatever is to come out of our life is in our heavenly Father's hands
May God Bless You
Please follow and like us: