July 2012 – Heaven is Better Than This!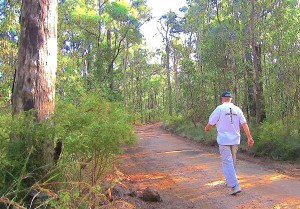 As much as I like walking through the forest and smelling the Eucalyptus & Wattle each morning I can't help but think that there is better to come.
Years ago we used to sing a chorus called "Heaven is Better than this." The other day I said to Betty "do you remember it? She said "Yes," but she didn't want to sing it as she wasn't feeling well.
Anyhow with a little gentle persuasion I got her to join me and try and sing it for fun and posterity, while our son Ted kindly obliged on the piano. Join with us if you know it. It may trigger some memories for you and you'll feel better, ha ha!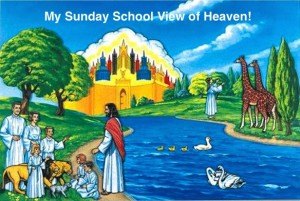 As a boy growing up in the Sunday Schools of yesteryear, I vividly remember the colourful Flannelgraph stories and teaching about Heaven. It is a beautiful place and my teachers left a vivid impression upon my young mind with what it possibly could be like, although I couldn't quite grasp the Lion lying down with the Lamb. Â I do remember the vivid colours however and the beauty of it all. It was my heavenly home!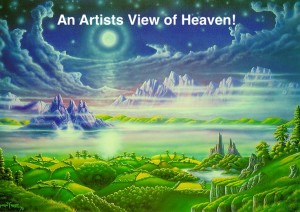 Of course as I grew older my interest in Heaven became less important as I entered the adventure stage of life, discovering my personal calling and journey through life.
Leaving home and going to Bible School was so exciting and then ending up in the jungles of Papua New Guinea was the climax. Life couldn't have been better! When I set up my jungle camp I was excited with the anticipation of making my personal heaven on earth! I'm sure "Green" was going to be the predominant colour of Heaven, ha ha! I notice some artists seem to think so too.

Others have depicted it in all its golden glory coming down to earth based upon the scriptural interpretation of Revelation 21:1-9. Whatever Heaven will look like is not that important, because whatever you may imagine, it doesn't come even close to what it will really be like.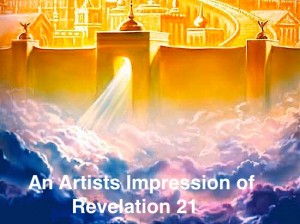 The Bible says "Eye hath not seen nor ear heard nor even entered into the heart of man, the things that God hath prepared to them that love Him." 1 Corinthians 2:9 To be honest I am looking forward to Heaven where the Bible says there will be no more tears, no more pain and no more death or sorrow because the former things will have passed away. How good is that! Revelation 21:4
During the month of July we have been blessed by so many happy occasions and events. Yet as always, in life there has been some ups & downs, joy & sorrow and some challenges that we would prefer not to have faced. Although there are so many beautiful things going on around us, yet it seems the tragedies & bad seem to outweigh the good, which make me unambiguous about the future. Heaven is better than this!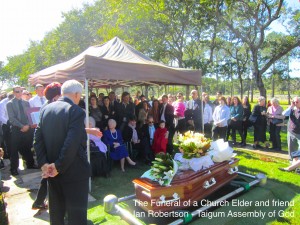 July has been full of funerals, or so it seems! I was beginning to feel a little depressed at losing some old friends and colleagues in arms! It was with sadness we said farewell to Ian Robertson who was a great support to me in the 1980's as an Elder of the Church at Taigum Gardens Assembly of God, Brisbane. It was a privilege to visit him with Pastor Roy Short just a few hours before his passing this life and thanking him for his love, support and service. As I quoted Psalm 23 to him on his death bed, it felt as if I was ushering him to the gates of Heaven. We sang "Jesus Loves Me" and a few hours later he crossed over to his eternal reward. Death of course leaves a legacy of sadness and loss even for a Christians, but of course we know he is in a better place. Philippians 1:23 or as the Apostle Paul sees it  2 Corinthians 5:8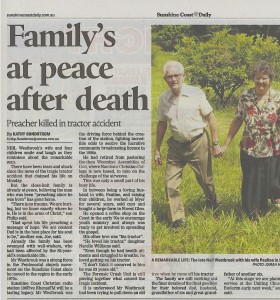 We also attended the funeral of Neil Westbrook in support of his wonderful extended family. The Westbrook name is synonymous with the word "Missions" here in Queensland. Neil left a positive legacy despite the tragic circumstances of his death. It was an honour to attend his funeral with hundreds of his family and church leaders. Life is not a level playing field and sometimes it can throw up into our pathway tragedies that seem too difficult to bare, but by God's grace we always seem to make it.
Pastor or Rev Joan Moreton as she was preferred to be called, was another we said farewell to during the month. For many years she had led the ministry of Aglow in Australia and was a woman of the Holy Ghost and a great influence upon the women of this nation and around the world.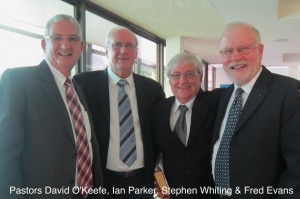 Pastor Stephen Whiting led the service at the Brisbane City Church. As always, funerals are often where we meet up again with colleagues and friends. Among others I was surprised to meet my old missionary colleague Frank Farr at the funeral of Neil Westbrook along with his sister Genny Scannell and Bob Spence. Chatting to so many colleagues after the service was a tenuous reminder that we have only a few years on this earth and then Heaven!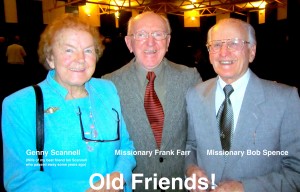 To be honest, sometimes I feel I cant wait because Heaven is better than this but, and I thank God for the "buts" in life's journey, for inevitably it turns to the blessed hope for the believer, the resurrection!
Each morning as I make my way along the bush tracks of the nearby forest, I often reflect upon life's journey and thank God for the experiences & people I have met along the way. Some have been used by God to bless us and some have been used by God to change us.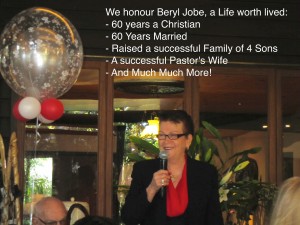 Whatever the path of life takes you, make sure you bring a bit of joy, fun and happiness with you and "chill out" as they say. Life is too short to be miserable, hey!

On a brighter side it was joy to celebrate the 60th Wedding Anniversary and 80th Birthday of Mrs Beryl Jobe. Pastor John & Beryl Jobe have been an inspiration to many people. In particular they laid the foundation stone for Klemzig Assembly of God in South Australia 1962 which is now arguably the largest church in Adelaide – the Influencers Church in Paradise, South Australia.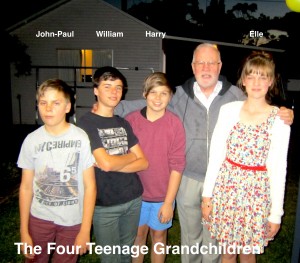 On a personal level I have really enjoyed my Grandchildren this month. Ted's sons Kristen & Harry have been with us in waiting, before they relocate with their mother to America. They are good boys and we will miss them as will their father and Kylie.

We were able to celebrate a birthday party before they left and enjoyed a camp fire. I determined to enjoy my grandchildren while they are young and still with us. I am having as much fun as possible preparing them for Heaven along the way.
The greatest joy for me this month was seeing four of my my grandchildren turning thirteen. Among them was Elle! We celebrated a combined party and farewell occasion for Harry and Kristen.
Elle has grown into a beautiful girl and dare I say it…"she's my favourite!" So are the others mind you, but 27 July 2012 will be remembered in my mind for a long time to come.
Life can be fun, so enjoy it, but remember…….
"Heaven is better than This"
So get ready for it!
"For here we have no continuing City but we seek the one to come.'
Please follow and like us: