November 2010 – The Month That Was!
Viewing the month in retrospect, I notice that significant conversation and decision this month stemmed from a statement from my Pastor. Mark Elmendorp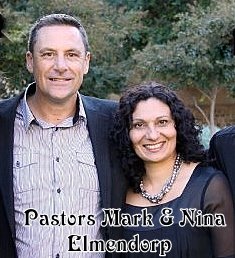 from Albany Hills Christian Church http://www.ahcc.org.au, made an interesting observation that caught my attention concerning the stages of life that we all pass through.
He said something to the effect "When a person (I took him to mean males in general) is passing through their young adult life, the primary temptation is sexual in nature; as they want to get married.
The next stage in mid-life is materialistic in nature; the need for security. That is the strong desire to acquire wealth and the temptation to make money."
Finally he said, and this is what got my attention, "when a person ages, that is when the family have grown and left home,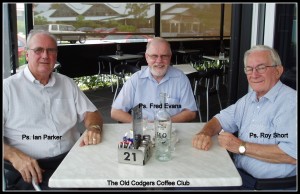 the primary temptation is to become cynical as they have been there and done that."
Stemming from these wise words of my pastor, Betty & I had a stimulating conversation as we are in the latter grouping. We talked about this danger of cynicism. In fact I belong to the "Old Codgers Club" (my term) who meet at the Coffee Club once a week at North Lakes shopping centre in Brisbane's north.
We often have intriguing discussions about theological & doctrinal issues that confront the contemporary church. We make sure our conversation is positive lest we become cynics of church life & practice. The Bible warns in 2 Peter 3:1-18 against cynicism and Betty & I have adopted a "No Cynisicm" clause in our dealings with church life.
So young people here's the drum! Whenever you chat with old people refrain from negativity as it tend's to come naturally with most, ha ha!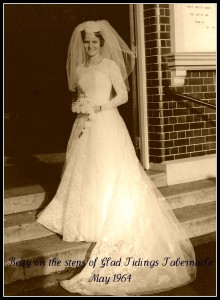 A significant event took place in the calendar of our church community as  Brisbane City Church (Glad Tidings Tabernacle) celebrated 80 years since its founding by Evangelist William Booth-Clibborn in a tent meeting in Fortitude Valley.
Eighty years seems a long time but connections to those events are still present. Betty's girlfriend's Mother played the piano in the initial tent meetings and Beth's Uncle still attends the church.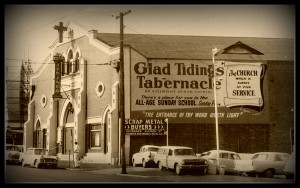 Personally we have four generations of connections. My parents Tom & Stella Evans were members. It was both Betty and my home church during our years in Bible School.
In fact as a student my college fees were subsidised by the church in payment for my work as a church cleaner. Later, GTT supported us as missionaries in Papua New Guinea.
We were married there and our son David as on staff for five years. Our grand daughter attended the 80th celebration.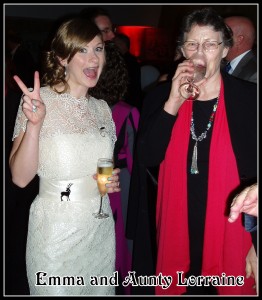 If you are interested in church history here is some well prepared & original footage of the founding of Glad Tidings Tabernacle.
Click on this link The Story of Glad Tidings Tabernacle Brisbane We pray that God's blessing will continue to be upon this great church and its present leader Wayne Alcorn.
Two of my favourite girls Emma & Lorraine feature in my November blog. Emma is my beautiful daughter in law, fun loving and confident enough to wear green nail polish at her wedding.
Lorraine is my courageous sister in law in a cancer fight of faith for her life. The teetotaling Lorraine drinks water from a wine glass. Now this picture is a reminder that quick conclusions without the full story is folly. Click on their photo to enlarge it.
It was a privilege to have Pastor Alun Davies at our Missions Convention this year.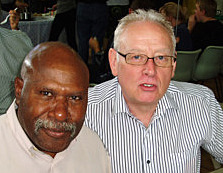 Pastor Paul Hambukia the regional Superintendent from the East Sepik Province of Papua New Guinea also attended and brought greetings from the Church in PNG.
The Papua New Guinea church continues to move forward with enormous courage. It never ceases to puzzle me as to why as a movement we deserted one of the most successful mission enterprises in modern history, while an army of other Pentecostal groups flood in with substantial assistance from the "mother" country.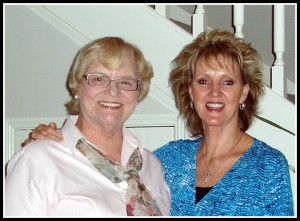 In my humble opinion and I stand to be corrected, we left an adolescent church to fend for themselves. For what its worth I apologise to my colleagues in ministry in that beautiful country.
The commitment and sacrifice of the Papua New Guinea Assemblies of God is to be commended and is worthy of our support and ongoing partnership as a parent fellowship.
We also had the privilege of having in our home Glenda Watson-Kahlenberg who ministered at Albany Hills Christian Church during November. Glenda's ministry was  greatly appreciated and captured my attention immediately, when she said of her restoration ministry "I have come to minister to your pain not your sin." Think about it!
Now that is a good approach Pastors could consider when ministering to broken and hurting people in their congregations.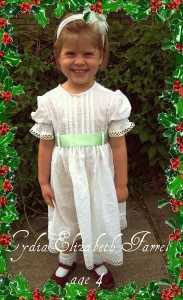 November cant pass without me mentioning the birthday of our youngest granddaughter Lydia Elizabeth Farrell who turned four on the 18th. Her grandmother Betty, as usual went to work and sewed her some lovely dresses from bits and pieces she found in her sewing cupboard.
Her Birthday dress looked beautiful and so feminine.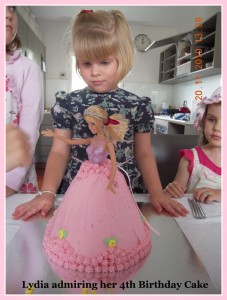 Even at such a young age Lydia is turning out to be a real "fashion plate!" When she tried on her new white Dimity Cotton  dress she turned to her Dad and said, "Dad, I think you should take my picture."
She enjoyed making Cup Cakes with the other children who came to her party but couldn't stop admiring the birthday cake her mother had made.
Another inclusion in our Aussie way of life is learning about "Thanksgiving Day" through David's eyes of his adopted country.
In David style he threw himself wholeheartedly into the national holiday celebration with his new American family.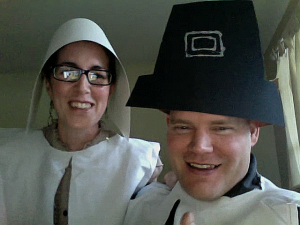 He enjoyed his share of the many thousands of turkey's eaten on the day.
They tell me that 60 million Turkeys were feasted upon in the USA during Thanksgiving. If you are interested in American history below is a link that explains it better than I can.
I prefer to stick to our good old ANZAC day, only that I would like roast Chicken to become part of the tradition instead of Snags! David looks happy enough but I hope he doesn't lose his Aussie accent.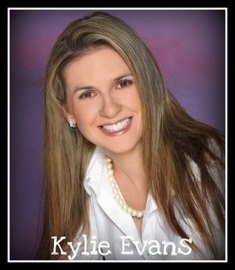 I snapped him while he & Rachee were talking to me on Skype just before their Thanksgiving Dinner. Sorry I didn't get a good pose!
Click on this link Thanksgiving if you have  4 minutes to spare and it will tell you all about it.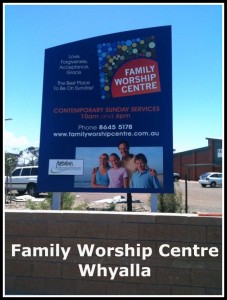 Well thats it! I hope your days are as adventuresome as mine.
I cant believe I'm so busy……….. "Christmas is coming and the Goose is getting fat." I prefer Chicken thankyou!
Oh I forgot, what do you think of Whyalla's new church sign? It was designed by Ted's wife Kylie. What a beauty? Yes she is!
Please follow and like us: