Church Planting Anzacs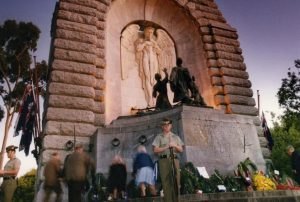 As I reflect upon the events of the month of April, my thoughts go of course to the brave people who laid down their lives for this country of Australia and New Zealand.
The ANZACs!
My favourite cenotaph would have to be the Adelaide memorial on North Terrace.
As a boy growing up in Adelaide the image of the mighty Angel on the memorial captivated my imagination.
To this day whenever I pray with my grandchildren, I always pray that the Angels of God would protect them and stand guard over them during the hours of the night.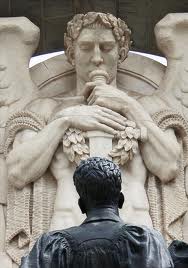 Many years ago I was asked about the idea of a guardian angel.
I have often been asked, Does everyone have a guardian angel?
While no passage specifically states that every person has a guardian angel, the Bible does teach that angels do guard or protect as Psalm 91:11 declares.
In addition, Matthew 18:10 suggests that when Jesus referred to the little children, He said, "see that you do not despise one of these little ones, for I say to you, that their angels in heaven continually behold the face of My Father who is in heaven."
But it should also be pointed out that Psalm 91:11 is directed to those who make the Lord their refuge.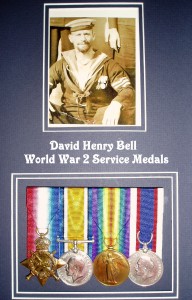 It is interesting to observe the growing national respect for Anzac Day in Australia.
My wife's father David Henry Bell was a reluctant hero serving in both the British and Australian Navies.
He served as a Leading Stoker on the Submarine HMAS Otway.
He like many other servicemen did not like to glorify war.
However as time has gone by the significance of the day has grown with a religious respect at the 'Dawn Services' around the country.
Secular though we may be as a nation, we still somehow seem to get comfort from the scriptures when the major events that shaped our nation are remembered in a cultural context.
Interestingly a prayer, a hymn or a Bible reading are often the backdrop to these events that celebrate the sacrifices of our ANZACs.
Anzac Day has significance on another front as well.
Since 1974 former missionaries who served in Papua New Guinea in the 1950s 60s & 70s, regularly gather at our old church at Taigum Gardens Assembly of God (now known as 'iSee Church') in Brisbane's northern suburbs, to celebrate fellowship and reunion.
Although our numbers are slowly depleting yet we always enjoy the time of reunion.
In former years such celebrations attracted many colleagues some of whom are now with the Lord.
This year, about forty or so Former missionaries & friends will gather again this coming 'Anzac Day' to chat over the good times and talk about some of our life experiences since then.
Some years ago It so happened that one of our number was in PNG and called me on his smart phone during the luncheon.
Former missionary Ps Neil Grady called from the old Yangoru Mission Station in the middle of the jungle.
Isn't technology incredible?
I linked the microphone to my mobile for all to hear.
Amazing when compared to the means of communication we used fifty years ago via short wave radio!
This is Uniform Tango calling Delta Xray, do you read me, Over?"
Neil was on a short visit to help lay foundations for a Church and two school classrooms at the village of Mombuk.
He shared with us of up to date news from the Church in the East Sepik, including the commencement of the new Technical High School at the old Hayfield Mission Station.
It is named in honour of Ps Jacob Ganba (1st National Superintendent) & Ps. Cyril Westbrook.
A few days later we had the privilege of unofficially but personally honouring this great man of faith at our Old Codgers coffee club meet at the Northlakes Shopping Centre.
Neil Grady gave him a Tie he brought back from the "Ganba Westbrook Technical High School" in PNG.
No pomp & ceremony for Cyril – just a tie with his name on the logo at the Coffee Club!
To try and capture the memories I prepared an honour roll of all our Assemblies of God (ACCI) missionaries, who served in the campaign to plant the Pentecostal Church in Papua New Guinea.
I made a video, primarily for the Papua New Guinea Church as an historic record of all who served in PNG.
They have a deep appreciation for the formation of their modern christian cultural heritage.
I have also including the names of support missionaries and short term workers.
All did their part to serve the cause of Christ during the  50 years of the church planting campaign from 1948 – 1998
Lest we Forget!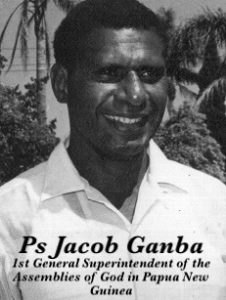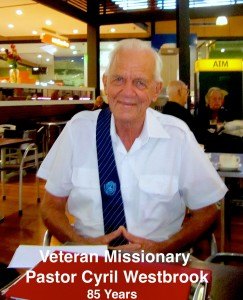 .
Oh, I forgot to mention! Just before enjoying our Anzac Day lunch we recorded a song in Tok Pisin including a prayer of blessing for the peoples of Papua New Guinea from none other than veteran missionary Evelyn Westbrook.
Her life story is recorded in the book "Just a Girl" by Elizabeth Evans.
Interestingly this humble YouTube video went "viral" (joking) as they say and was posted  on one of Papua New Guinea largest social networking web sites.
The feedback of comments and appreciation from Papua New Guineans was amazing!  
Thank you to all our PNG friends who sent their love via the social media on Facebook.
Please follow and like us: