Pastor C R Short – This is his Story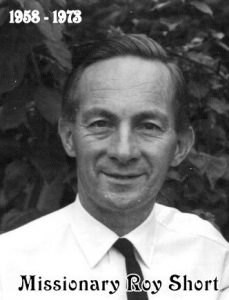 Charles Roy Short was born on the 20th of July 1925, in the home where his family lived in Didsbury, a suburb of Manchester, England. He was the fourth child of the family, the previous three being all girls – so he was very special, for a time. Later, when another boy was born he lost a lot of his popularity. Directly opposite his home was the school which he attended. Because of the size of his family, eventually six children, his father and mother both needed to go out to work. Roy, as he became known, started school at three years of age. Although his father wasn't "religious" his mother had a Christian background and made certain that her six children went to Sunday school at the nearby Methodist Church. The Bible teaching that was given at that time became invaluable for Roy, who while not appreciating it at the time, was so grateful for it later in life, as it gave him a strong Christian foundation.
In 1938 at twelve years of age, Roy passed his exams to enable him to go into high school. For the next three years he had to travel to school on the train, which was something many children didn't get the chance to do. Travel was very limited for the poorer classes those days. Roy was the first in his family to attend high school. In 1939 when war broke out, Roy was evacuated from Manchester to St Annes, near Blackpool, as a safety precaution, in case of bombing by enemy aircraft. However, the bombing did not occur, and when Christmas came around and he was allowed home for the festivities, he managed to persuade his parents to let him stay at home.
In his fourth year in high school Roy became unhappy at school and played truant, thinking nobody would know. When a letter from the education department arrived at his place, his Dad gave him the choice of staying at school and working hard, or leaving school and finding employment. Roy chose the second option. His father helped him to obtain an apprenticeship in an aircraft factory. He spent the next three years there, until he was "called up" into the air force.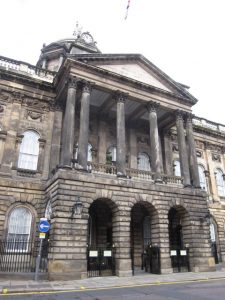 It was during those three years, that he had an experience that was to change the whole direction his life was to take. One of the tradesman who he worked with, Harry Smith, invited him to go to church with him. Because his mother insisted that each of her children go to church once, every Sunday, Roy agreed to go. Although he didn't turn up the first week, the following Sunday he did go. He arrived at the meeting place ten minutes late. Harry had been and gone. Roy didn't know the name or the address of the church. He was standing outside the town hall of Stockport, a town he had never been in before. He stood a while pondering what to do. He thought he would ask one of the dozens of people passing by, but what would he ask? As he stood there, he felt strongly impressed to seek help from one of the men who was walking past. Then he argued with himself as to what he would ask, and what the expected reply would be. As the man passed him he said "can you tell me where there is a church around here?". The man said "Yes, there is one here.". Roy said he didn't think that would be the right one. For some reason, he said, "Do you know anyone called Harry Smith?". "Yes", was the reply, "he is my brother.".
That is how Roy got to know Bill Smith. They walked together for the next few minutes, to the church. The preacher preached the Gospel, and at the end of his "speech" he invited the congregation to receive Christ as their Lord and Saviour, if they had never done so.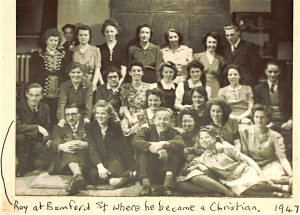 Roy felt challenged and did what the Preacher suggested, and that night was, what the Bible calls, born again.
The experience was not only immediate, it became life changing.
When Roy entered R.A.F on the 2nd of February 1944 he was hoping to become a wireless operator. He had been in the Airforce Cadets for three years planning this, however the Airforce needed storeman, so that is what he was trained to be. He completed and passed his course, and for six months he worked in different store depots around the country. In the middle of 1944 when D-Day, the invasion of France took place, leading Aircraftsman Roy was stationed at a place near Oxford. A few weeks after the invasion took place, he along with an officer and sixteen other men, were given two, 3 tonne trucks and told to drive to Brussels in Belgium and set up an equipment recovery unit, which would also be a stores unit to supply equipment to surrounding airfields. The trip to Brussels was not a long one in distance, but it took them four days. They landed on the beaches in France from a tank landing craft, and drove for the next four days through the devastated towns in France and Belgium, to Brussels. They slept at night in orchards, or in severely damaged building, en route. When they reached their destination, the Germans had fled just thirty-six hours before.
The eighteen men were housed in a Belgian hotel. Roy had the luxury of his own room!! The German officer who had used the room before him, must have left very hurriedly. He went without is equipment, and personal belongings, which were still in the wardrobe. The hotel manager who had a key to open the wardrobe, claimed everything.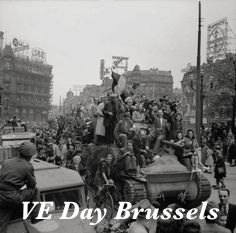 Roy remained in Brussels until the war in Europe ended, on the 7th of May 1945. Just prior to the war's end, he along with the others was sent to Belgium's port, Antwerp. The work to be done entailed preparing a consignment of equipment for return to the U.K. The task, it was estimated, would take ten days. At the time the Germans were constantly firing rockets into the dock area and they were landing too close for comfort. They had the job finished and were on their way back to Brussels in three days. No union rules to slow them down in that situation!! Roy remembered well V. E. DAY…Victory in Europe Day celebrations held in Brussels…everyone was ecstatic.
Nine days after VE Day, Roy was given ten days leave to visit his family in the U.K. When he returned to Brussels, he had to report to the office immediately. He was informed that he was to be transferred to South East Asia Command. He was to pack and return to the U.K. before his being shipped to Australia, as a start to his eventual destination, which was to be kept secret until he arrived in Australia. He wasn't keen on the thought that it might be Burma, or some such unattractive place. After a few days at home, he boarded the ship "Empire Brent" at Liverpool and they set off for Sydney, via the Panama Canal and New Zealand. He learned while on board that he was to be sent to Singapore.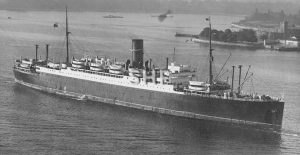 After being at sea for three weeks, the ship arrived at Wellington in New Zealand. Each of the Airmen were given ten shillings out of their pay, to allow them to enjoy their stop-over for the six hours they were to be there. What a party! They enjoyed bananas and oranges, and other foodstuffs that they had not seen for years. On the voyage from New Zealand to Sydney, Roy was told that his eventual destination had been changed. He was to be stationed in Brisbane. He arrived there late in July in 1945 and lived in a barrack hut in the bush on the south side of Mortimer Road at Archerfield.
As soon as he arrived in Brisbane, Roy looked for a suitable church fellowship. It took him two weekends to find what he was looking for. He started at South Brisbane and walked across the Victoria Bridge, straight down Queen Street, until he eventually came to Barry Parade. He had run out of time, so the following Sunday, he started where he had left off the previous week, and went down Barry Parade until he found Glad Tidings Tabernacle. He didn't realise that when he went into the church his discovery would completely change his life. The fellowship at G.T.T made him feel at home. Especially the young people who befriended him, although they took a while to get used to his different accent, and English ways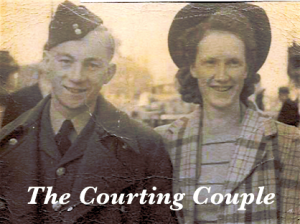 Among the group was an attractive red-head, Dawn McLeod. Her family, who lived on the same tram route that Roy had to use to get to where he lived at Archerfield, welcomed him into their family home.
This of course helped Dawn and Roy to form a friendship, which eventually developed into a life-long partnership. After twelve months at Archerfield, Roy was posted to a unit in Egypt. He was sent to Sydney to await transport to take him to his new appointment. During those few weeks, he celebrated his twenty-first birthday.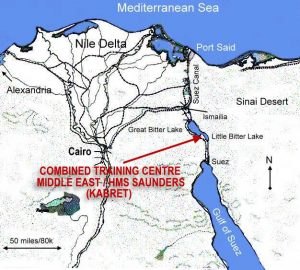 In Egypt, he lived in a place called Kabrit, which was on the shores of the Little Bitter Lake, which form a part of the Suez Canal. In December of 1945, he and Dawn became engaged and began to look forward to the time when they would be re-united.
It was while Roy was at Kabrit that he was promoted to Corporal and then to Sergeant. The increase in pay was very helpful for saving for his future plans.
Another pleasing experiencing happened while he was in Egypt. He volunteered to go on a moral leadership course, not knowing what it entailed…a very dangerous thing to do in the Airforce, however it turned out to be a wonderful decision. The course was held in Jerusalem, in what was then Palestine. The course lasted ten days. He and another Airman in his unit went by train to Jerusalem and joined another group of Airmen for the course. There were about twenty-five men altogether.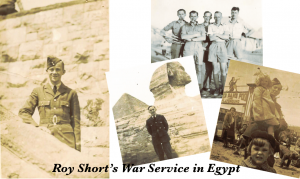 The course should have been called "a tour of the Holy Land" for that is what it was. For the ten days, they travelled all the important sites in the Holy Land. The Mt of Olives, Gethsemene, Galalee, Nazareth, The Walled City etc. Because the course was held at Christmas time, they spend Christmas Eve in the shepherd's fields just outside of Bethlehem.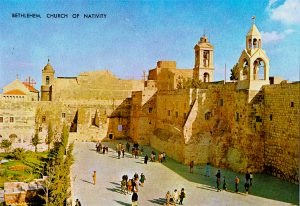 Then on Christmas Day they attended a church service in the Church of Nativity, in Bethlehem. In those days, the Jews and Arabs were having much trouble with each other about who owns Jerusalem and those attending the course, had to be on their guard and carry their rifles with them at all times. This didn't diminish the incredible pleasure they had from attending the course, especially as they were being paid while in attendance.
Roy was stationed in Egypt for only nine months and in April 1947 he was posted back to the U.K. He lived at his mother's home, until he was released from the R.A.F on December ninth 1947, having served almost four years. Immediately on his release he applied to emigrate to Australia ex-servicemen's scheme. He was accepted and by the beginning of April 1948 he was on board the ship "Andes" for the journey back to Sydney. He arrived there in the second week of May. Then travelling by train on the twenty-four-hour journey to Brisbane, he completed his return trip.
One of the great blessings that Roy and Dawn had in their lives had been their involvement with three "special" children who became part of their family. While Roy was finishing his last year with R.A.F Dawn had started nursing at the women's hospital in Brisbane. She continued to fellowship at the "Tab" as Glad Tidings Tabernacle was affectionately known. There she taught a Sunday school class of "littlies". One of the little girls in her class Beverley Mitchell came from a nearby housing settlement. Her mother was not well, and while Beverley was coming to Sunday school Darn decided to take her home and give her some extra TLC. This resulted in Beverley spending a lot of time at the McLeod's where she gained a second home and the loving care of a second family.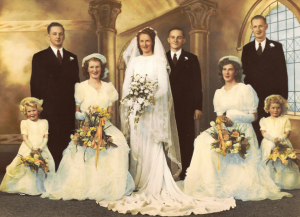 On the 22nd May 1948, Roy married Dawn in the church where they had first met. Beverley was one of the flower girls. A new chapter had begun in the lives of him and Dawn. He went to live at Kalinga but only stayed there two weeks because he was having to cycle to work each day, going from one side of the city to the other, to Yerongapilly. Then they managed to get a flat at West End. Dawn began her new work in a shoe factory, near where they lived.
It was while they were living there that Roy felt that God was calling him to be a Missionary. Dawn had previously felt a call to the Mission Field, but had not discussed the matter with Roy. It wasn't surprising then to find them both studying in Bible college in 1949 in the newly established Bible college at New Farm. Dawn worked as the principal's secretary, while Roy worked part time at a foundry opposite the Mater Hospital. At the end of 1949 they left the college so that they could save sufficient money to visit Roy's family in England. For Dawn and Roy's families had not met each other.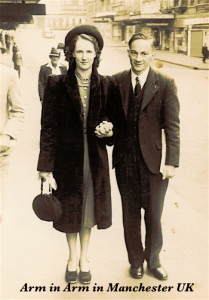 By April 1950 they had saved enough to pay Dawn's passage and the shipping company had agreed that they would give Roy work on the same ship that Dawn was to sail on, in order to pay his fare. Ten days before the ship sailed, when they had paid Dawn's fair, the shipping company said that they didn't have a vacancy for Roy. During the ten days, which remained before Dawn sailed, Roy frantically searched the docks trying to find work on a ship. With less than seven days to go Roy was in prayer one morning and he suddenly felt God's peace cover him and the panic disappeared. The Pastor from the "Tab", Lloyd Smith, rang him and suggested that maybe God didn't want him and Dawn to go to England at that time. Roy told him of the experience that he had while praying and said that he felt that something was going to turn up.
Later that morning he was sent to a ship called the "Ashburton" and was told to find the Chief Steward and ask him if there were any vacancies on his ship, not knowing that a miracle was about to take place. Finding the ship, he went on deck and asked where he would find the Chief Steward. Probably in the galley (kitchen) he was told. Going down into the ship, walking along one of its corridors towards the galley, a man suddenly came around one of the corners and faced him. Roy was amazed. As he recognized him. "Doug!" he said to the man. "What are you doing on this ship?". Doug responded by asking Roy the same question. Roy replied "I am looking for the Chief Steward.". "I am the Chief Steward" said Doug, "How can I help you?". Roy got the job washing the pots and pans etc that had been used in the galled during the cooking.
Doug was the only man Roy knew who was in the merchant navy. He was a Christian and he had been praying that somehow, he would find some Christian fellowship while on board. Roy got to know him when he would attend the services at the "Tab" when his ship came to Brisbane. Dawn arrived in England after a month at sea, two months before Roy. They stayed in England for almost five years, living in Didsbury for most of that time. Dawn worked in an office, Roy worked as a storeman.
They had applied to Australia House for acceptance as assisted passages migrants.
While there, they also attended one of the large churches not far from their home. One of the young men in the youth group there was Gerald Rowlands who was to play an important part in his life twenty years later.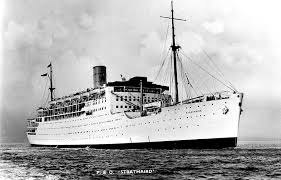 In January 1955, they were given berths on the passenger ship "Strathaird" arriving in Brisbane towards the end of February.
The sadness of leaving Roy's family was compensated by meeting all of Dawn's family, and many friends who welcomed them back. They stayed with Dawn's parents and Roy started work at the English Electric Company at Salisbury.
It was around this time that the second of three children came into the family circle. Lorraine came from a broken family with her mother living in Sydney and her father trying to care for her and her older brother Kevin. She was about three years old. The conditions that the family were living under were unsatisfactory and Lorraine's grandmother who had been trying to look after them was most grateful when Dawn agreed to have Lorraine come and stay with her and Roy. She was treated as their daughter and lived with Dawn and Roy until she was nearly seventeen years of age.
While living with Dawn's parents Roy was surprised one day to receive an invitation from church in New South Wales, asking that would he be willing to become their Pastor.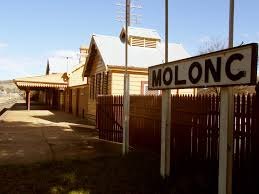 The church was at Molong. In western New South Wales. After making numerous enquiries and seeking the advice of other Pastors who knew the area concerned, and of course talking to Dawn, Roy accepted the invitation, and made plans to move down south. Dawn's parents helped them buy their first car by lending them some money. They loaded their belongings into the small Ford Prefect and started on their seven-hundred-mile trip to Molong. Lorraine stayed at Annerley until they had found more about the conditions in Molong.
They arrived at Molong to find that things were not going to be as easy as they had imagined. The church comprised of fourteen people. Half of whom lived twenty-two miles away and were planning to leave when the new Pastor had been there a few months. The accommodation provided was at the back of the church, and Roy who had to get a full-time job, had to travel the twenty-three miles to Orange every morning for this work. After a few months, they made the trip back to Brisbane to "collect" Lorraine.
Towards the end of 1956 after having received an invitation from the Oakleigh Assembly in Victoria to become the assistant Pastor there, they left Molong. Their drive to Oakleigh in their tightly filled Ford Prefect, took them from Tuesday afternoon to Saturday afternoon. To say the trip was not without incident, is an understatement. They had three punctures, not realising the overloaded car contributed to that problem. In one place the engine caught fire when the radiator leaked and the engine overheated. They ran out of money (no bank cards then) and had to wait at the post office in a town until they had a loan sent to them. Things were going well early on the Saturday morning and it was looking good for them to arrive at Oakleigh by 4pm. That was the time the welcome tea was to start, however just before they arrived in Albury a passing truck threw up a stone and smashed their windscreen. Very soon after that the rain began to pour down and saturated them and a lot of the things in the car. They arrived at Oakleigh as the tea finished. It wasn't a good way for Roy to start his ministry there.
During the years that had passed since Dawn and Roy had felt the call to be missionaries, both of them were conscious that the day would come for service abroad. They had been in touch with the Missions Department in Melbourne and expressed a desire to be accepted for service in Indonesia. However, that country had closed its doors to Christian Missionaries and it was almost impossible to get visas to enter the country. When they were asked by the Missions Council to go to the New Guinea field until Indonesia "opened up" they agreed to their request. At the end of 1957 they decided to finish at Oakleigh and prepare for their impending move to New Guinea.
They went back to Brisbane and again lived with Dawn's parents. Roy had arranged to undertake in linguistics at Belgrave Heights in Victoria. In early 1958 he went down to Melbourne and booked into the camp. That same night he agreed to have tea at the home of Pastor Greenwood, the secretary of the Missions Council.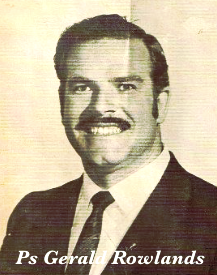 While tea was being prepared the Pastor's secretary, Kath Hayes mentioned that two visiting Evangelists from the U.K. who had been preaching in the Gippsland area, were coming to the Pastor's house.
One of the men was our friend Gerald Rowlands. She continued by saying that they would be bringing with them a mother from the area who was wanting Kath to help them find a couple who would adopt their baby. Immediately Roy indicated that he and Dawn would be thrilled to have a son in their family. The necessary steps were speedily taken for this to happen.
The following day, Dawn flew down the Melbourne and stayed with Harry and Marjorie Smith. Harry being the man who worked with Roy in 1942 in the U.K. By the time, Roy had finished the linguistics course, all the legalities for Peter to become part of the Short family had been completed. With a great deal of help from Pastor Greenwood and Kath, and the church in Richmond, Peter became Peter Charles Short and was dedicated in Richmond Temple at a Sunday morning service, with much praise being given to God, and with many thanks given to those who had been so helpful. The new family member along with mum and dad then flew to Brisbane to wait for their departure to New Guinea.
It took until August of 1958 for the Short's to be ready to move to New Guinea. Roy had to get work for those few months in the ship-yard at Kangaroo Point. He became a "catcher" which entailed catching the white-hot rivets from the furnace-men and passing them to the riveters. It was a noisy and dangerous job. He was overjoyed when the time came for him to leave. Roy, Dawn, Lorraine and Peter who was still not a year-old left Dawn's home late one night, towards the end of August, for their new life in New Guinea.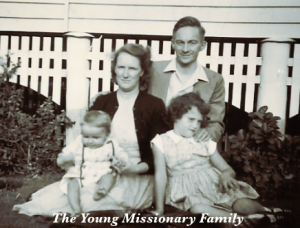 They caught the plane, an old wartime D.C.3 at Eagle Farm and took off early in the morning, so that their arrival at Port Moresby Airport would coincide with day break there (no airstrip lights then!). From Port Moresby to Lae, to Medang and onto Wewak where they were warmly welcomed by the Missionaries there. Their journey was not completed until they were flown by the M.A.F that afternoon to Maprik. Again, another welcome awaited them. They stayed at Maprik for a few days to become acquainted with a little of the culture and customs of the locals and the moved to Wingei Station to relieve Cyril and Ev Westbrook who were to relieve the Missionaries at Maprik. During the first term in N.G they had to make many adjustments. For the first eighteen months, they followed the routine which had been established by the Westbrooks. They both taught in the school each morning.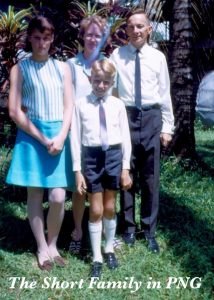 Dawn had to teach Lorraine by correspondence. She also ran the busy aid-post. Roy was responsible for services in established village churches and the services at Wingei. They both taught literacy classes on the station, while Dawn had the task of running the home and caring for the children, particularly one year old Peter. The most exciting part of Roy's responsibilities was visiting new villages to take the Gospel to the people there. This often meant long walks and occasionally sleeping overnight in those villages.
After eighteen months, the family were moved back to Maprik. The work they did there followed the same pattern as they had been doing in Wingei. It was during this time that they witnessed, in a greater measure, the amazing power in the Christina Gospel. Each Thursday and Friday, it had been the pattern for the Missionaries in Maprik to go to the outstations, a central position among a number of villages, and conduct a day's schooling for the young people who would come from those villages. Roy decided to go into these villages after the school had finished, and hold an open-air service with the adults. So, he and Dawn often with Lorraine and somebody carrying Peter (how the carrier loved that!!) followed by a crowd of young people who showed great delight at the Missionaries coming to their village, climbed the hills and walked along the bush tracks to carry the good news.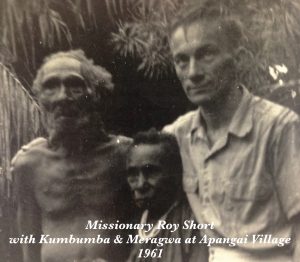 For some of the people, especially the older ones, they saw white people for the first time in their lives. The response to the new strategy was immediate and almost mind blowing. Every village service concluded with people responding positively to the Gospel challenge asking the missionaries to return and teach them more about the good news. In a number of villages "House Tamberans" or "Spirit Houses" which were being built were never finished because many of those involved had given their lives to serve the Lord. Instead they used their times and talents to build a church in their village. At the end of their first term in New Guinea, Roy and Dawn and children went back to Australia for their furlough.
On their return for their second term from 1962 to 1965 the family were appointed to pioneer a new mission station in a completely new area. A wild and isolated place called the Wosera.
The church and mission station were built at the edge of a fairly big village called Jambitanget. As a result of the hard work of some National Pastors and some missionaries over the previous 2 years many in this village had become Christians and were so looking forward to having their own missionaries live among them. Some of the mission station buildings were built while the Shorts were on furlough including a very appealing sawn timber house.
Other missionaries had worked very hard to establish an airstrip so there would be a means of transport that could be used by the incoming missionaries during the wet season when roads and rivers were impassable.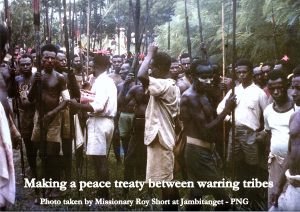 At their new location and on their new term of service, Roy and Dawn continued their work and followed the same routine that they had previously found so rewarding. The results were the same. Whole villages turned from ancestral worship and heathen customs as a result of their acceptance of the Christian Faith
It was wonderful and awesome to see God's power changing so many lives and communities. One of the most gratifying experiences they were privileged to witness was the day when the area of Wosera arranged and conducted a peace treaty celebration that resulted in peace being made between all enemy villages. This was a direct result of the effectiveness of the work of the Gospel.
For the last 7 years that they spent in New Guinea the family lived in the capital town of Wewak right on the cost of the Sepik district. This meant they had a similar routine that they had inland but also a number of extra responsibilities.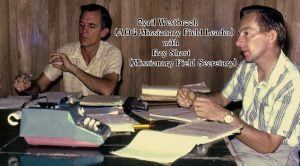 Roy had become the field secretary which meant Dawn had a host of secretarial duties to do. They both became very involved with the many students at the high school. During those years they made many friends from among those students and it was very pleasing to meet them many years later displaying a strong Christian Faith personally and through their families.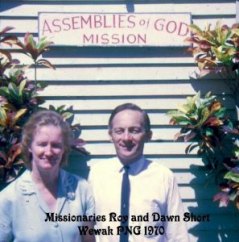 While they were in Wewak Roy had to supervise the building of a much bigger church building. The original church became far too small. Hundreds were now coming regularly to the services. Roy because the Protestant prison chaplain in Wewak prison.
The work of pioneering new churches did not diminish and the carrying of the gospel message into new places had the same results as inland.
In December 1973, the Shorts resigned as missionaries to New Guinea although they both returned a number of times for Ministry purposes. Peter finished school that year, Lorraine had not returned with them for their last term when she had reached 17 years of age. Beverley, who spent some years in New Guinea teaching was preparing to become a school teacher in Australia.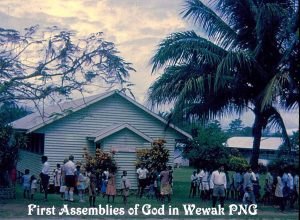 The day after Roy returned from Papua New Guinea, the country at this time because self-governing and had changed the name to include Papua.
He accepted an invitation to because an Assistant Pastor at Glad Tidings Tabernacle, working with pastor Gerald Rowlands as his senior Pastor, the man that had been one of the young people attending the same church as Roy in 1952. Roy was not only pleased to have the offer to work with Gerald because of past friendship but it provided Roy with an immediate income while readjusting to the Australian church culture working with a Pastor who was very well acquainted with that culture.
About 4 weeks after starting in his new role Roy felt he was literally thrown in at the deep end. He arrived at the church one Sunday morning and Gerald was standing by the front door. He said "You will need to take charge of the servie this morning. The bible college at Graceville has been flooded and I need to go there and give some assistance". The congregation learned that morning what extemporaneous preaching was.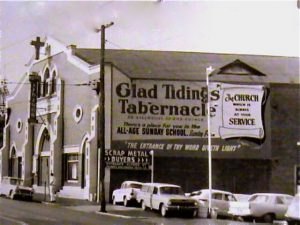 In 1975 when Pastor Rowlands resigned as the senior Pastor to fulfil a missionary call to South Africa, Roy was invited to because the pastor. He felt honoured to serve the church that had given him so much. He filled the position until the following August when Pastor Averil, who had been a previous Pastor at the TAB agreed to return and take the position.
From the Tab Roy took over the pastorate of the Zillmere assembly. It meant that his family would have to move to live on the North side of Brisbane. The move was the start of an association with that Church which became the Taigum Assembly later for over 30 yrs.
In 1985 when Roy reached 60 years of age he and Dawn were entitled to receive the Australian pension. They decided to resign from full time pastoral ministry and became involved in a ministry to mission fields. This new phase of ministry started in 1986 when they returned to PNG for 3 months of teaching.
The following year, in June, they were invited to because part of the ministry team of an Ipswich church at Raceview and among other things, care for the seniors and be involved in visitation. One of the conditions of this venture was that the church would at least annually finance them to undertake missionary trips overseas. They stayed at Ipswich for about 4 years and went on a number of such trips to The Gambia in West Africa, Thailand, Twice again the PNG, and twice to Romania.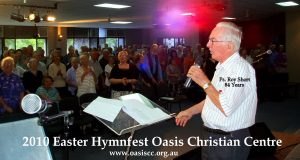 Their final move "to a church" took place in June 1992 when they were asked to return to Taigum and help with the seniors there and visitation ministry.
They helped with the church there until Easter in 2010 when they moved to the Peninsula Palms Retirement Village at Rothwell near Redcliffe.
At the Peninsula Palms Retirement Village Roy & Dawn spent over six wonderful years living in the community. (Betty & I had the privilege of visiting them and sang around the bedside his last song.)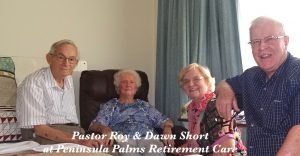 Roy considers that he has had a very fulfilled and satisfying life and that the greatest thing that ever happened to him was when he invited Christ into his life in 1942, then because he had done that, he was able to marry such a wonderful person as Dawn.
God has made his life a very exciting one. When he thinks that he hardly ever travelled very far as a youngster and didn't see the sea until he was 10 years old.
It amazes him that he had visited PNG 11 times, Romania 7 visits, and the return trip Australia – England 13 times as well as numerous other countries especially as most of the trips have had a positive purpose in the lives of other people.
In a fitting tribute to the fruit of his life as a missionary to Papua New Guinea, Frank Maru a son of one of the early converts wrote on social media:
"Our deep condolence from Wewak town church PNG. We are sadden by the news. Our friend and Pastor has born to eternal life.
Sadden yet we rejoice for his effort in spreading the Word which has now grown to over 700,000 people in AOG congregations in Papua New Guinea.
We have Schools, Health Services and have become a Development Partner to the State.

The AOG Church through the missionaries selfless spirit continues today in PNG. It is the 4th largest education provider in the country and influences many with Christ being the centre point.
We in Wewak town salute a great man and one of the fathers of modern Wewak and PNG. May his soul rest in God's eternal peace"…… Frank Maru
Ps Benjamin Silingin wrote :  On behalf of the AOG Maprik District, we send our deep sorry for the great man of God who has given his life for Maprik. We salute you for your great effort. AOG Maprik district will pray for you.
Roy had the privilege of a long life with a family that loved him and were proud to have him officiate at important events in their lives. His son Peter's baptism, The marriage of Peter and Cheryl as well as two of his Grandchildren. He was asked to dedicate babies and bless new homes for his family.
The Patriarch of 4 generations, he loved being a Grandfather and then to become a Great Grandfather was an unbelievable joy to him.
Just two weeks before he passed away he lay on his bed and sang this old hymn with his wife Dawn at his side. ….A confident expression of his faith in Christ!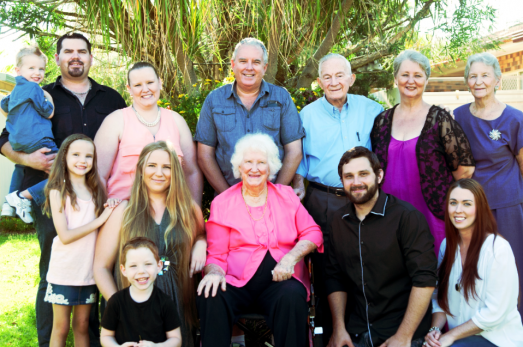 Roy truly gives God thanks for his Grace and Goodness.
Please follow and like us: