Handling Disappointment?
One of the most difficult issues in life is how to handle disappointment.
'Unfulfilled expectations' is another way to express it.
This is my story of a disappointment that challenged my thoughts about the 'Will of God' and the "God told me" phrase that is so glibly used. 
In 1986 my wife Betty & I with our four children in tow, took on a new challenge believing it to be the 'Will of God' for our future.
We were inducted into the Senior Pastorate of a thriving new church in the northern suburbs of Brisbane.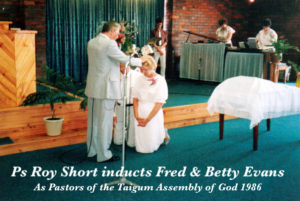 The Zillmere Assembly of God which was built by the sacrificial giving and the hard work of its members.
Ps Roy Short a former missionary was the Sr Pastor of the church at Zillmere and a personal mentor to me when I was a young missionary.
He was instrumental in overseeing the construction of the new Zillmere church which was built by Len Donaldson one of it members, on the Beams Road property.
It is a prime piece of real estate adjacent to a main arterial road and a large shopping centre precinct.
One day Ps Short called me from Brisbane when I was in prayer.  
I happened to be seeking the 'Will of God' for my/our future.
'How good is this' I thought as he didn't know what was going through my heart or mind.
Not long after and with several scriptures to confirm it (Jeremiah 29:7 & 17), Betty and I resigned our safe & happy position as pastors.
We enjoyed 10 years of service assisting my brother Ps Andrew Evans in the largest pentecostal church in Australia at the time, the Paradise Assembly of God in Adelaide.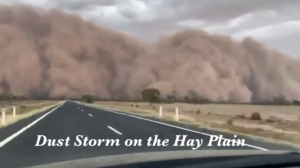 The day we left Adelaide with my young family & eldest son Ted driving behind in his red Torana,  a massive dust storm blanketed the State of South Australia.
I thought to myself 'how good is this' because I was about to begin a new adventure!
Slowly we drove through the darkness of the storm with limited visibility on the Hay plain road with the engines of our vehicles sucking in the dust.
Eventually we arrived in Brisbane to fulfil the 'Call of God'!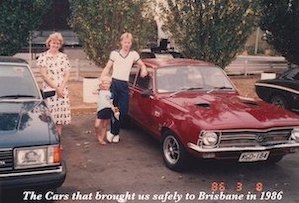 Only to have Ted's engine in his Torana GTR seize up, just as we pulled into the driveway of the host home of Pastor Short.
How providential I thought, 'I'm glad it didn't happen on the highway'!
To say it was "exciting" would be an understatement. At least it was for me! 
My dear Betty never complained and cheerfully cared for the family and their practical needs, believing it is all part of serving God. 
Of course all the issues of finding lodgings and buying a house to call home had to be attended to!
Betty chose wisely and we were able to get a loan and purchased a 5 bedroom home in Carseldine for $123,000 to suit our family and church needs. 
The 'Will of God' ah the 'Will of God'! Is so important to know when you are on a faith journey.
Is He (God) really interested in the details of our lives or just the big picture?
The  following Sunday after arriving in Brisbane, we were introduced to the church membership and inducted into the ministry of the Zillmere Assembly of God.
It was 'my first church' in Australia and I was so happy!
It was a tailor made facility for the local community.
I felt a tremendous sense of responsibility to do my best and to guide the church into its destiny.
You see, as a missionary I had learned to honour my predecessors and build upon what they had already established.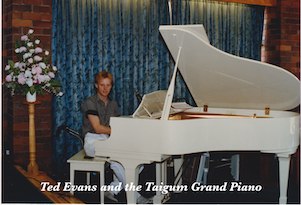 I believe God had given me a 'vision' of what He wanted to build at Taigum. 
Worship was to be a major focus.
A Grand Piano was purchased to aid in the ambience and future development.
Looking back now It was a foolish decision because the piano has been disgarded for modern electronic instruments.
We changed the name from Zillmere Assembly of God to Taigum because that's where we were located.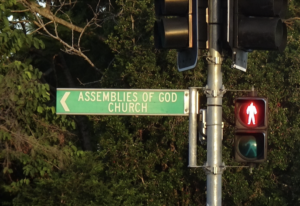 The Brisbane City Council's Assemblies of God street sign pointed toward the Church.
In fact the modern trend of what I call "the name change syndrome" began with us. 'Lord forgive me' …. just saying!
One of our pastoral team suggested the name, Taigum Gardens Assembly of God.
That had a bit of flare to it & looked good to me, so I recommended it to the church Board who endorsed the name change. 
Oh! we pastors do get carried away sometimes with our own ideas and blind ambition. 
I wonder what our intelligent parishioners or members must think of the quaint and funny names we give to our churches?
Thus began a flurry of name changes over the subsequent years depending upon who was the current pastor. 
Im not against upgrading the name of churches except for the fact its hard to find an Assembly of God or ACC church when traveling throughout our country.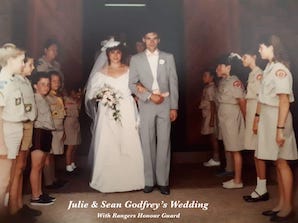 During my tenure at Taigum I encouraged the already established ministry of Royal Rangers which was a thriving ministry to our children and the Children's Church ministry.
Subsequently the Headquarters of the Queensland arm of The Royal Rangers built their offices on the property.
"It was all happening here" as they say!
Sadly today however, its non existent. 
Our Youth Group grew exponentially with some of those young people today in prominent service in the secular world of Australia and indeed overseas.
Many were choice young people but today I wonder who will reach the youth in the surrounding Zillmere & Taigum community?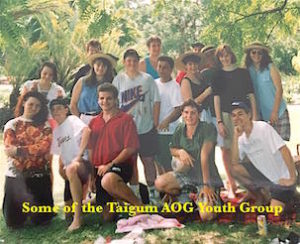 Ps Kevin Hovey a former PNG missionary wanted to train missionaries so he started MOTC a Missionary Oriented Training Course in the basement of the church facility.
Its now a fully accredited course at our Alphacrusis College/University in Sydney called "World Harvest Institute".
Then the church Board who were keen to expand the vision, bought the house and acreage next door for future expansion.
This came at a great deal of personal sacrifice by the church members & staff.
I wanted to build but God must have wanted us to buy.
In my mind I was dreaming of building a larger auditorium and later a small Retirement village or a Missionary Training College sometime in the future!
Sadly it never happed, and I am forced to question the direction I was given.
In conclusion.
You can see that no matter what calling in life you may pursue, disappointments are always with us. 
The day after the closure of the Taigum Church, I walked around this abandoned precinct for the last time and felt like Jeremiah as he wept over the ruins of Jerusalem.
Warning!  the video below may disturb some of you who served there!
My thoughts were flooded with stories of the people who had made this their church home and sacrificed so much to fulfil this vision. 
With my old iPhone and tears of sadness overwhelming me, I recorded the dreams & visions I had for this place.
It was not meant to be and so once again I had to lay down the disappointments and misjudgments of my vocation!
I had to commit my mistaken leadings into the hands of my all knowing Father, who will build His church despite my vision failures of this 'Fruitful Tree'!
I have to take comfort in 2 Corinthians 4:7-9.
"But we have this treasure in earthen vessels, that the excellency of the power may be of God, and not of us.
We are troubled on every side, yet not distressed; we are perplexed, but not in despair;
Persecuted, but not forsaken; cast down, but not destroyed;"
Now take a look at this video.
Keep your thoughts in perspective  and remember He (God) will ultimately make all things Beautiful!
"The previous generation has set boundaries in place.
Don't you dare move them just to benefit yourself."
Proverbs 22:28 (TPT)
(This refers to moving property lines of your neighbors to take more land, or it could mean moving landmarks and memorials placed there by ancestors. It also speaks to the moral boundaries that the previous generation modeled—they are to be upheld.)
***********
Please follow and like us: