December/January 2013 – The Best Is Yet To Come!
The month of December was a hive of activity with lots of fun with our grandchildren, preparing for Christmas, giving and receiving gifts and of course keeping the best kept secret of the year – The announcement of the engagement of my brother Andrew to a wonderful lady by the name of Del Robertson.
It is two years since Lorraine passed away and when Andrew told Betty he was interested in commencing a relationship with a lady, I immediately turned to her and said "I know who it is – Del Robertson" and I was right.
I hesitate to say it was a "Word of Knowledge" but it spontaneously came to my mind out of nowhere! Despite not knowing Del Robertson on a personal level it was a instinctive response which surprised me, Betty and Andrew. Now work that one out!
Here it is "Penteleaks" video coup of the year which was viewed by over 1877 people in the first few weeks of this new year.
Del Robertson was born in Gympie Queensland and lived on a dairy farm until she was 13 years of age. She was converted to Christ on the 25 March 1959 in an evangelical Anglican Parish Mission at Coorparoo, Brisbane.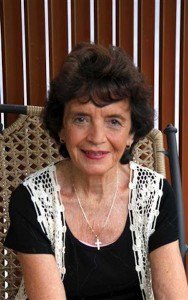 Del's early work experience prepared her for the work of a private secretary and later became the PA to the Secretary of the Southern Electrical Authority. Harry Baskerville the Secretary of the company introduced Del to the extended Baskerville family who had strong ties with the Assemblies of God in Queensland.
In 1962 she was invited to attend the then Coopers Plains Assembly of God which had been started by a team of young people under Ps. Frank Fulwood.

Later Del became a youth leader in the church and taught in various departments of the Church including Teenage Girls; Superintendent of the Sunday School; Royal Ranger Leader for the Trailblazer girls and Home Group Leader. She was also was church Secretary to the Pastors and opened and ran a bookstore in the church.
In 1981 Del was invited to become Pastor Klimionok's PA at Garden City Christian Church in Mt Gravatt and served in that capacity for the next 7 years. Later she was appointed Office Manager of the church; Board Minute Secretary; Administrator and finally ordained as a Pastor in January 1996.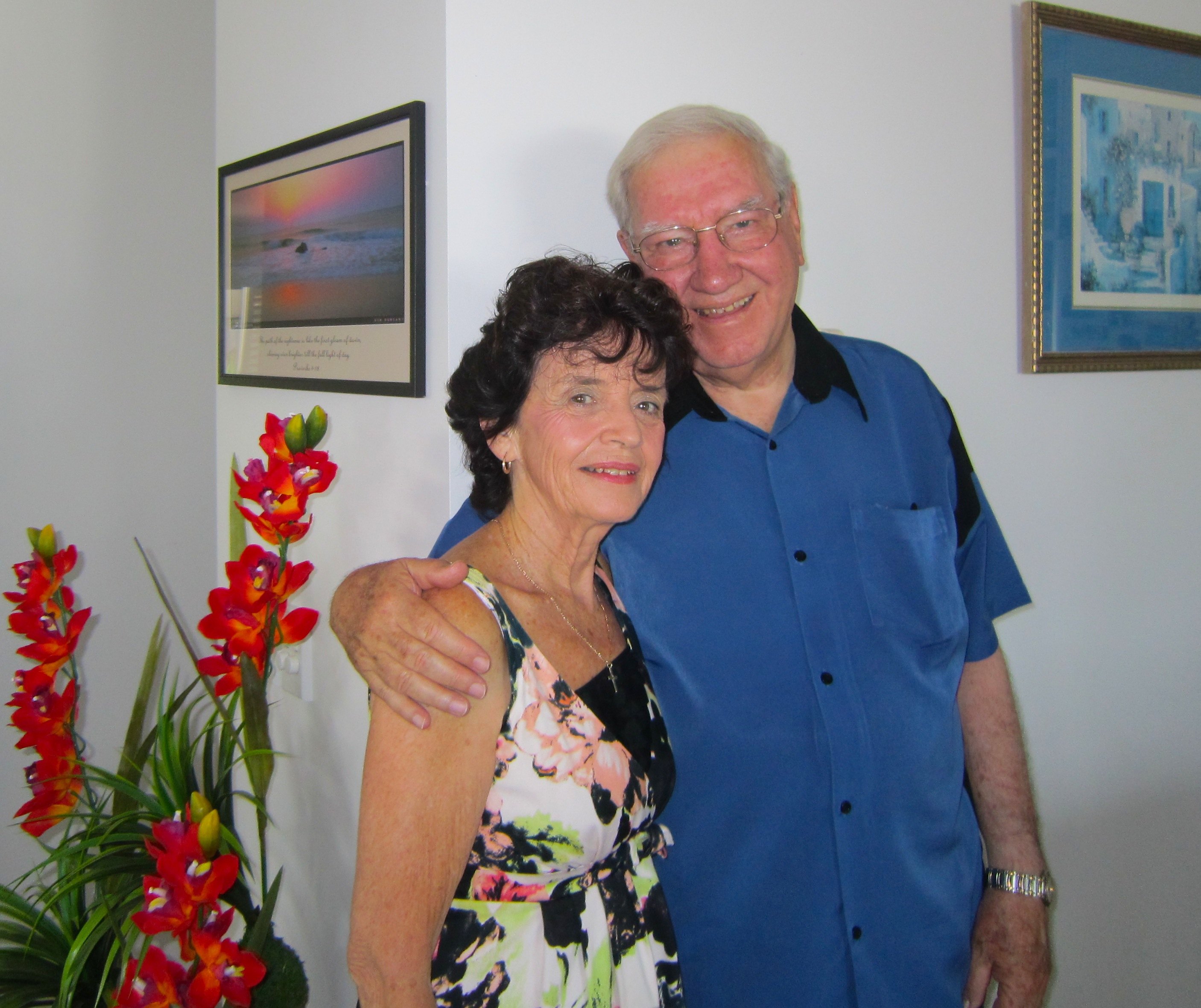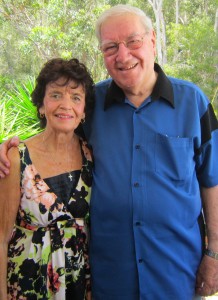 Del Robertson's qualification are numerous including:
Diploma in Ministry

Graduate Diploma in Counseling Studies

Grad. Cert. Marriage & Family Counseling

Cert. IV Workplace Training & Assessment

Justice of the Peace (Qual)

Prepare/Enrich Marriage Counsellor

Marriage Celebranteg 295w, https://www.fredandbettyevans.com/wp-content/uploads/2013/01/Invitation1-1009x1024.jpeg 1009w" sizes="(max-width: 295px) 100vw, 295px" />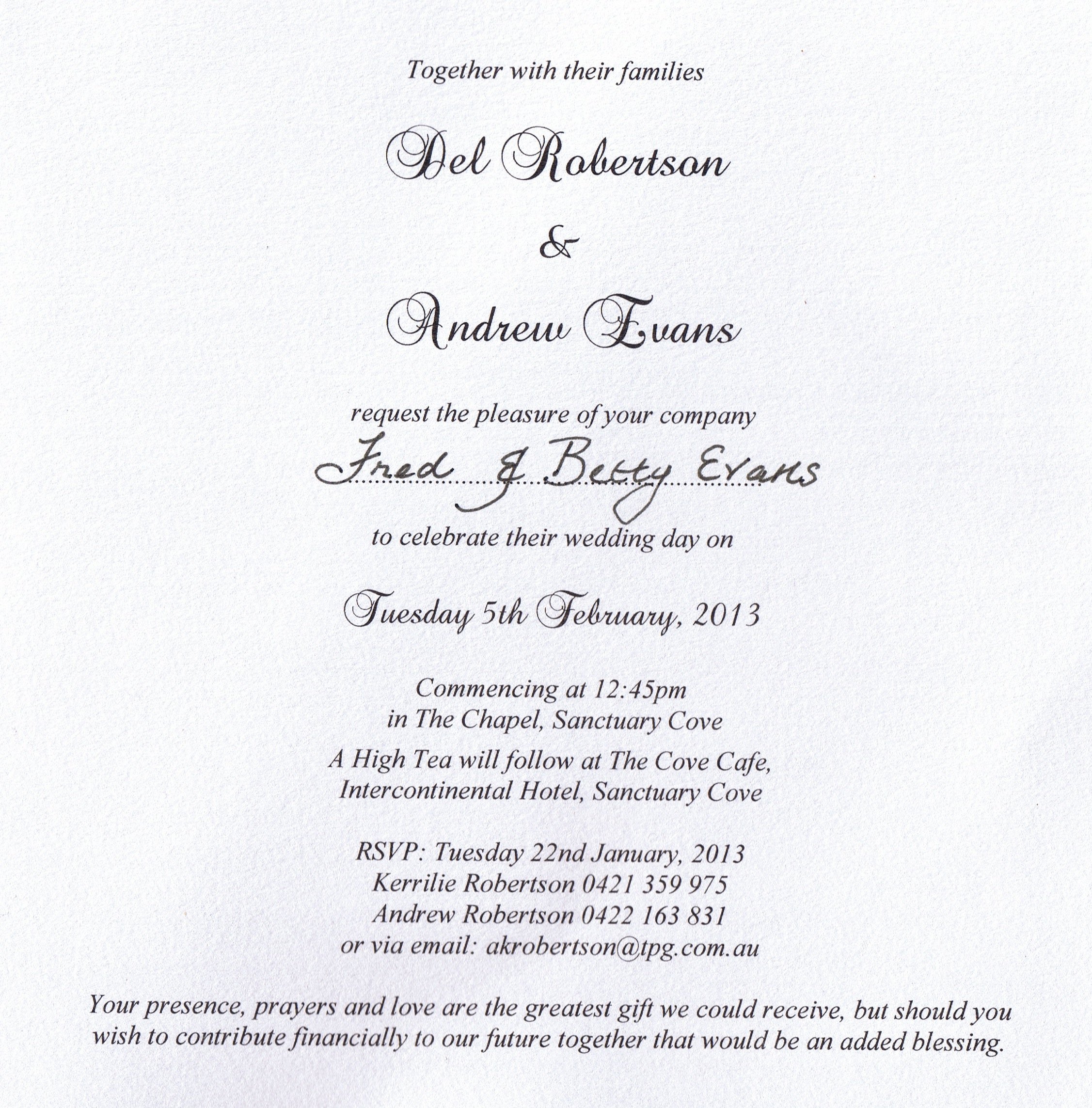 Del's husband Howard, passed away in 2009. Presently she is in fellowship at Highway Christian Church on the M1 to the Gold Coast where she has been involved in Pre Marriage Counselling and General Counselling to people within the church and community.
A gifted lady with long experience in church life. Naturally we wish Del & Andrew a blessed future and pray that their latter years will bring them much happiness and fulfilment in ministry.
They will be married in the Chapel at Sanctuary Cove on the 5th February 2013 followed by a High Tea reception for friends and family.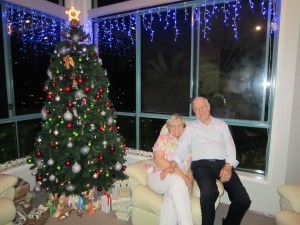 Our Christmas celebrations went off with a "bang" as they say and were one of the best in years, despite the fact that two of our boys and their wives were in the United States.
Philip & Emma were enjoying their first overseas adventure together in New York and by all accounts had a wonderful time. David & Rachee live in Orlando, Florida and celebrated Christmas with Family in the US.
We were privileged to have Ted's two boys living with us before they left for America. It gave us an opportunity to have some input into their lives as Grandparents and share daily discussions and devotions with them around the meal table. Kristan was particularly intrigued on one occasion by the Biblical phrase "Little Foxes that spoil the Vines." It led to a good discussion.
Harry loved swimming and was in the pool at every opportunity talking with his Dad. I too had some wonderful heart to heart chats with Harry while lazily floating around in the pool. He was always willing to help around the house and worked with me in setting up the Christmas Tree with the Manger scene in the foreground. It was fun! I love Kristan & Harry who both love God and are good lads.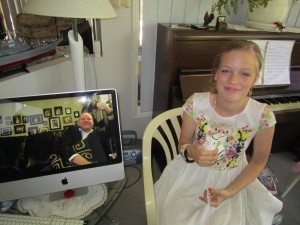 On Christmas day we went to Church as usual after which we returned to our home for a Family Christmas. We were able to talk to David & Philip in America using the amazing communication technology of Skype as they watched and chatted with the family back home here in Brisbane.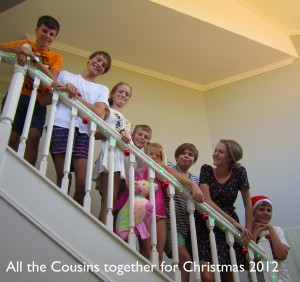 It was a very special time indeed and made us feel that we were all together. All the grandchildren were with us this Christmas and they had great fun playing and chatting among themselves, opening their presents, swimming in the pool and of course enjoying the famous Christmas roast that Grandma and Auntie Kylie cooked of Master-Chef proportions. I'm sure our Christmases will remain in their minds forever.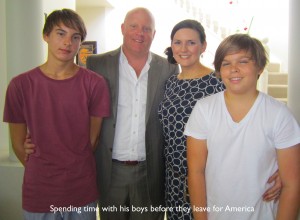 At the end of the year it was time for Ted to say goodbye to his boys as we took them to the Brisbane International Airport to catch their plane to Chicago in the USA.
We had enjoyed them in the home for three months and now it was time to say goodbye. It was difficult saying "goodbye" but they will be back! 
After Christmas, Betty was determined to finish writing the manuscript of the Biography of Evelyn Westbrook. It was a challenging project that required patience and research but one she thoroughly enjoyed. Evelyn Westbrook personifies all that is good about Missionaries and Mission service. Betty style of writing is easy to read and captures the emotion of Evelyn's life and missionary service. It will be a great read when it is finally published.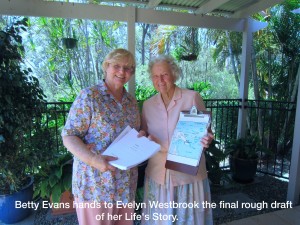 She began the project in May 2012 and after over 60 thousand words handed over the draft copy to Evelyn in the first week of January 2013. It reminded me when we as a family celebrated the writing of her first book which she published back in 1980.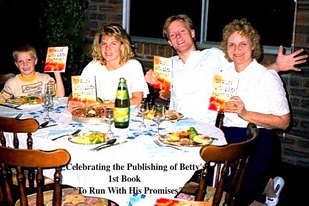 Presently the final draft is being proof read by Betty Armstrong who is skilled in this area. Betty Armstrong is the daughter in law of the late Australian Evangelist Norman Armstrong and knows Evelyn Westbrook well. We thank her for her kindness in offering freely her time to prepare this project for publishing.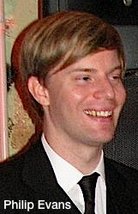 Our youngest son Philip who is a Graphic Designer, will be working on the pictures that will be included in the script and hopefully in a few months time it will be ready for the publisher.
As this new year begins my thoughts and prayers are focused on the future of the Church. Betty & I pray daily for the leaders of the Church and especially the younger generation who are taking up the reins of Ministry.
When I meet each week with some old pastor friends, "Old Codgers" I call them for a cup of Coffee, we often reminisce on the state of the Church.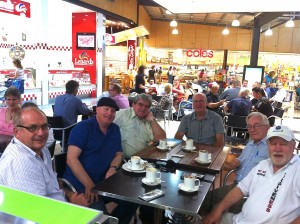 I for one feel very positive about the future of the Church in Australia and it is my intension to encourage the next generation whenever I can. I realise if I was pastoring a Church now, it would be so different to what I remember as the "Golden Years of Church Growth".
Nostalgia is not a bad thing and now that I'm well into my seventies I seem to do a lot of thinking with a nostalgic twist.
For instance I wonder how long Evangelist Billy Graham has left with us? I was privileged to hear him preach in Brisbane and even sang in his Choir back in 1959. How good is that and I was just a boy of 19 years of age at the time and studying for the ministry in Bible School.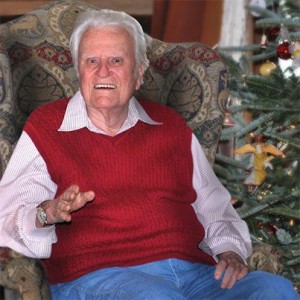 Years later I heard him preach again at the Sydney Cricket ground when he held a Crusade in that large Metropolis. What an amazing gift!
I have learned to look back positively at the past and see how our history is often the building blocks upon which future generations can build. John 4:37
Sure I get hurt when I see Pastors handling the church badly and some have dismantle years of work because they are opportunistic or untrained leaders. Ezekiel 34:2 It disturbs me when pastors down size church buildings for personal reasons and in some cases valuable church assets have been unwisely sold off to meet a debt incurred by bad management. Some appear to be hirelings by the way they treat people and God will have to judge that. But that's not my responsibility anymore, I served my generation to the best of my ability and I choose to leave it there and cheer on the next.
Generally speaking what we see today in many of our Churches and buildings is a credit to the next generation who have built on the back of the sacrificial giving of past generations. Oh I know the decor may be bit trite or avant-garde and the name of the Church may sound pretentious, but I watch the young people who love worshiping Jesus and so I keep reminding myself they are reaching a twenty-first century generation who need Christ and are responding to the message.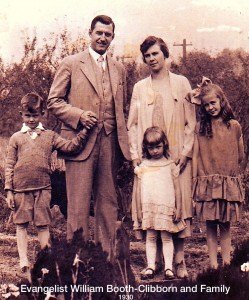 Before I close, I want to share with you a rare photo from the distant past, sent to me by Margaret Mantei who found it amongst her mother's memorabilia.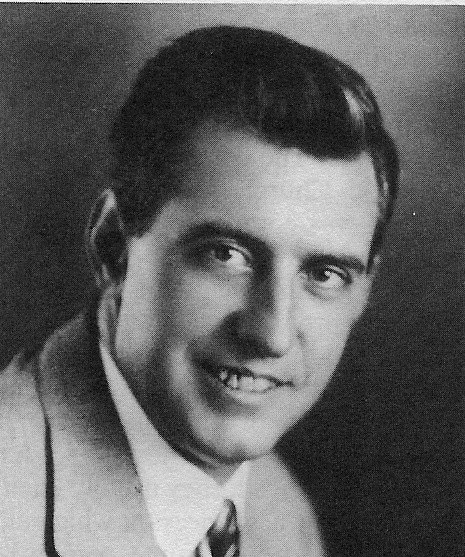 Its a photo of the famous American Evangelist, William Booth-Clibborn and his family. He was the grandson of General William Booth of the Salvation Army. It was in the early 1930s that Booth-Clibborn first came to Australia to conduct an evangelistic campaign in Brisbane which grew to fill a two thousand seat tent, the Canvas Cathedral.
It has been described as "the greatest religious revival Brisbane has seen". The Assemblies of God in Queensland initially welcomed the revival but they became competitors when Booth-Clibborn organized the revival campaign into the Covenant Christian Church.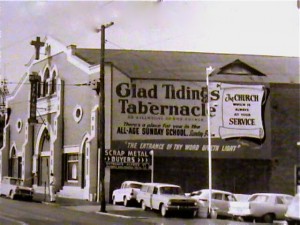 Interestingly some of the AOG leaders, including its president George Burns, joined Covenant Christian Church. After 1932, unity talks began between the two groups, with the Covenant Christian Church eventually joining the Assemblies of God of Queensland in 1940. The Glad Tidings Tabernacle in the Fortitude Valley was built late in 1932 and became the "flag ship" of the AOG in Australia for many years until it was destroyed by fire. Betty & I were married in this building in 1964 by Pastor Lloyd Averill who was Senior Pastor of the Church at the time.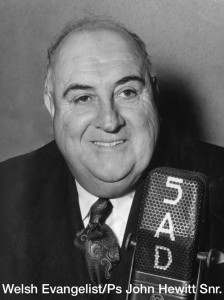 Another point of interest was that John Henry Hewitt Snr, was the Evangelist/Pastor of the Canvas Cathedral and was present when the the CCC was built. There were two "Foundation stones" one with the name William Booth Clibborn and the other with John Henry Hewitt. It was later renamed Glad Tidings Tabernacle and the stones removed.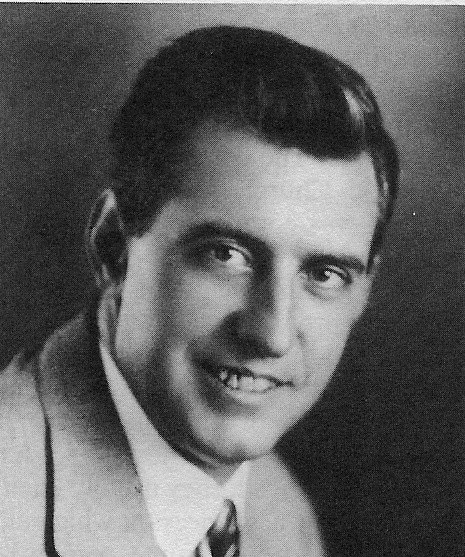 Not only was William Booth-Clibborn a powerful charismatic Bible preacher and teacher but also a gifted song writer who left the church the music & lyrics of the majestic anthem or hymn called : "Down From His Glory".
I haven't heard it sung in years but some of you will remember it and sing along with these dear young people I found on YouTube.
What we sow today will bear fruit tomorrow if we nurture it and encourage the growth. Every generation must leave something for the next to build on. I trust 2013 will see the emergence of many new christian leaders whom God can use to build His Church!
                                  1. Down from His glory,
                                      Ever living story,
                                      My God and Savior came,
                                      And Jesus was His name.
                                      Born in a manger,
                                      To His own a stranger,
                                      A man of sorrows, tears and agony.
                                      Refrain
                                      O how I love Him! How I adore Him!
                                      My breath, my sunshine, my all in all.
                                      The great Creator became my Savior,
                                      And all God's fullness dwelleth in Him.
                                  2. What condescension,
                                      Bringing us redemption;
                                      That in the dead of night,
                                      Not one faint hope in sight,
                                      God, gracious, tender,
                                      Laid aside His splendor,
                                      Stooping to woo, to win, to save my soul.
                                      Refrain
                                  3. Without reluctance,
                                      Flesh and blood His substance,
                                      He took the form of man,
                                      Revealed the hidden plan,
                                      O glorious mystery
                                      Sacrifice of Calv'ry,
                                      And now I know Thou art the great I Am.
                                      Refrain
Please follow and like us: