September 2012 – It's All Happening Here!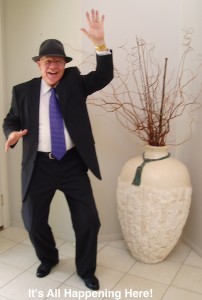 You may wonder what happened to the beard? Well read on! The month of September sprung into life with Birthday Parties, Family Functions, Crusades in Papua New Guinea and Ministry in Albany Creek & Maryborough Christian Churches.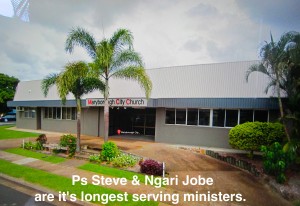 It was one of those months where you feel "Its All Happening Here!"
Coming and going seemed to be the order of the month and when it was all over and time to write this post, my Web Site "gave up the ghost" and crashed! It left me with foreboding "feelings" of having lost all my years of hard work using digital technology. Why didn't I stick to pen and paper? I'll tell you why, because its harder to cut & paste and get the message out.
Thankfully my son David in America was able to assist and resurrected it from the dead. Hence the delay in getting this post out and onto the World Wide Web! How amazing is the internet, it can even store back up data in the "clouds" which is not referring to Heaven. ha ha!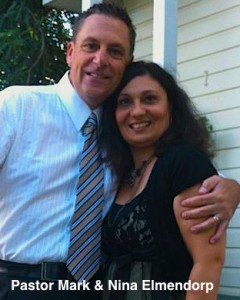 During the month of September Betty & I had the privilege of ministering in two churches. Ps Mark Elmendorp at our local Albany Hills Christian Church invited me to preach on Senior's Sunday which I enjoyed immensely. I hope others did too? Mark is a good Pastor who loves his people which is evident in his ministry to the church and Nina is a wonderful support to him.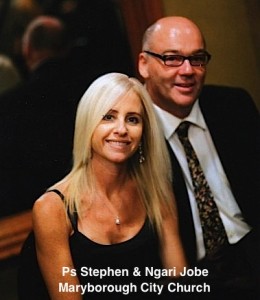 I don't do much preaching these days and I prefer it that way. Its hard for an old preacher like me to recognise and know their used by date! I decided a few years ago that I should try and be sensitive to my limitations and not seek after preaching slots unless clearly an opportunity arose to assist a local church. One has to be careful to read the signs of old age and not "think too highly of oneself" as the scriptures implores us. Romans 12:3 I think we pastors need to beware of the danger of believing our own press release!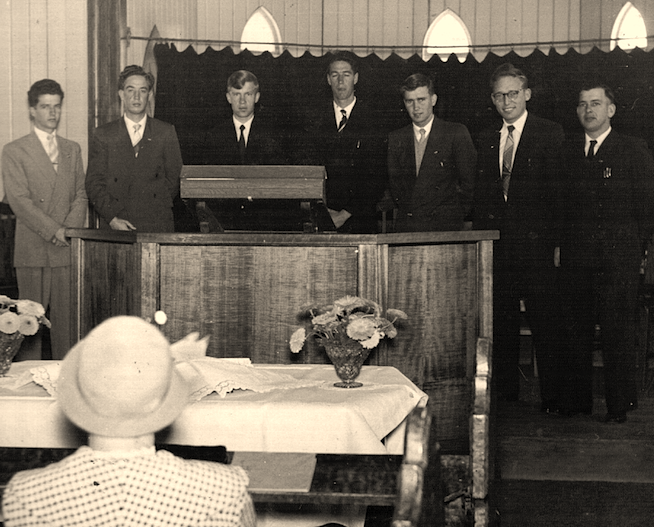 The month of September has been an exception as far as preaching involvements.  I received a call to assist for two weekends at the historic Maryborough Assembly which is one of our oldest AOG Churches in Queensland. Pastor Steven & Ngari Jobe who are the longest serving pastors, are doing an excellent work there. They were visiting some of their Mission outreaches in Africa. It was a joy to minister at Maryborough and at the same time polish up the "relevance" factor in my preaching, ha ha!
I can remember preaching in Maryborough Assembly of God (now Maryborough City Church) back in 1958 when I was a Bible Student over 50 years ago. Some years ago one dear lady, Sister Butcher by name, who has passed on now, came to me and gave me this picture that was taken on that occasion. Notice the Communion Table was always central to Sunday morning worship!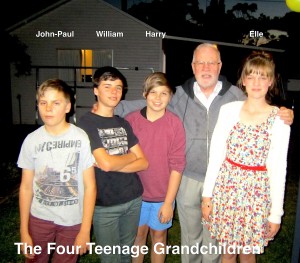 Now to some other news. Grandchildren are always a delight to Grandparents and especially this month as I had the joy of meeting up again with my "favourite" grand daughter Elle whom I hadn't seen in four years. She took my breath away as I saw how she had grown so much in that time. She was taller and clearly had her father's good looks! It was her 13th birthday and along with her twin cousins William & John-Paul we celebrated at an afternoon party. My prayer was answered – so off came the beard and I felt young again, ha ha! Harry Evans (Ted's son) also turned 13 on the 1st September.
Dan 50" alt="Dan 50" src="http://www.fredandbettyevans.com/wp-content/uploads/2012/10/Dan-50-300x225.jpg" width="300" height="225" srcset="https://www.fredandbettyevans.com/wp-content/uploads/2012/10/Dan-50-300x225.jpg 300w, https://www.fredandbettyevans.com/wp-content/uploads/2012/10/Dan-50-1024x768.jpg 1024w" sizes="(max-width: 300px) 100vw, 300px" />
A happy teenage revolution had begun!
That was not all, as during the month of September my eldest sister Eirwen looked back on 81 years. Our one and only Son in Law Dan Farrell, reached the milestone of 50 years. I am very proud of Dan. He is a great father and loves my daughter Mary and his five children. He runs a demanding business with over 40 in his employ. I love him and honour him.  Our Sons Philip (31 years) and David (43 years) also had birthdays. So you can understand when I say "It's all Happening!"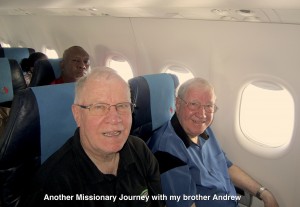 Perhaps the highlight of the month was the privilege afforded me to travel with my brother Andrew & the Influencers Team from the Paradise Church in South Australia, to minister at Kimbe on the island of West New Britain of Papua New Guinea.
In a typical and colourful welcoming ceremony we were afforded an enthusiastic welcome by the pastor and members of the West New Britain Assemblies of God. A Holy Spirit Crusade had been organised in the township of Kimbe and we had the privilege of sharing the ministry.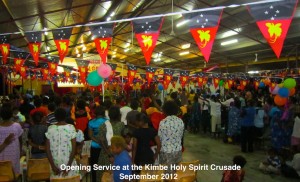 The enthusiasm was palpable as hundreds gathered in the Church each morning and at night we relocated to an open sports field to conduct the Crusade where the Gospel was preached.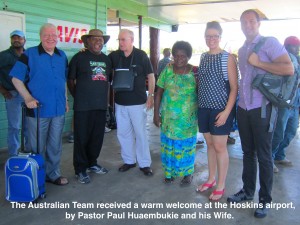 The Kimbe Crusade was amazing from an Australian perspective as their was no shortage of enthusiasm and joy as seen in this video and clips below. The music was loud but not deafening, with the singers obviously enjoying the incredible atmosphere of praise & worship. I can remember when PNG church music was non existent. So I'm not complaining but rejoicing in the depth of talent that has arisen.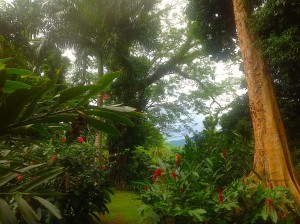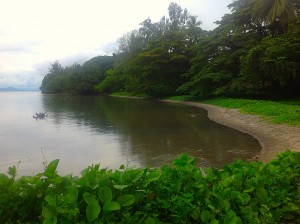 West New Britain is a beautiful place with a lush rain forrest and magnificent fauna & flora skirting the beaches. Just off shore you can snorkel to your hearts content in its warm waters over pristine coral reefs. It is an idyllic place to live but surprisingly like many parts of Papua New Guinea from time to time there is the problem of "rascal gangs" fuelled by alcohol doing their stuff, particularly on isolated roads.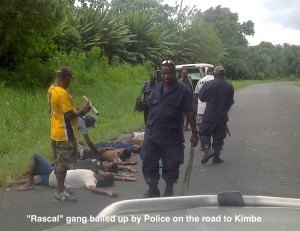 Interestingly we came across an incident on the road to Kimbe, which the police had under control. I was assured by long term residents of Kimbe that the rascal problem is not as bad as the media makes out.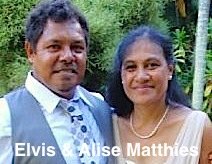 Our hosts during our stay in Kimbe were kindness itself. They could not do enough for us, and especially as I was quite sick with the flu. Thank you Alise and Elvis!
After my return from Kimbe it was off to another Grandparents Day at the Northside Christian College where our youngest grandson Joel attends.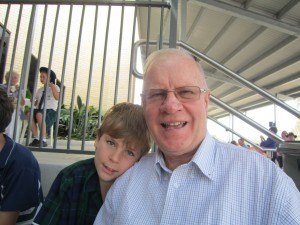 Of course he stood out in the school Concert! Like brooding hens we gathered the other grandkids and enjoyed a school lunch with them all in the school grounds. Another occasion to create memories hey!
To round off the month, here are some more photos of these wonderful people who cherish their connection with the Australian Church. They look to the Australian Church as their spiritual parents and hold us in high esteem. Our change of name to Australian Christian Churches confused them a little, although they are very understanding and patriotic to the name given them in the beginning – "Asembli ov God bilong Papua New Guinea"
To some extent they feel that we left them too soon without the guiding hand of missionaries to give advise, never the less they took up the challenge and the pentecostal Church of Papua New Guinea is larger numerically than the mother church in Australia and continues to flourish.
he 1st WNB Superintendent" alt="Kamis the 1st WNB Superintendent" src="/wp-content/uploads/2012/10/_d_improd_/Kamis-224x300_f_improf_224x300.jpg" width="224" height="300" />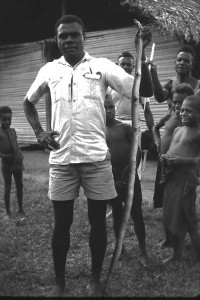 As an emerging Church they are very respectful of our leaders and apt to follow our example in conduct and creed. But in some respects it would be good for us to follow theirs in humility, honour, respect and zeal for God's house the Church.
It was a joy to meet up again with Kamis Bira who was one of the early national pioneers of the church in West New Britain. He was the 1st Papua New Guinean to be appointed as District Superintendent of the West New Britain Province.
He brought along an old Bible given to him by a missionary to show me. He cherishes it with all his heart as a trophy.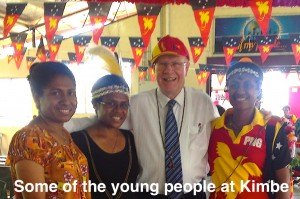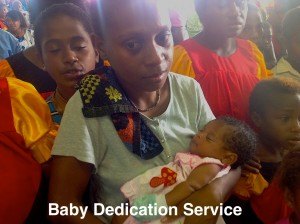 Please follow and like us: