August 2010 – Travelling North to Celebrate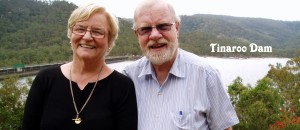 Before I tell you about our trip North, Birthdays dot the month of August. At our age we enjoy looking back as well as forward. Eleven years ago three precious young women were joyously pregnant and we were "organized" Grand Parents in waiting. We soon found that the best of plans can be waylaid. One young mother was closeted away at the Mater Mother's Brisbane as her baby bump was twins. Instead of the schedule of weeks to wait, we received the phone call that the babies were on the way. Down the Toowoomba range we sped, only to receive a phone call half way down the range that the second Mother had also begun to have her baby in Toowoomba.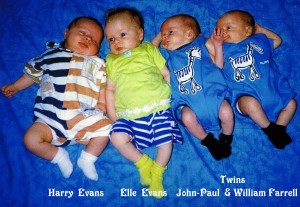 I had made a solemn promise to be with that Mother until her own Mother flew in from interstate. We arrived just in time for the twin's birth. We will never forget the look on the Dad's face as he wheeled out two baby cribs mouthing the words to us, "two little boys." This month they are 11 – individual in looks and temperament and a credit to their parents.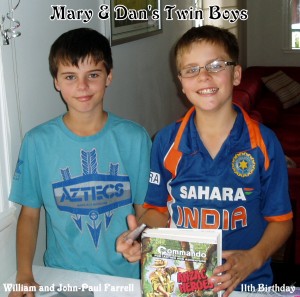 After a quick prayer with the twin's parents we were in the car again and back up the range. Things were advanced when we arrived at the Toowoomba hospital. There were a few anxious hours, midwife and doctor tension, and finally a cesarean delivery of the cutest little girl ever.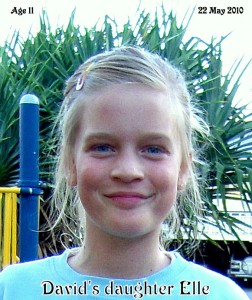 This month she is a tall 11 year old of inner strength and outer beauty.

The third mother gave us a few weeks to catch our breath and another chubby boy was born. We were amazed at this little chap who was a miniature copy of his maternal grandfather.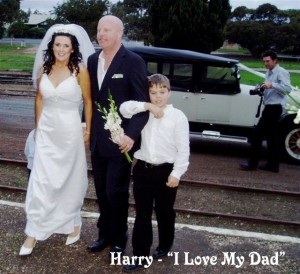 He and his Daddy have a close bond and the 11 year old today, reflects the gentle and sensitive nature of his Dad. Being Grandparents is a special privilege and responsibility to us. Very few days go by that all 8 of these special people are not called by name before God to draw them all into a personal relationship with Him and guide and protect their lives.
More birthdays this month, but at the other end of the scale. My cousin Beryl Watson turned 70, so that was a good excuse for another trip up to North Queensland.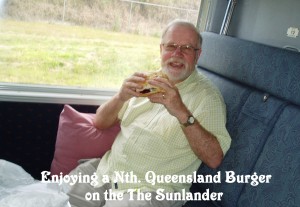 We love the Sunlander, especially with the pensioner's free rail pass.  The first class sleeper cost about $200 but it is well worth it. We take an electric element and make hot coffee and have our little picnic bits and pieces.  Occasionally we venture out into the dining car. It is a 29 hour trip so lots of talking and thinking time.
Beryl is the daughter of one of Queensland's church pioneers who not only gave his service but his monetary inheritance to answer the call of God. Pastor Con Spoor is much loved among the Islanders and first peoples of the North. It was with sadness that we learned that 3 of his converts who had also  followed the ministry call all their lives had recently passed away. We salute Nicy Sambo of Bamaga, Arnold Congoo of the Northern Territory, and Joe Allia of Nth Queensland.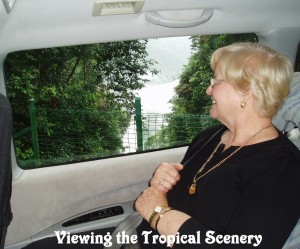 It was a joy for Betty to visit her brothers again. One lives in Cardwell, and the other at Palmerston near Innisfail. Sugar season is at its height, and John transports raw sugar to the bulk handling port at Mourilyan. I was reminded that my parents pioneered a church at Mourilyan near Innisfail in the early 1930s.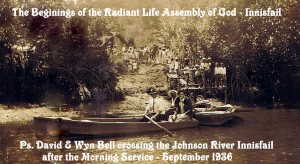 As we traveled along the Johnstone River we reminisced about the first home that my Mother prepared after my parents married. It was a tent made of parachute silk. They had to travel across the river in a dingie to get to church.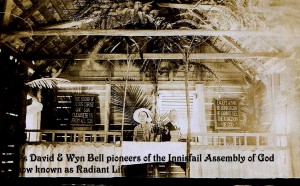 (If you click on the photo it will enlarge) The logs in the river had eyes. The Johnston River is noted for its crocodile population!! We visited the Radiant Life church in Innisfail and met Pastor Anthony Edwards and his wife. The school was in session and a lot of work was in progress for a foundation day. The people are giving thanks for the financial provision of a technical school provided by the Government stimulus package. The foundational members of this church were my parent's first converts in Innisfail. The Edwards family has a history in the ministry of Assemblies of God.
My older brother, Samuel and Joan are growing all sorts  of fruit on their property. I tasted tropical Jaboticaba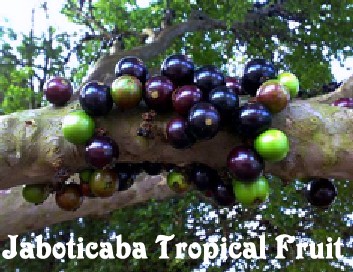 and Abiu fruit for the first time.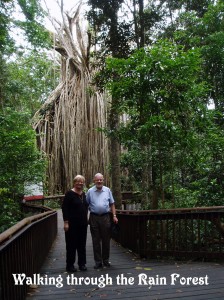 Our stay took in a trip to the Atherton tablelands. We visited Lake Tinaroo, the famous Curtain Fig tree, and the crator Lake Barine. The tropical rain forests are uniquely beautiful – everyone should visit North Queensland at least once in their life time.! The colours of nature had that relaxing effect that attracts tourism especially in Winter.

.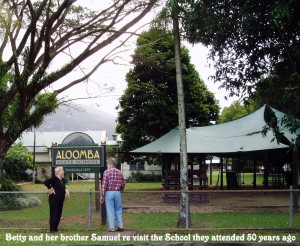 We also visited Betty's old school at Aloomba, south of Cairns. She pointed out the river she and her brothers used to swim in as a 10 year old at the Behana Creek.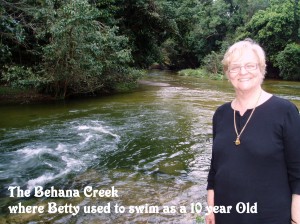 I actually found an old photo of her and John playing at the Behana Creek.
na 12 yrs" src="http://www.fredandbettyevans.com/wp-content/uploads/2010/09/Betty-at-Behana-12-yrs-242x300.jpg" alt="" width="158" height="194" /> For her it was a nostalgic stroll back in time as she pointed out the places that hold fond memories for her. Further along the road the old home where she lived as a child at Aloomba still stands.  Now it looks larger as renovations over the years has given it the appearance of a classic "Queenslander".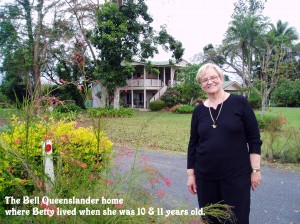 It's wide verandas and open planning give it that cool tropical look that is so common here in Queensland.
.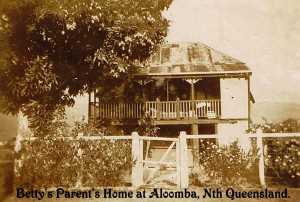 In Atherton we caught up with  Bevynne and Marika Truss. Bevynne is a friend from Papua New Guinea days.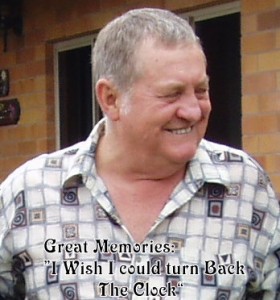 He was the missionary support worker who built our Jeep "Dorcus" back in 1968.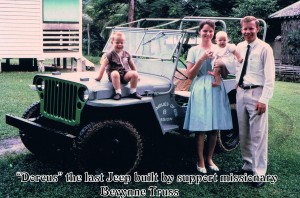 It was a fascinating visit not only revisiting Missionary days through photos and slides of New Guinea, but his Dutch wife, is a prolific scrap booker and has her history beautifully documented for 4 generations. What a story she has to tell of the political unrest in Indonesia. As a child she was a prisoner of war held in a prison camp for over three years.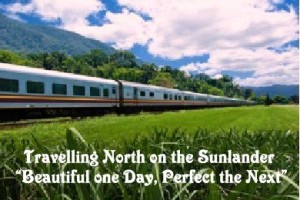 We thoroughly enjoyed the train trip. It sure beats concentrating for hours on end driving on Queensland roads. Arriving at Brisbane's Rome Street station fresh and then walking a few hundred meters to the Roma Street Bus station, we caught our bus home. It was like a 'soft landing' back to our street and home sweet home.
So that was August. We step into a new month. I wonder what it will hold?

Please follow and like us: